Operating an online store is very different from running a personal blog. There are numerous more things to keep an eye on, such as speed optimization, shipments, secure checkout, and email marketing.
Fortunately, we've compiled a list of the top Shopify applications to assist you in managing your online store and adding new features.
Similar to WooCommerce, Shopify has a tonne of strong apps that can help you monetize your store. For their eCommerce endeavors, a lot of merchants depend on this platform for this reason.
Top 10 Shopify apps for your store in 2022
1. SMSBump – best for your SMS
Yotpo's Shopify SMS management app is arguably the best. You may automate the creation of GDPR and TCPA compliant subscriber lists with SMSBump. The software includes several processes to assist you in raising your customer service standards and conversion rates.
You may create flows to send birthday gifts, target your audience, check on packages on the day of delivery, set alerts for abandoned carts, and more.
Features:-
Based on the customer's time zone, you can send SMS messages.
Analytics and A/B testing are used to execute experiments on SMS messages.
The feature that limits spending to prevent overspending.
Price:- Free and countries-wise premium plan also available.
One excellent tool for executing internet marketing and converting new clients into loyal ones is Seguno. You can send welcome emails to new clients with the help of Seguno.
Additionally, the program creates thank-you emails and fosters consumer loyalty. This helps to ensure that customers remember your brand over the long term.
Features
Utilizes an automated system to send brief welcome and thank-you emails.
Converts potential clients into devoted customers.
Use dynamic recommendations to assist reduce shopping cart abandonment.
Creates own coupon codes.
Price: You can use it for free for up to 250 subscribers.
3. Klaviyo – best for your emails
One of the best options for email marketing services on Shopify is Klaviyo if you want to develop enticing, targeted emails to interact with your audience.
It offers all the essential features, such as pre-built templates, customized flows, and ROI-based analysis of the effectiveness of your email campaigns, and it interfaces with over 100 products.
Features we cherished:
A collection of automation.
Adding dynamic forms to your website.
Data syncing between Facebook Ads and Instagram.
Price: Free for the first 250 contacts. Up to 500 contacts for $20 each month.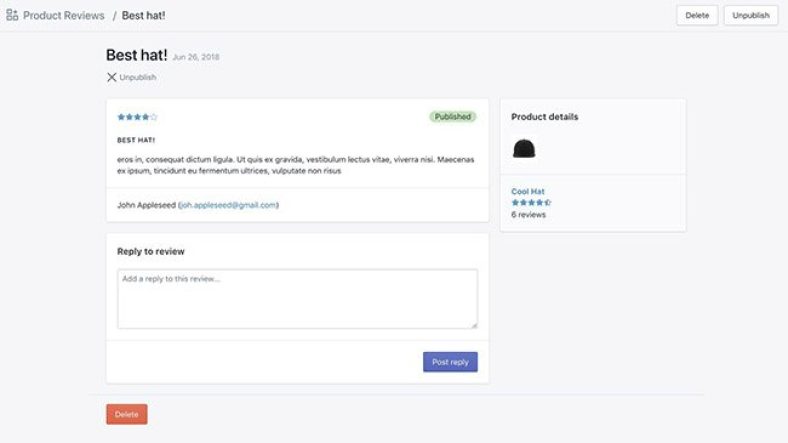 You can include consumer reviews for your products with the help of the Product Reviews app. This allows your consumers to provide you feedback and encourages other people to shop at your store.
The importance of product reviews is underscored by the fact that, according to an eMarketer survey, only 2% of consumers look at them AT ALL during the purchasing process. Additionally, the material that appears in customer reviews might help with SEO.
An innovative email marketing platform called Mailmunch offers eCommerce stores strong marketing automation tools.
Sending stunning email campaigns is made possible by automation and more than 1,000 pre-built HTML email templates.
You may completely customize your stores with the Shopify integration. Design captivating landing pages that complement the style of your brand.
Key features:
Draw attention to your website with eye-catching forms, popups, and landing pages.
A drag and drop email builder with more than 1,000 pre-built designs is available.
Automated cart abandonment emails.
Comprehensive and sophisticated marketing analytics.
Increase exposure and reach with fun and adaptable coupons.
Price: Users can add an unlimited number of subscribers to the free subscription, but they cannot send emails. Paid subscriptions begin at $19.99 a month for 1,000 email contacts.
PushEngage is a Shopify app that lets you send personalized push notifications to your visitors, which boosts sales. By doing this, you can stop customers from leaving their shopping carts unattended, keep them on your website longer, and ultimately increase traffic.
Since opting in to push notifications doesn't require providing personal information like an email address or phone number, more people are likely to do so. The finest feature is how simple it is to install PushEngage with just one click.
Key characteristics:
To increase signups, use customizable sign-up display trigger rules to show your message at the ideal time.
Adaptable design choices allow you to customize each push notification.
To remind customers of their unfinished transactions, use the automated cart abandonment feature.
You can target subscribers using audience segmentation based on a range of criteria, including device kind, location, pages seen, and more.
Analytic to advise you in future campaigns.
Pricing: To get you started, PushEngage offers a free plan with up to 200 subscribers and 30 campaigns. For up to 100K subscribers, the pricing tiers begin at $9 per month!
Knowing how your consumers interact with your Shopify business allows Lucky Orange to help you in boosting conversions. This toolkit contains heatmaps and session recordings to track how visitors use your website.
As a result, you can see the pages people land on and the places they go while shopping.
Features:
Full replays of an active user's session allow you to assess the effectiveness of various aspects of your website.
You can examine recordings from the audience you are most interested in by using session filtering, which includes new visitors, returning visitors, operating systems, cart values, and more.
Determine where the dropoffs are in your funnel to improve the user experience.
With form analytics, you can see which forms are being abandoned the most.
Pricing: Lucky Orange offers a free plan with 500 monthly pageviews for 1 website. Starting at $10 per month, paid options with greater pageviews are available.

An email marketing and SMS service is provided by Omnisend. It offers simple marketing solutions for your Shopify business that are made to boost sales while saving you time.
You can design pre-built workflows that execute automatically using Omnisend. This enables you to increase sales while you're sleeping!
By segmenting your audience, you'll also be able to improve these procedures using well-organized contact lists.
Key attributes:
Easy integration with Shopify that just requires one click to get going
Maintaining contact with your customers using SMS
You can learn more about visitors and their purchasing intents by using website tracking.
Pricing: With up to 250 contacts and 500 emails sent per month, the email-only plan is cost-free. Plans start at $16/month to access additional emails, contacts, and SMS.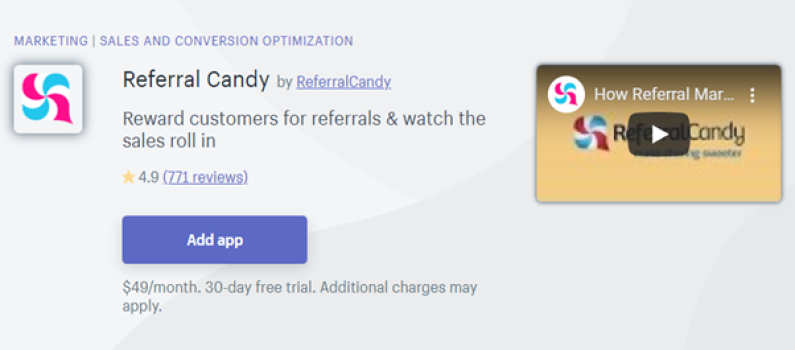 Did you realize that each satisfied customer would recommend nine others? Therefore, you're losing out on sales if you don't use referral schemes.
One of the greatest Shopify apps for encouraging your customers to recommend their friends is Referral Candy. For an unlimited number of referrals, you can pick the prize of your choice.
The Referral Candy system has a dashboard where you can track referrals, as well as automatic reward distribution and reminders.
Key characteristics:
Integration with services like AdRoll, ReCharge, and Google Analytics
Automate your referral program to maintain satisfied clients.
Having a mobile-first mentality will ensure that your emails and pages appear excellent on any device.
Pricing: Plans for Referral Candy start at $49 per month. Based on referral sales, you will also be charged a tiered compensation rate.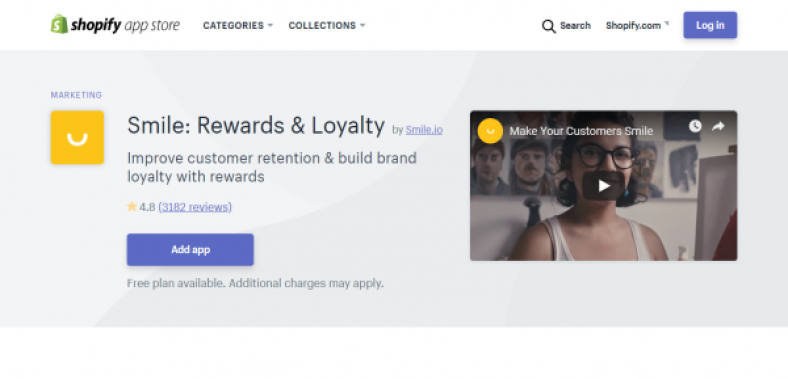 Loyalty programs may be a significant pull whether or not customers stick with one brand. Customers like interacting with businesses, as well as the individualized attention and benefits that come with these initiatives.
With Smile: Rewards & Loyalty, you can implement a loyalty program on your Shopify site to attract more devoted consumers who will increase your revenue through recurring purchases.
Smile.io enables you to award points for signing up for accounts, sharing things on social media, getting followers, and more.
Key Features:
You have complete control over your loyalty programs thanks to fully configurable designs and programming.
Customers are prompted to spend their awards and points from loyalty programs by the Shopify store connection.
English, French, Portuguese, Spanish, and Germain translations are offered.
Pricing: Smile.io branding is present on assets you use on your Shopify store as part of the free plan. Paid packages begin at $49 per month.
Bonus Shopify App for Images
11. Booster SEO Image Optimizer
Did you realize that Google Images accounts for almost 26% of all searches?
You require a Shopify app like Booster SEO Image Optimizer for this reason. You can install this app with just one click and be up and running in less than 30 seconds.
Everything you need to have your photographs optimized for search engines is included in the Free plan, including alt-text optimization, unlimited image syncing, and even weekly image checking.
Broken links are a thing of the past thanks to the subscription plan's additional benefits, which include metatag optimization, target keywords for your photographs, and redirection URLs.
Key attributes:
Simple installation
Only SEO applications made specifically for Shopify
According to programmable rules, the AutoPilot feature corrects SEO problems.
Price: $34 per month for paid plans.