Does your website have numerous images and tons of content?
Well, then I guess you don't want your visitors to miss any important bit of information, you'll need a WordPress slider plugins. Sliders make sure that you manage to grab the visitor's attention even if there are a lot of videos and images.
If your site is content-heavy, you can highlight important bits of information in that content with sliders. A slider on the header or the portfolio pages or even in your posts/pages helps improve the overall experience of the user.
To help you choose one, we've picked the 10 best WordPress Slider Plugins. We have included only the most responsive slider plugins that'll make your website appear more appealing.
Share this Infographic On Your Site
Best Articles:
With Meta Slider, you can choose from four JQuery Sliders. Each of these sliders comes with its stand out features. They have their transition effects and themes too.
Meta Slider is easy to use and perhaps the best wordpress slider plugins that the market has to offer. It also enjoys an amazingly impressive high Google rating. It has a few amazing features. They are-
You can choose videos or content if you are a premium user
You can link it to a URL or even add a caption to it
If you're keen to display images, videos, and text within your sliders then Slider Revolution is the one for you. With more than200k in sales, Slider Revolution is an immensely popular slider plugin.
It gives you all you would expect from a paid plugin and is worth every penny. You can also customize the slideshow as you wish with Slider Revolution. Here are some of its amazing features-
You get detailed documentation on the configuration
You get a visual editor that helps you work faster with more efficiency
Read More:
Nemus Slider lets you add images and much more to your slideshow.
While Nemus Slider doesn't allow you a high degree of control on the posts that you want to include, it does let you show your posts on single slides.
You can create a truly appealing slideshow by adding videos from YouTube or photos from Instagram or Flickr. It's standout features are-
You can display images from your Instagram account
It offers a carousel mode
Related Plugins:
ToolsonCloud | CSS Igniter | Mojo | Apollo 13 Theme | Themeum | Pretty Darn Cute Design | WPDeveloper
It's a pretty basic slideshow plugin and it offers only limited features. But has one feature that all users just love- it's user friendly. All you need to do is add pictures from your media library after you've selected them. The slider dimensions can be manually adjusted through the settings. Easing Slider is a free WordPress slider plugin. Here are its features-
You can have a live preview of the slideshow while modifying it
It gives you the option to buy add-ons. With these add-ons, you can add videos, HTML captions and more

Slider by 10Web comes with an amazing array of useful WordPress slider features that make it very popular. You can display your content on the sliders more easily with the Slider by 10Web, a truly flexible WordPress slider plugin. You needn't worry at all if your website has a lot of visual content. That's because this plugin supports both images and videos. This slider plugin's features are-
You can have as many slides and sliders as you want
You can add text to your images with image watermarking
Read More:
You can display your sliders on all devices including mobiles and tablets as Wonder Slider Lite is highly responsive.
You can also add videos from YouTube and Vimeo and also supports other WordPress media content. You can make your website more engaging with the truly impressive 3D transition feature. The features of Wonder Slider Lite are-
It has a built-in Lightbox gallery
Lets you display many sliders on a single page

With Master Slider, you can add HTML content of all kinds in layers. Master Slider works smoothly and combines flawlessly with all devices including mobiles.
As a premium WordPress slider plugin, Master Slider supports both swipe gesture and touch navigation. It has a few features which are-
You can use this on WordPress multisite
It works with multiple languages
Read More:

Smart Slider offers various design tools with more than 100 professionally designed templates.
That lets you build your sliders on canvas giving you the freedom to design them the way you want. Smart Slider is a freemium WordPress slider plugin.
It combines design with customization to make sure that your slider goes well with your brand. Its features are-
Responsive making it mobile compatible
Animation with layers that add color to your slides
You can still use the Kreatura Slider Plugin on any older version of WordPress as it is compatible with them. It is an SEO friendly tool and offers 3D effects. The animated page blocks help you make your website appear more attractive. Kreatura is also pretty responsive and it works well on mobiles too. It has its features too. They are-
Includes a Visual Editor
It's SEO friendly
Related Articles: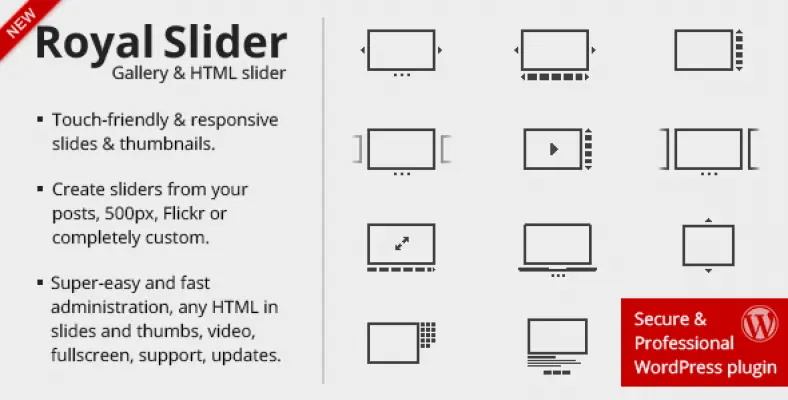 You can take complete control of your slideshow with RoyalSlider. It is responsive, therefore mobile- friendly. You can pick images from the image gallery and it also supports HTML content. You can include data from Flickr. Your speed and performance won't be affected after you've installed RoyalSlider as it's a lightweight plugin. The features are-
The layout is mobile responsive
You can give your slides a fresh look with the 4 skins it comes with
Conclusion
Any information that should reach the visitor won't be lost as sliders will help you highlight them. With sliders, your website is no longer a maze of information.