Elementor is perhaps one of the greatest page builders for WordPress. It's flexible, full of features, and customizable. It's a page builder designed to help you make the most of your WordPress website.
Although its built-in functionalities are sufficient to make your website fantasies a reality, add-ons can be used to expand it further.
Do you want to modify the look of your sliders?
For it, there is an add-on.
Do you need to update your headings?
For that, there is an addon. Do you want to spruce up your sections? For it, there is an add-on.
In this article, we'll go over the top Elementor add-ons available to help you make your website stand out.
Best Elementor Addons for WordPress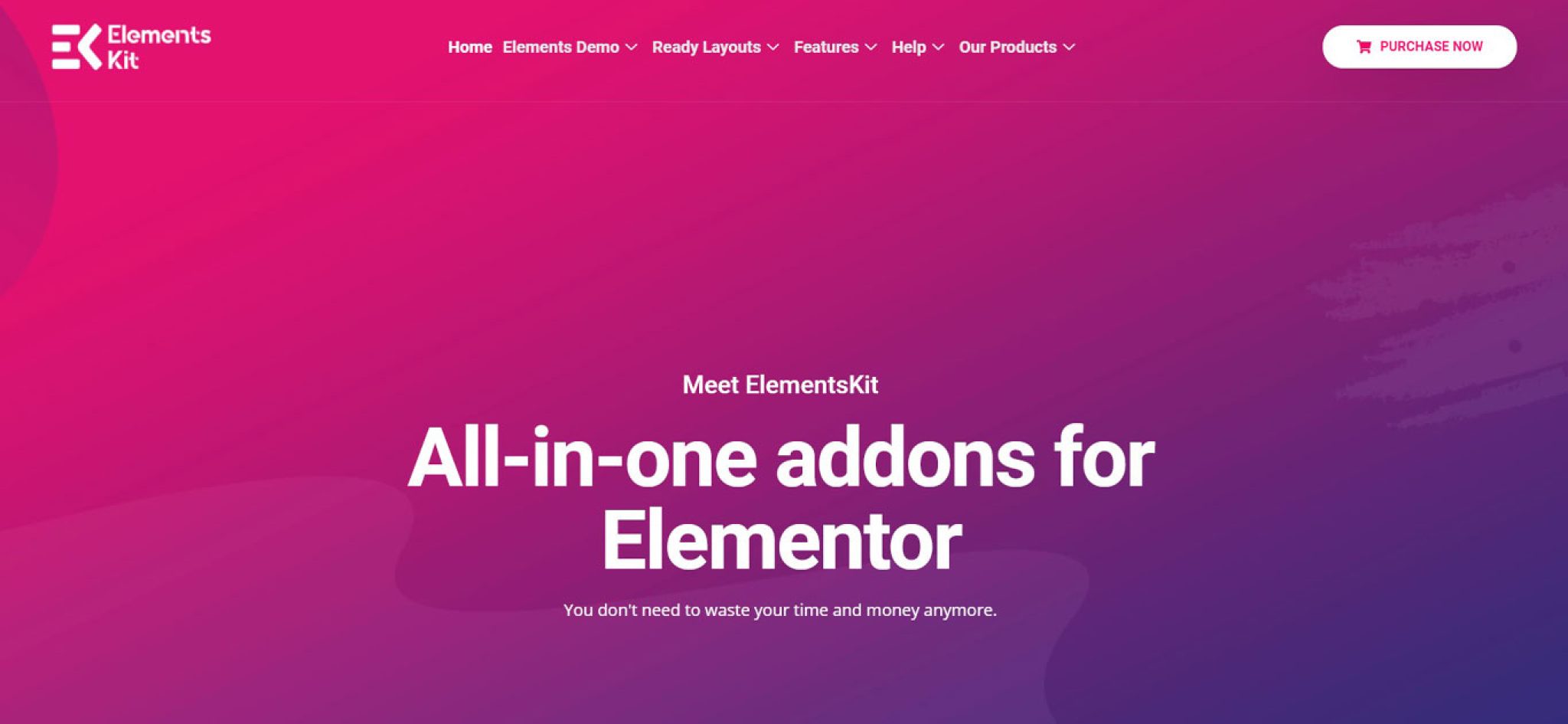 ElementsKit is a complete bundle that includes a fantastic header and footer builder as well as a massive menu builder. It also comes with 55+ custom addons and 500+ ready sections, allowing you to save time when building and customizing websites.
Image picker, Ajax Select, Advanced widget, and more powerful custom controls for Elementor are included. Why utilize many plugins when you can get all you need under one roof?
This Elementor extension and widgets plugin also includes a layout library with 25+ pre-built homepage layouts and 455+ blocks to help you quickly construct a website.
Price:- For now, the pro version costs $39 per year for a single site, $87 per year for five sites, and $179 per year for unlimited sites.
Exclusive Add-ons allow you to create WordPress websites with the most features. You may access 55+ ready-made templates, and 801+ pre-built blocks with this plugin. It includes a variety of components, including 110+ widgets and extensions.
While their free version includes 39+ pieces, switching to a premium version gives you access to 69+ pro elements as well as professional assistance. The well-optimized plugin allows you to create web pages that load quickly.
The icon library is one of its standout characteristics. There are over 3000 high-quality, well-crafted icons in the library.
Exclusive Addons is an Elementor addon that works with WooCommerce. You can create fully working e-commerce sites using their Woo-Builder, which includes 15+ Woo-commerce widgets for shop pages and single product pages.
In addition, the Exclusive Add-ons team has created a WebGL plugin that allows you to create explicit interactive 3D animations for your website.
In a nutshell, it's a little Elementor extension that allows you to create sophisticated websites with a wide range of customization choices.
Price:- It's a premium plugin with a freemium model. The professional version costs $39.

Happy Addons for Elementor is a powerful Elementor add-ons and widgets plugin that will delight you with its stunning designs and deep-level adjustments to improve the visual appearance of your website.
It comes with a set of stylish and powerful widgets that interact seamlessly with Elementor.
It comes with 25+ feature-rich widgets in the free version, but if you upgrade to the premium version, you'll gain 20+ premium widgets. Furthermore, they have supplied fantastic demos for their fantastic widgets so that you can see how they might be used.
Price:- This Elementor extension and widgets plugin cost $39 per year for a website and $149 per site for a lifetime license.
4. Ultimate Addons for Elementor
Ultimate Elementor Addons was created to be the best of the best in every manner. The Astra theme's creators created this Elementor extension and widgets plugin. Ultimate Addons for Elementor is highly recommended and should not be overlooked. They supply you with over 40 complex and unique widgets.
This add-on is used by a large number of individuals to create website content and layouts.
You can maintain your website loading quickly using its Modular Control. In addition, this Elementor extension and widgets plugin includes WooCommerce and Post widgets to help you present your products and content more attractively.
You'll get 100+ pre-built starter templates for every website, including blogs, businesses, personal websites, portfolios, shops, charities, and more, to help you save time while creating a website.
Price:- It's a paid-for plugin. They will charge $55 for a year and $249 for a lifetime for a startup.
Another excellent Elementor plugin is PowerPack for Elementor.
It includes over 70 amazing widgets to make your website shine like a pro.
Rather than adding additional widgets to its collection, Powerpack tries to provide you with amazing widgets with improved functionality.
This plugin's widgets are organized into three categories: form styler widgets, creative widgets, and content widgets. The form styler widget allows you to customize any form, including Caldera Forms and Ninja Forms.
It has over 90 part templates to help you save time when creating website sections. They are well-known for their pre-built, modern-looking templates.
Cross-Domain Copy Paste is a new function that allows you to copy a portion of information from one website to another. You will save a lot of time because you will not have to recreate what you have previously created.
Price:- You must pay $39 per year or $209 for a lifetime subscription, while there is a free version available.
The plugin is meant to let you quickly build headers, footers, and blocks for your Elementor page. Elementor allows you to create beautiful headers, footers, and blocks for your website.
You can use the Elementor editor to design out-of-the-box headers and footers for your website, as well as specify a specific spot for the header and footer to appear.
Aside from headers and footers, you can also create custom layouts and use a shortcode to display them wherever you want. This plugin offers a lot of versatility and has a lot of extra functions. To develop header-footer layouts, you can use a variety of built-in widgets.
Price:- Free
Another plugin that offers a collection of free and commercial add-ons is Master Addons for Elementor. This plugin, which includes elements, forms, and extensions, can be a good pick, even though it doesn't have as many addons as some of the other plugins on the list.
To begin, the plugin provides exactly thirty-three different elements that you can freely utilize the next time you use Elementor to construct a page or post. This plugin will provide a nice assortment of free addons and extensions, ranging from a navigational menu to progress bars, and from business hours to gradient headlines.
Price:- You'll receive access to more add-ons after upgrading to Pro for just under $30 a year.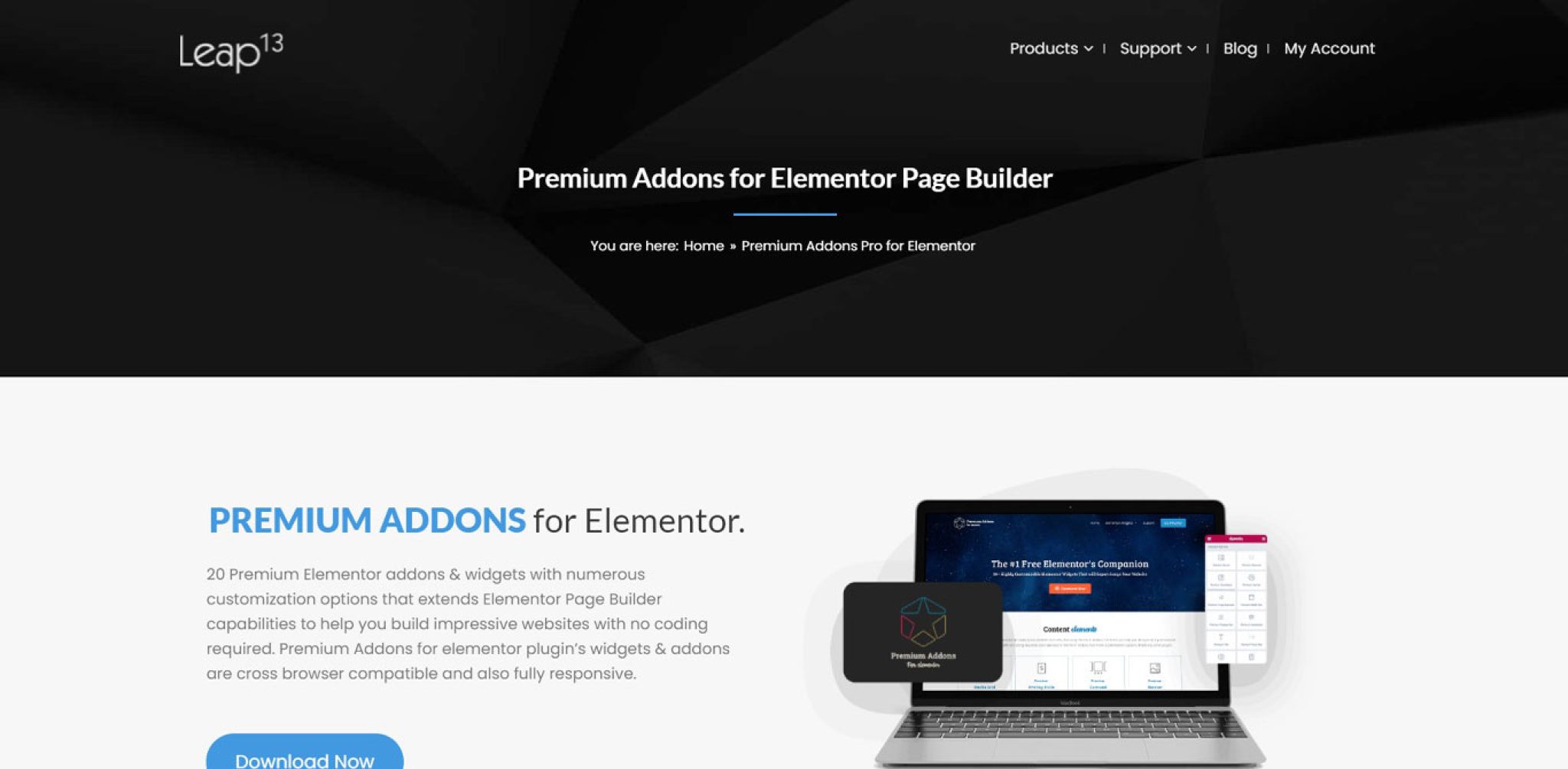 Premium Addons for Elementor is a WordPress plugin that also includes a huge library of Elementor templates. It's another great blend of free and premium add-ons. Thanks to the incorporation of Lottie Animations, the plugin has some intriguing visual options.
You'll have access to a restricted number of addons for free. Widgets like Google Maps and blog widgets, as well as an image grid, modal box, and testimonials widgets, are among them. The list doesn't end there, either, but it becomes much more fascinating if you pay for the pro additions.
Price:- Your addons palette will considerably grow if you pay $39 for a year.
You can create landing pages, professional company websites, eCommerce websites, and more using Stratum. This add-on offers more than 20 sophisticated widgets that can be used instead of Elementor Pro.
Stratum has a notable benefit over other add-ons in that it may inherit color, typography, and other stylistic preferences.
You can save time by aligning additional widgets with your current site theme without having to alter them manually.
Price:- There are three pricing options for Stratum.  Free plan, stratum professional for a single site, and it costs $19. $59 for an unlimited number of sites.
Elementor Extras is a paid Elementor extension that adds new widgets to boost the potential and functionality of your website.
You also receive new extensions that transform the way you create with Elementor and fit exactly into the existing element control, in addition to sophisticated widgets. Designers created Elementor Extras with all of your requirements in mind.
This addon's widgets are all very customizable. You have access to all of the customizable choices needed to create a one-of-a-kind website.
When you're just getting started, their team makes sure you get the greatest and most reliable service possible. Their team also gives outstanding support and documents to assist you in overcoming various challenges.
Price:- The cost begins at 26 euros.
Bottom Line
One of the most powerful page builders available is Elementor. Not only is it simple to use, even for beginners, but it also allows for extensions and add-ons, expanding its capabilities even further.
It makes no difference whether you have the free or paid version of Elementor; both are excellent at what they were designed to achieve.
By this point, we hope you've gathered enough information to make an informed decision on which Elementor widget plugin is best for your website. However, before making a decision, we propose thoroughly reviewing their unique functions.
You can also utilize many Elementor Addons plugins because each one is unique in its way.