Are you seeking for the top WordPress plugin for an audio player? Would you be able to start your search for a WordPress plugin that satisfies your requirements?
We examined dozens of WordPress plugins to help you and chose the top Audio Player WordPress plugins. In order for you to stand out from the competition, we made sure that these plugins will function with all WordPress themes.
We selected the finest Audio Player plugin from a variety of options. These plugins can be used with music players, HTML5 audio players, and playlists.
We recommend taking a look at the available WordPress podcast themes if you're interested in beginning a podcast so you can build a website and promote it.
Additionally, if you already have a website, you might want to look into using one of the WordPress podcast plugins to improve it.
You might want to take a look at the WordPress music blog themes if you want to combine these plugins to make a music, band, or musician website.
Features to Look for in the Best WordPress Audio Players
WordPress audio players come in different varieties. Others are devoted primarily to podcasters, while others of them are for bands to share their music libraries (suggested reading: how to start a podcast using WordPress).
Regardless of how you want to use the audio player, the following features are worth looking for:
Publish your audio clips in seconds using this rapid upload tool.
A playlist to list out your audio samples and possibly classify them into episodes with limitless playlist and track support.
A responsive design that allows people to access the audio on phones and tablets.
A playback feature that starts when visitors arrive at your website.
Tools for player customization that let you change the color and size.
There are many alternatives, including widgets and shortcodes, for adding the audio player to a website.
Embed YouTube and other external media support.
Audio service interfaces with Google and Apple. For example, having to subscribe buttons for your podcast in the Apple Store would be fantastic.
Statistical information that is based solely on your audio rather than information that is based on your full website.
options for obtaining audio feeds from additional sources You might, for instance, direct your podcast feed to the Apple Store.
Best WordPress Audio Players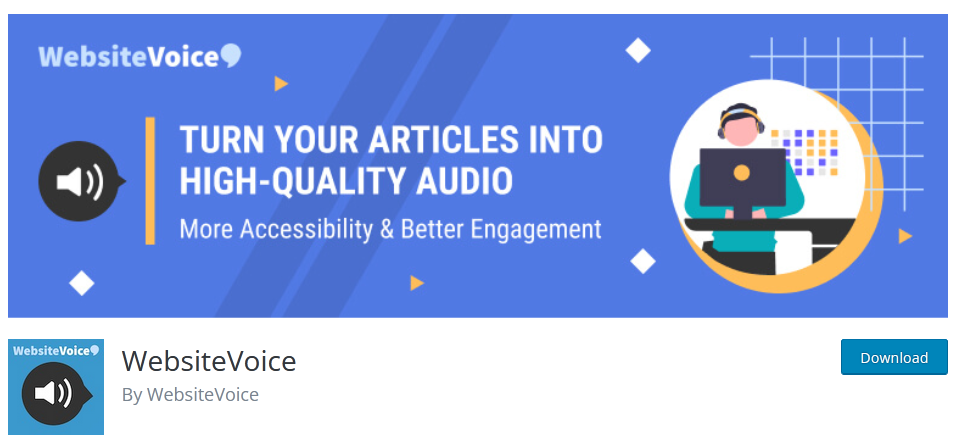 Our top recommendation for the WordPress audio player plugin is WebsiteVoice. With a customizable play button, this premium utility simply integrates into your WordPress website or blog (widget).
The plugin enables you to turn the text on your website, landing pages, checkout pages, and blog article pages into speech so that visitors may listen to it without having to read it in its entirety.
You may choose any color for the audio player widget and an AI-based natural voice to read the text in practically any language with a variety of accents to suit your branding demands.
To get started and witness the enormous advantages you will receive on your website engagement and income KPIs, WebsiteVoice offers a 14-day free trial.
The plans begin at $9 per month.
The best feature of this application is the option to download the MP3 file that contains the voice-over for the blog or website material so that you may publish it as your podcast or to one of the many other platforms that offer multimedia content.
2. Fusebox
Fusebox, formerly known as the Smart Podcast Player, is regarded as one of the top plugins available in that market. This Fusebox will be used with great enjoyment by your audience.
With the aid of Smart Track Player, you can easily binge your whole library, and it takes the functionality for an entire show and turns it into a single track.
You can use it in this way for both podcasts and music. The ideal option is to download people's email addresses to acquire user snippets or to advertise your material afterward.
Its starting monthly cost is $15.
We must admit that for this price, you receive some incredible features. You have complete control over the buttons, colors, and access to the audio archive when you completely customize the audio player.
Setting the listening speed is one of the most dependable functions, which is a significant tool for podcast users who binge on a variety of programs.
3. Gutenberg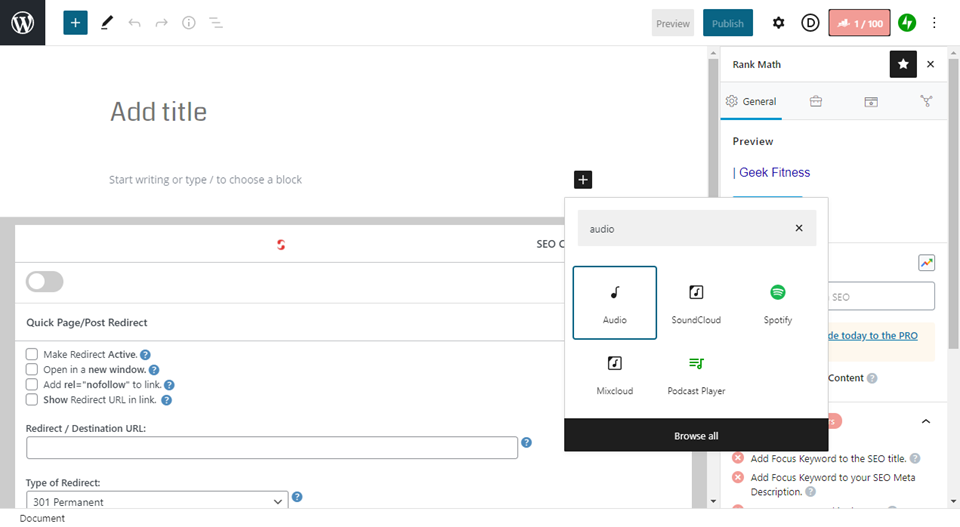 The Gutenberg audio block is a testament to how far the default WordPress audio player has advanced over the years.
Even though it isn't the most feature-rich payment option available, using the WordPress block editor gives you access to several customizing capabilities.
Using Gutenberg has many benefits, including a pleasant audio experience when you don't want any problems or glitches to occur at the wrong time.
You can embed the more complex version of Gutenberg as a widget on your website. Consequently, using Gutenberg has proven useful.
Now that you can embed from Spotify, Soundcloud, Mixcloud, or any podcast source, uploading files from your server is a straightforward process.
4. Blubrry PowerPress
PowerPress is the finest player to choose if you want a free, straightforward audio player. And it keeps getting better; it doesn't stop at this point.
It excels as a WordPress audio player plugin in addition to being so well-liked for podcasts.
PowerPress is more scalable and seamless with WordPress integration, but not being as slick and a high-end option as Fusebox. Use PowerPress play to provide people with a high-quality listening experience.
PowerPress is undoubtedly a wonderful choice for your website if you don't want a flash player due to its quick loading time and speed capability.
If not, you can select more sophisticated audio tools to further customize your website.
5. Music Player for WooCommerce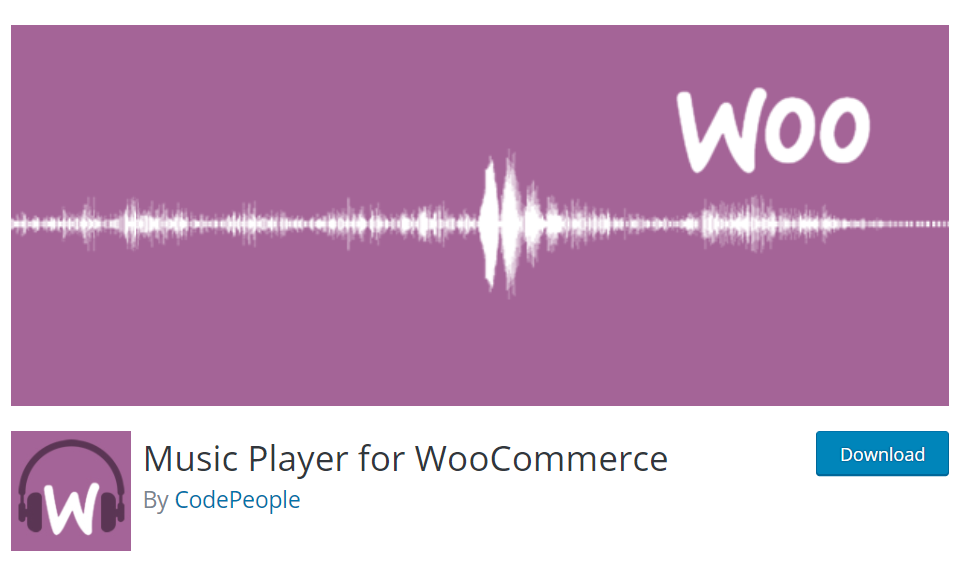 We all enjoy free, high-quality music, but it can be difficult to get paid for your skills. Well, that's a different tale for another time.
This audio player is used by people to sell their songs. The finest audio player is what keeps the starving musicians fed as they perform.
Your audio is automatically protected by the Music Player for WooCommerce plugin. A similar technique is used by iTunes and other well-known audio players.
You have versatility in how you want to present your goods thanks to the shortcode. Therefore, you can utilize the tools that you are already familiar with that have smooth functionality and cost less than the expensive ones.
6. AudioIgniter

With its wealth of features, AudioIgniter allows you to "light" your podcasts and entice listeners to return to your website.
You can stream radio with the plugin. Additionally, it gives you a fantastic-looking MP3 player for your website. Using shortcodes, you can quickly embed your music playlists on your articles, pages, and custom post kinds.
It's a straightforward plugin that lets you add an unlimited number of playlists and select whether auto-looping is turned on or not.
There is a free version and a paid version available. You can customize the player type, starting volume, track listing height, and player width in the free version.
You may also reveal track covers, track numbers, reverse the order of the tracks, and many other things.
Its design is completely customizable, and it supports every screen on a contemporary device because it is so responsive.
You must upgrade to their pro edition to change the player's color, audio playback rate, and tip tracks. Even more intriguing is the ability to sell tracks separately using this plugin and WooCommerce.
7. Cue

The cue can help you reorder your music using a simple drag-and-drop interface. The plugin seamlessly connects with WordPress, allowing you to add your songs and images from the media management of WordPress.
The fact that it automatically extracts the title, artist, and length from an audio file's information, if available, is even more astounding. It promises to function on any device that supports your audio format and is completely responsive.
The player's background image can be changed, and you can even use your artwork for each track.
You may see insights into how your visitors interact with your audio track with Cue's pro edition. Even so, you can customize each track's download and buy links.
The pro version also includes attractive themes to give your player a fresh appearance. Additionally, the audio player is responsive and works with all audio formats and devices.
8. Seriously Simple Podcasting
One of the most popular audio plugins is Seriously Simple Podcasting, which claimed to provide you more control over your audio content so that you could start podcasting without any restrictions.
The plugin will remain free for everyone thanks to the hard-working developer team. You will only have to pay when you want to host your audio files on specific servers for podcasts.
No matter which server you select as your podcast hosting service, every functionality of the plugin is fully functioning.
It is one of the best small plugins that leverage the media manager in WordPress and offers the fewest options. You may display your podcast playlist wherever you want on your site thanks to the robust shortcodes and widgets.
Additionally, you have the option of managing several podcasts, each with a separate RSS feed. You can also include your audio's title, description, and other elements in the audio player in addition to the cover image.
9. MP3 Music Player by Sonaar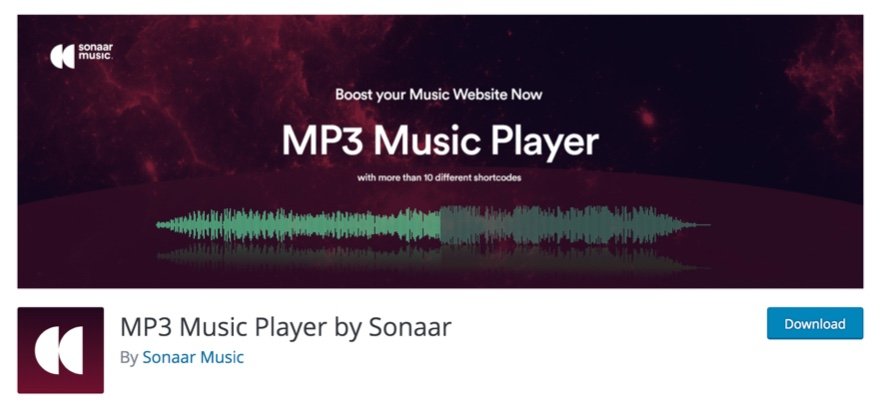 The MP3 Music Player by Sonaar is the ideal option for you if you want to install a music player using a plugin rather than the shortcode.
Using the Elementor page builder and the Gutenberg block editor, this plugin enables you to add the music player.
You may add as many playlists, albums, and audio tracks as you'd like to any article using this WordPress plugin that simplifies the audio player experience.
Additionally, you can customize your music player by using the WaveSurefer.js-powered waveform bar that is located beneath every audio player. It's design and user experience are professional, it is fully customizable, and it has a tonne of useful functions.
You may immediately add your media files with WordPress' built-in media library management, so you don't need to use XML, JSON, or FTP to publish your audio tracks.
If your files are downloadable, you can even include Buy now or Download Now buttons as well as social media icons for each tune.
10. CM Tooltip Glossary
Finally, we have reached our final WordPress audio plugin, which is a little different from the other plugins mentioned above but committed to giving you more.
This is the CM Tooltips, which allows you to make a responsive, fluid glossary index and helps you display a tooltip with additional information when a user hovers over a certain phrase.
Additionally, the pro edition allows you to upload audio and video files. You can quickly attach your audio files, apply custom CSS, and modify the player and play button.
You can immediately integrate movies from YouTube, Vimeo, and other video-sharing websites and display them in your tooltip while using the pro version.
In the tooltip, you can also include an HTML5 audio player. For audio files, this plugin accepts.mp3,.m4a,.ogg, or.wav files.
By adding a link or uploading the file using WordPress' built-in add media button, you may effortlessly embed audio from audio-sharing websites. As a result, you may use this plugin to add audio to your website and as a tooltip.
Conclusion
Although WordPress comes with a built-in music player, it is frequently insufficient, especially if the primary focus of your website is audio content.
Fortunately, plugins can help you with it. By this point, we hope that we have assisted you in selecting the ideal WordPress audio player plugin for your requirements.