Your customer service initiatives should include a knowledge base. It allows your clients to rapidly find answers to their questions. Furthermore, when customers can resolve issues on their own, the number of help requests on your site will decrease. This offers a win-win situation for both your consumers and you. If you manage a WordPress site, you'll find several useful tools for building a knowledge base.
We'll look at some of the most popular WordPress Knowledge Base Plugins in this article to see how they might help you better manage your clients.
We'll also look at some best practices that will help you manage a knowledge base more effectively.

This plugin assists in the creation of a comprehensive and professional knowledge base on your website. It's very user-friendly and works with almost all WordPress themes.
When your clients access your site via multiple devices, the completely responsive plugin guarantees that they have a consistent experience.
Even if you are not a coding expert, the plugin allows you to personalize the appearance of your knowledge base. You can customize the colors and layout of the knowledge base to ensure that it blends in with the rest of your website's design.
An advanced search feature with predictive text ensures that your consumers can easily find what they're looking for. This would make searching on your site a lot easier and more useful.
The HeroThemes team has created a premium knowledge base WordPress theme called KnowAll.
KnowAll does more than simply improve the aesthetics of your website. This theme strives to give you everything you'll need to create a successful WordPress knowledge base website.
Your visitors may be welcomed with an AJAX-powered live search tool, followed by links to your most popular help subjects, depending on how you set up your online knowledge base. With KnowAll, adding downloaded attachments to any of the articles is simple, making it simple to help your audience in a variety of ways.
You'll also find a collection of reporting tools to assist you to keep track of how well your knowledge base and content are benefitting your audience.
BetterDocs is a sophisticated WordPress knowledge base plugin that is free to use. Essential Addons for Elementor and WP Scheduled Posts are among the popular plugins from the same creator.
BetterDocs comes with a free version that you may get from WordPress.org. The creator also offers a premium version if you desire more features.
In addition to the live search results you may expect, this plugin adds an immediate answer bot that searches for answers to common user queries.
BetterDocs also features an automatic table of contents feature, which means that when you create your documentation, the plugin will automatically add it to this directory and give users a simple way to navigate without any additional effort on your part.
At WordPress.org, you can get started with BetterDocs for free. The cost of the premium edition begins at $39.
BasePress is a handy WordPress plugin for managing knowledge bases and documentation. It makes it simple to create support pages and docs for your products or services.
It comes with three different templates to pick from, as well as an innovative rapid search bar to assist users to locate answers quickly. You can reorder articles using a simple drag-and-drop interface to organize them into sections, categories, and tags.
Each part can have an image and a description, resulting in a really attractive index page for users to browse. The plugin also allows you to manage the design of your content pages with simple modification options.
Even the free version of this plugin allows you to build an unlimited number of knowledge bases. With their free editions, the preceding two plugins only allow you to construct a single knowledge base.
If you're on a budget and need numerous separate knowledge bases, BasePress may be a better alternative than the other free options.
It also boasts a strong feature set, especially if you upgrade to the premium version.
This is a paid plugin that will save you time and money when it comes to customer service. It will also increase your customer satisfaction rate, as research shows that customers are more satisfied when they find answers on their own.
Customers would benefit from the Ajax-enabled alternative because it would allow them to quickly locate solutions to their questions. The Heroic Knowledge Base plugin has three widget options for displaying articles, categories, and authors across your site.
It also allows you complete control over the design of your knowledge base. With the drag and drop sorting tool, you may reorder and organize categories in any way you choose.
The plugin also allows you to add attachments to knowledge base articles, which can come in helpful when dealing with complex customer concerns.
In addition, Heroic Knowledge Base provides extensive analytics to assist you to assess the effectiveness of your knowledge base articles.
Additionally, there is an opportunity to collect comments for each article to determine which ones are performing well and which are not. It simply integrates with your WordPress site and themes, and it also enables easy developer-level adjustments.
The plugin's basic version, which may be used on a single site, costs $129.

Echo Knowledge Base is a popular freemium knowledge base plugin for WordPress. It has several frontend themes, all of which are based on the typical knowledge base format that users expect, but which may be changed to meet your site's design. With this plugin's setup and minimal adjustments, you can get started with whatever layout you like.
The basic version of Echo Knowledge Base is available for free. To enhance your knowledge base, the developers provide a library of paid add-ons that you may peruse on their website.  Add-ons are available individually or as part of a package.

WeDocs is a free WordPress knowledge base plugin from weDevs, the same developers who brought you Dokan Multivendor and WP User Frontend Pro.
It provides an easy way to add and manage your knowledge base. You can break articles into multiple categories and rearrange them using drag-and-drop. It also comes with specialized widgets for adding a table of contents and a documentation search feature.
In terms of the front-end design, it's quite basic out of the box, but it'll suffice for a basic knowledge base. However, you might want to spice things up a little with some custom CSS. The plugin doesn't come with any extra templates, yet it works with all common WordPress themes.
With sidebar navigation and a breadcrumb menu, the knowledge base layout is simple but effective.
An extensive Knowledge Base Plugin for easy content management on your website. Although to improve the user experience, this useful WordPress extension also allows you to develop knowledge Base functionality on individual product pages.
You can set up self-service access at any moment and include all necessary information in articles. With the help of pre-designed templates, you can easily design the article layout in minutes.
Simply increase the attractiveness of the post to create a more intuitive appearance and feel for the entire site. Your website will become more engaging as a result of this robust and smooth integration.
Pricing:- Price – Standard – $144/annually, Premium – $240/annually
KB Support is a simple to use and extend WordPress support and knowledge base plugin.
The plugin incorporates a ticket management system and a knowledge base platform to give a complete support system that runs on your WordPress website.
There are commercial add-ons available to enhance the plugin's capabilities, such as the ability to send emails, WooCommerce integration, scripted responses, and more.
Helpie WP is a knowledge base plugin for WordPress that allows you to create a client self-help desk.
You can provide detailed, easy-to-understand documentation for all of your products and services, and allow your customers to figure out the answers for themselves.
It cuts down on the number of support tickets and emails you get, allowing you to spend more time on sales and conversions.
It contains a lightning-fast search, an automated Table of Contents, breadcrumb navigation, and many other features to assist your consumers in swiftly finding answers.
You may limit who can see, edit, publish and accept at the global, topic, and article level with Helpie Knowledge Base's Dynamic Capabilities.
Its Front-end Editor, Publishing Capabilities, Revision System, and Insights assist you in creating a very useful knowledge base website to improve your customer service.
It's fully integrated with the Elementor page builder and includes dedicated Elementor widgets for usage on your home page and individual pages. Use Helpie and Elementor together for the finest styling and customization.
Helpie is available for $49 for a single-site license.
Another WordPress Knowledge Base plugin that users can use to expand their wiki. MinervaKB has more functionality than is necessary for a website of its type. It was created primarily to act as a useful knowledge base plugin.
MinervaKB with Analytics, a popular plugin, is expected to be the fastest-growing knowledge base plugin in 2022.
The MinervaKB plugin is adaptable to your needs, with rising user reviews and competitive pricing of $69 for premium functions. This plugin allows users to create forms and follow-up articles for feedback from the front-end interface.
The search bar is Ajax-enabled, as you might anticipate from looking at some of the other plugins here, so your clients will get real results as they type.
In addition, the search bar includes 7 different themes to choose from to match your brand's style. There are over 500 alternatives to pick from when it comes to designing the rest of the knowledge base design.
MinervaKB also comes with a plugin for creating attractive FAQs for your website. It also works with commercial plugins like Visual Composer, which allows you to create pages with drag-and-drop functionality.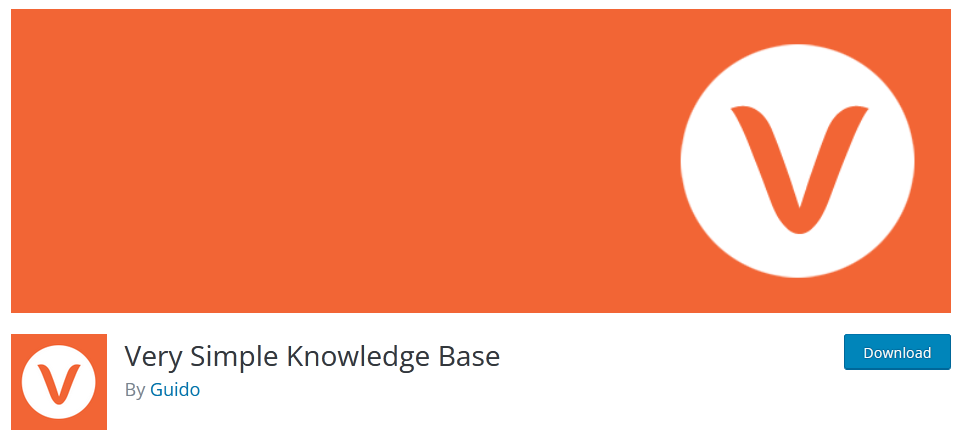 Very Simple Knowledge Base is, as its name suggests, one of the quickest and simplest plugins for quickly building knowledge base pages. If you're searching for a quick way to produce documentation or knowledge base pages, this plugin is for you.
The main advantage of this plugin is that it allows you to reuse existing posts for knowledge base subjects and display them using shortcodes. To display extra categories and articles, KB items can be grouped by category into a multicolumn layout.
The Very Simple KB plugin works with any custom post type, including products and events, in addition to regular WordPress articles.  This plugin shines at being simple to use and can be set up in minutes.
The Very Simple Knowledge Base is completely free to use.
Which knowledge base plugin is the most suited for your needs?
Because of its exceptional blend of practical usefulness and great design, Heroic Knowledge Base earns the first rank.
Check out Helpie if you want something even more versatile and customized. It has a plethora of capabilities for customizing and refining your knowledge base.
If you're on a tight budget, the Echo Knowledge Base is the greatest free option.
Conclusion
The most popular and best plugins for knowledge base and documentation management have been examined, but the list does not end here. Other tools and solutions may be available in this rapidly changing industry.
Don't forget to carefully consider your options before making a selection, as selecting the appropriate tool will save you time and money in the long run.