Do you want to attract people's attention right away? You can show precisely focused messages to visitors at the proper time with a lightbox popup.
Furthermore, lightbox plugins eliminate the distractions that keep users from making critical judgments. As a result, it motivates customers to take action that benefits your company's bottom line.
But how do you know which plugin to use? We'll go over the finest WordPress lightbox plugins for 2022 in this article.
What is WordPress Lightbox? How does it Work?
In simple terms, a lightbox is a popup or overlay window that appears on top of your website and displays your media assets.
They draw attention to the image you've chosen to display by darkening the remainder of the page. However, the page is still viewable around the lightbox's edges. This ensures that the viewer's focus is directed to whatever you're showing them.
A lightbox is now used on websites to include not only graphics but also opt-in forms for newsletters and email lists. Lightbox appears to have outgrown the old-school techniques of making your site more advanced.
It is an advanced and innovative way to make your site more advanced. Furthermore, including connections to other pages is more successful because it keeps people on the present page.
They're essentially JavaScipt, jQuery, or CSS3 scripts that use the graphical control element known as a modal window to display your desired content or graphics. It works mostly in the parent/child mode.
When the child window is opened, the parent window darkens to the point where it is scarcely visible. When the user closes the child window, the overall window or pop-up closes as well. This is the actual method through which a lightbox operates.
Best WordPress Lightbox Plugins
While there are other ways to incorporate a lightbox into your WordPress site, the simplest and most efficient method is to use a WordPress plugin.
We've compiled a list of the Best WordPress Lightbox Plugins available to make the process of selecting the best one for you easier. Feel free to experiment with each one to find the one that works best for you!
1. Responsive LightBox (Free)
Responsive Lightbox is a free WordPress Lightbox plugin that lets you install a lightbox to your website. Choose from seven different responsive lightbox scripts to get the one that best suits your needs.
This plugin, which is optimized for all screen sizes, allows visitors to view larger versions of photos or galleries in a pop-up or boxed lightbox layout.
It also supports product galleries because it is WooCommerce compatible. In addition, you can easily change the image title, caption, and description of the media file you're using. It is highly customizable, allowing you to make changes to suit your needs.
Price: Responsive Lightbox is a free plugin, you can purchase premium extensions to increase its flexibility and personalization. The cost of these extensions ranges from $14 to $49.2.
2. OptinMonster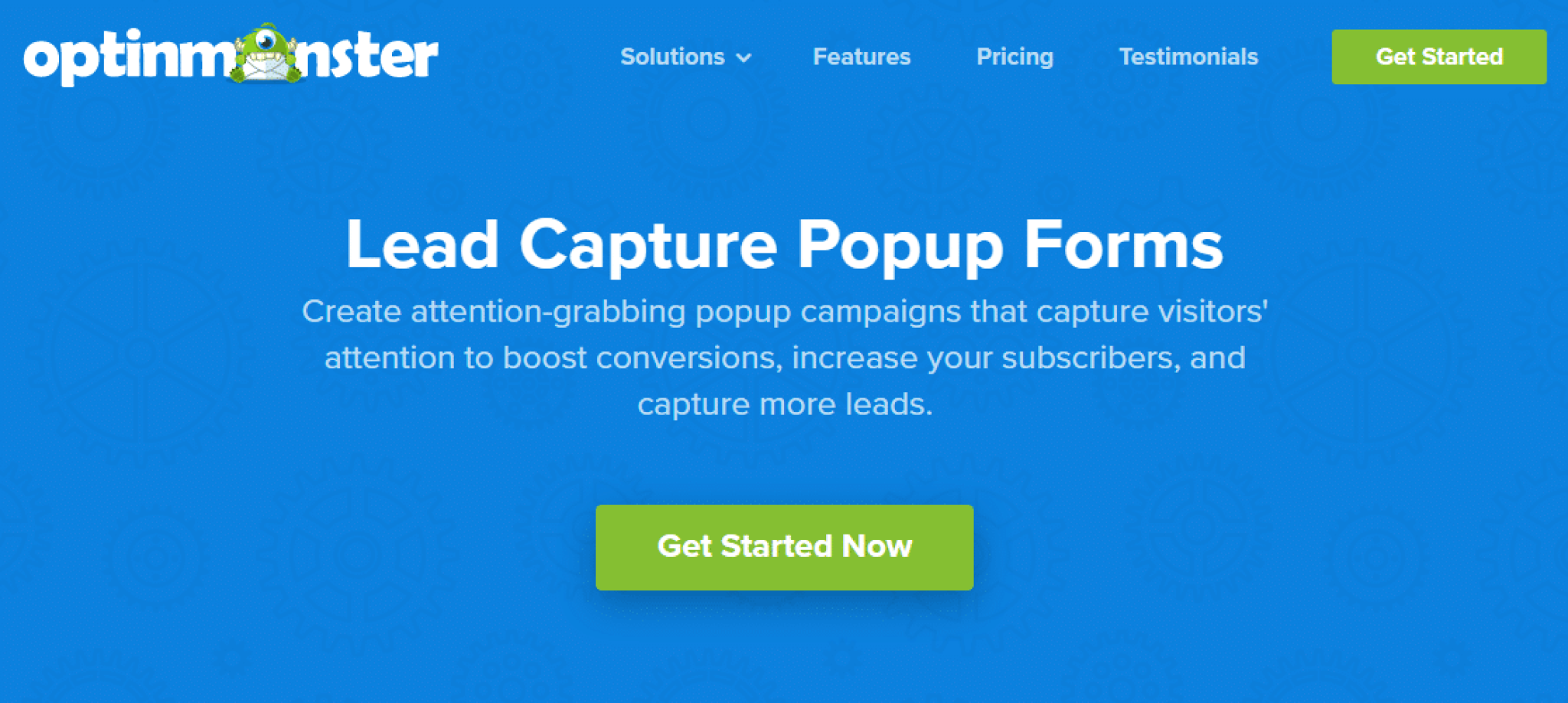 The finest WordPress lightbox popup plugin available now is OptinMonster. It's also a comprehensive tool for generating leads, expanding your email list, and increasing your conversion rate.
You can build amazing lightbox popups for your WordPress site with the OptinMonster lightbox popup functionality. To get started, you can choose from a variety of pre-built themes and then customize them.
But it's the precise rules that set OptinMonster distinct from other plugins when it comes to triggering the lightbox popup. You can set the popup to appear on a certain page or based on the user's geolocation or device activity.
Another amazing feature of OptinMonster is the ability to show your lightbox when the user is about to leave. You can show the popup and possibly give a discount if a user is ready to leave your website without making a purchase. This reduces abandoned carts while also increasing sales.
Pricing: The basic subscription of OptinMonster starts at $9 per month (paid annually). However, if you want more features, you can upgrade to their Pro ($29 per month) or Growth ($49 per month) plans.
3. Simple Lightbox

As a free plugin, Simple Lightbox has gotten positive feedback on WordPress.org. It gives you a quick and simple lightbox background for your articles and websites.
This plugin is for you if you're looking for a basic lightbox-style approach to opening your images. It doesn't have a lot of choices, but if you're looking for a simple lightbox-style approach to opening your photos, this plugin is for you.
Everything from posts to web pages to widgets to menus to the homepage to categories and tags can be shown in a lightbox thanks to this WordPress gallery plugin. Images can be viewed individually or as part of a slideshow.
Simple Lightbox allows you to build lightbox popups in minutes, configure them to your needs, and integrate them into your WordPress website.
The lightbox functionality can be enabled on various posts, pages, menus, categories, the homepage, and more. This program gives you complete control over animations, transitions, overlay opacity, and the pace of presentations.
Price: Simple Lightbox is a WordPress lightbox plugin that is completely free.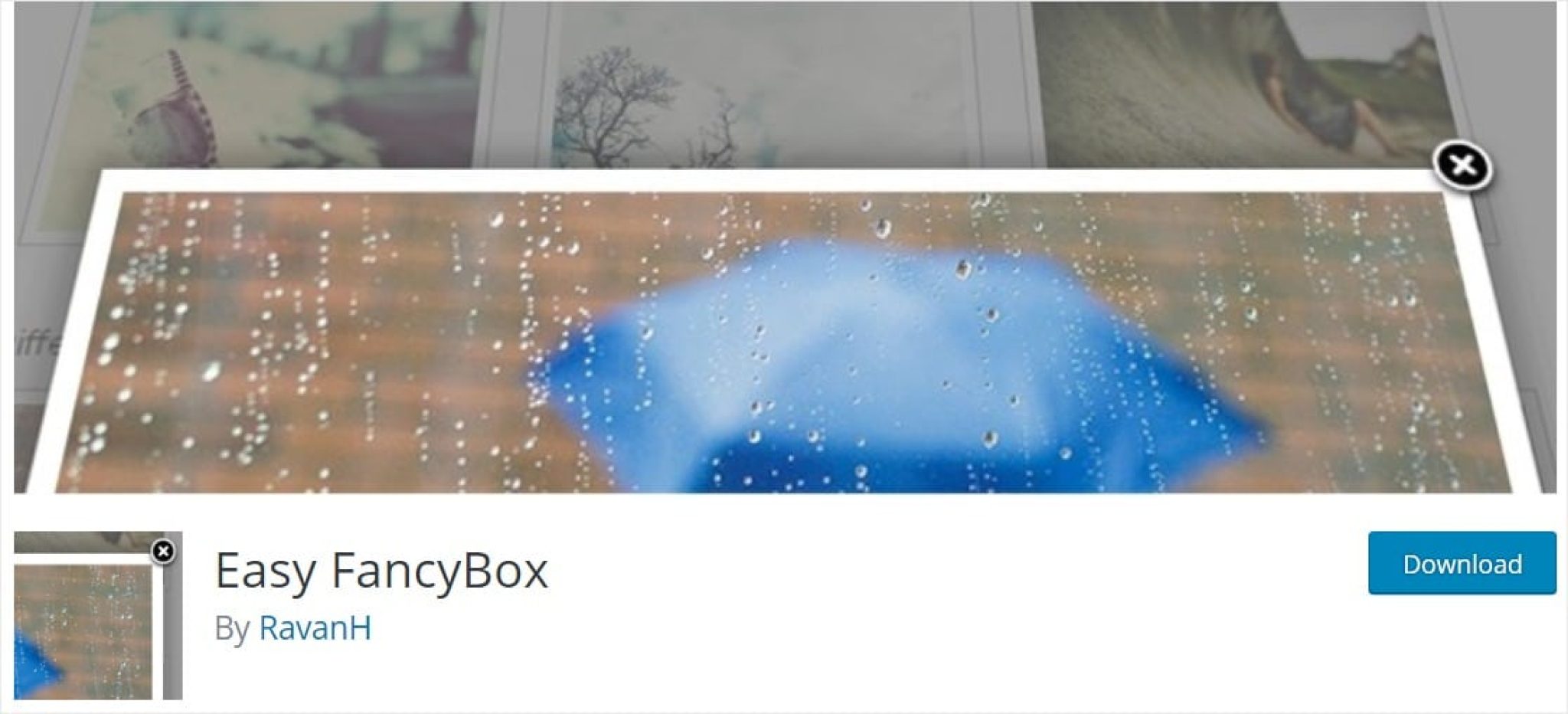 This is a WordPress plugin that creates a customizable and appealing lightbox for you to use on your website to display media links. It can handle all common image formats, as well as movies from Vimeo, Dailymotion, and YouTube, as well as pdf files, picture maps, and more.
It has overlay colors and opacity, border color and size, and default sizes for each media type when it comes to styling. It has a customizable layout that allows users to adjust the aesthetics using CSS.
It is mobile-optimized, so it looks fantastic on any device and allows you to zoom in/out and browse with ease.
A pro version of this plugin is available, which includes priority support, additional styling options, more automated pop-up options, and slideshow effects. The paid versions come in a variety of styles.
For $19, you can get a one-year pro edition for one site, or $299 for unlimited sites.

WP Featherlight is a WordPress plugin similar to Easy FancyBox that allows you to create a simple, minimalist, and responsive lightbox for your site.
When you install the plugin, it instantly creates a lightbox popup with all of your photographs and galleries. It has a simple, minimalist design that makes it extremely light and quick to operate.
However, the lightbox popup cannot be customized because it creates a minimalist popup for you. While this is a disadvantage, it is ideal for beginners who only want a lightbox popup and don't want to set up anything else.
WP Featherlight is a free plugin that allows you to add a lightbox popup to your WordPress site.
6. ModuloBox (Premium)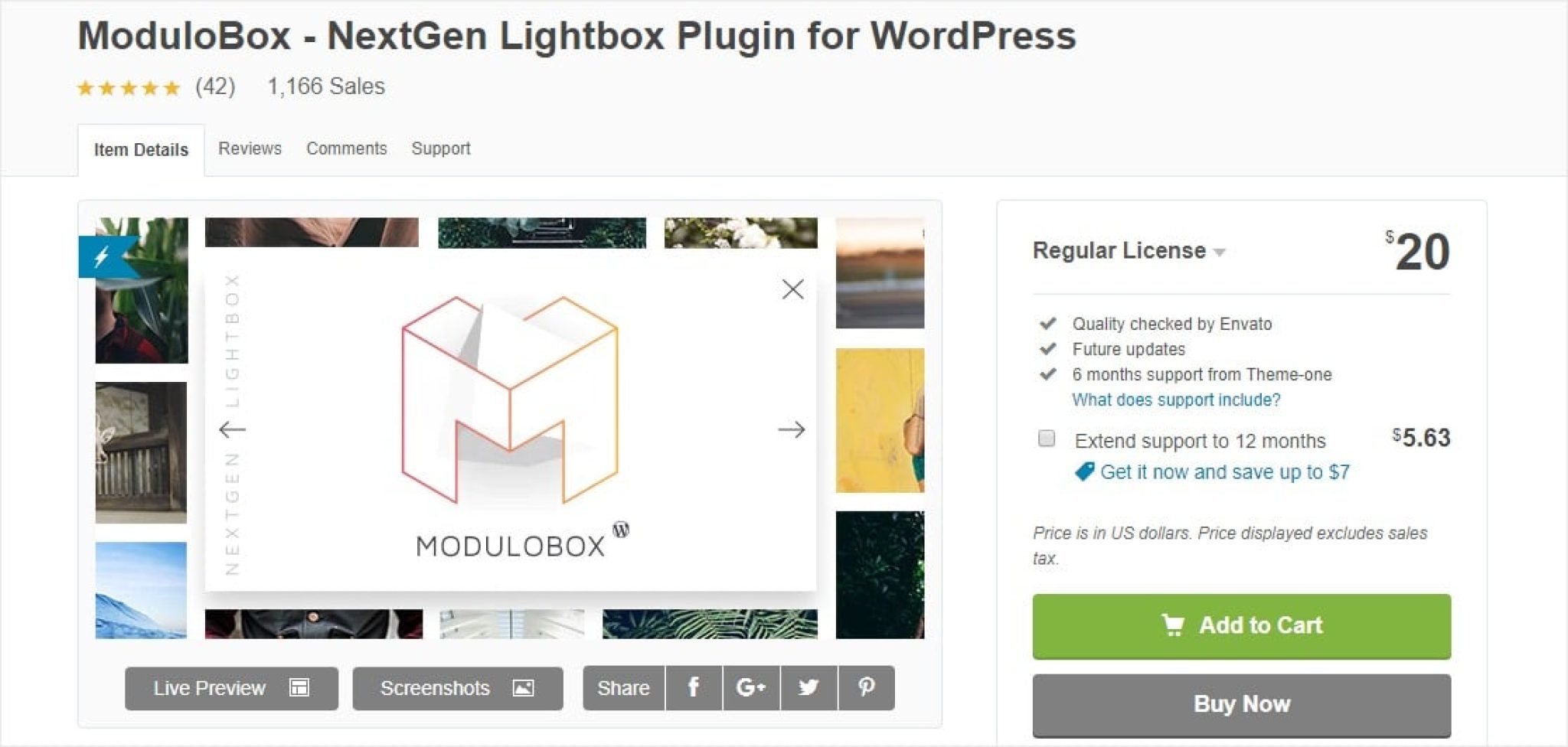 Modulobox is a sophisticated and efficient premium WordPress lightbox plugin. It's based on cutting-edge technologies and a modular framework that lets you design stunning lightbox pop-ups.
This plugin is the greatest premium choice if you're seeking one. It's optimized for maximum performance and efficiency.
This plugin works with all of the popular gallery plugins, including JetPack, Envira Gallery, and NextGen Gallery, and allows you to easily generate amazing lightbox pop-ups.
The plugin is highly versatile, supporting HTML5 pictures and media files, as well as YouTube and Vimeo. Get fantastic gesture support that makes scrolling and navigation a breeze.
Price: $20
7. Popup Press (Premium)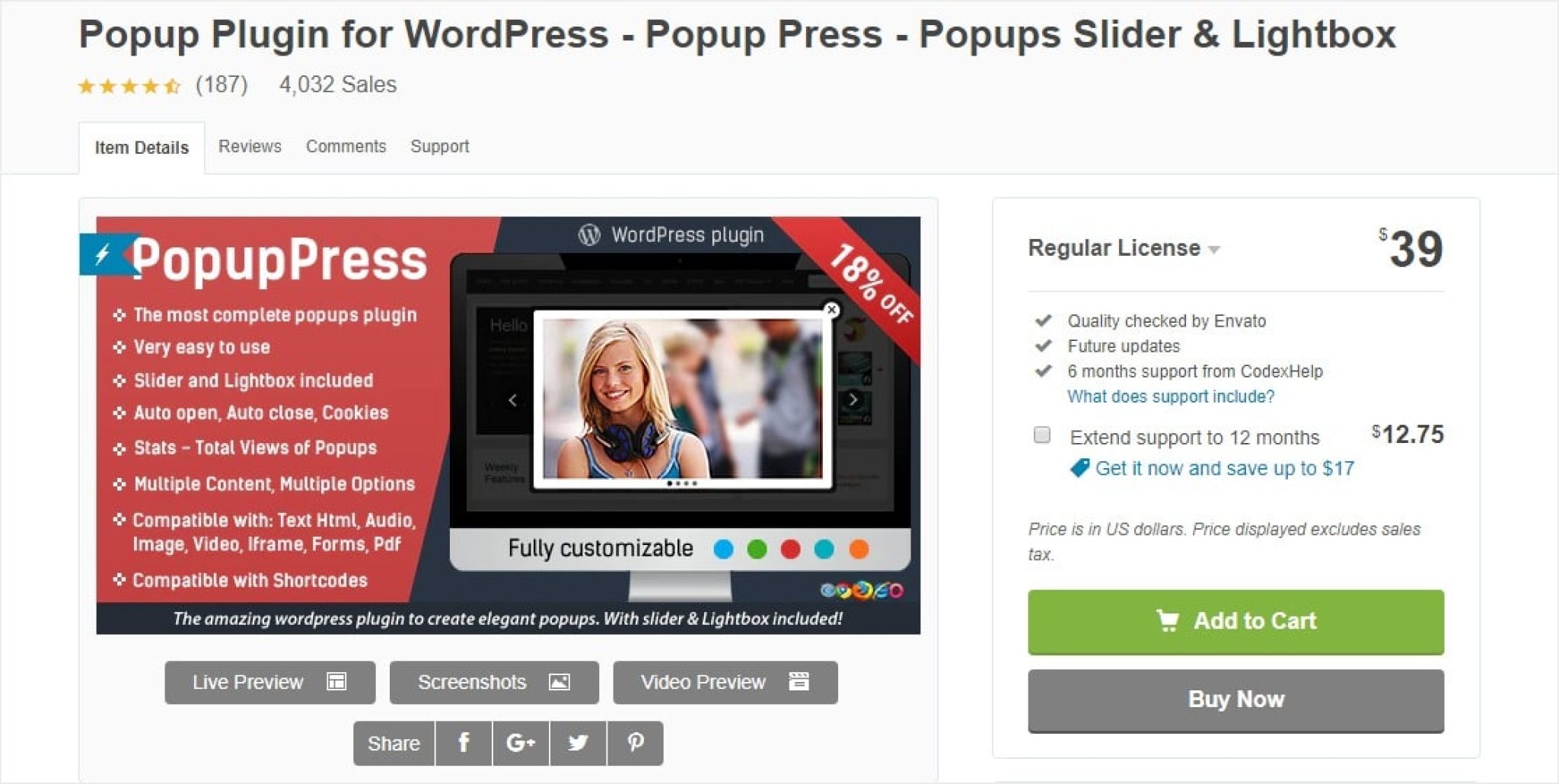 Popups Press is a powerful WordPress popup and lightbox plugin with a lot of features that will keep your users interested. This plugin is an excellent choice because it is a complete pop-up premium plugin with all of the necessary functions.
Get creative and make your website stand out from the crowd with this simple to use and customize design. Create an unlimited number of responsive and attractive popups.
Quickly and easily add any form of media files or material to the popup. You can also keep track of things with the help of some simple system statistics.
This plugin also includes a Slider and a Lightbox that can be used with any media gallery. Fully customized, you can even make a lightbox that matches your entire website's color scheme.
Price: $26
8. Quick View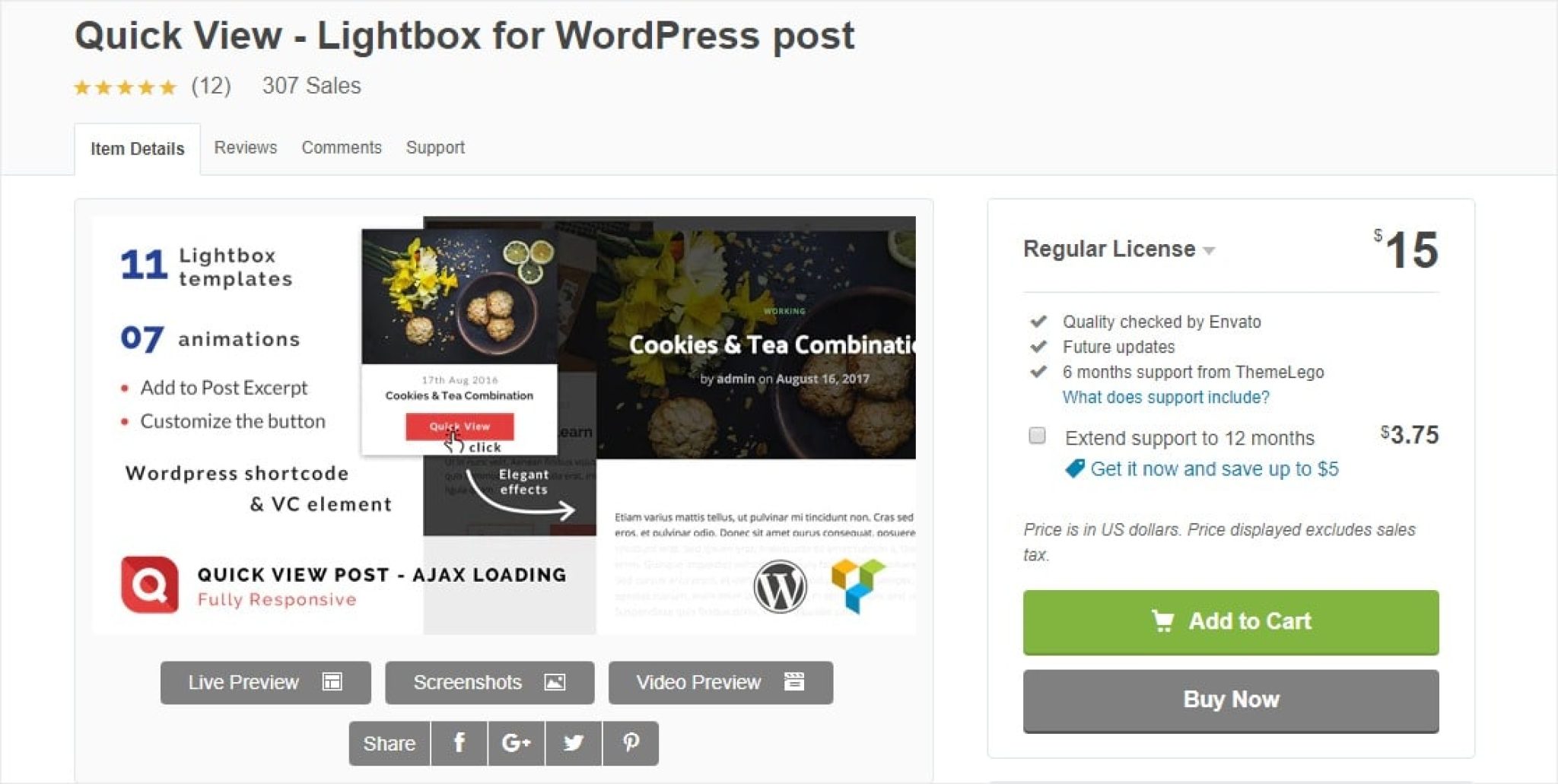 Quick View is another fantastic premium WordPress lightbox plugin that we adore. This plugin allows users to open any content in a lightbox style using Ajax loading for blogs and pages.
This plugin is quick and easy to use, and it will add mesmerizing visual effects to your website. In only a few minutes, you may customize every aspect of the lightbox to your liking.
Choose from all of the lightbox template possibilities and variations to find the one that best fits your theme. It also has incredible animation effects that you can use.
Not only that, but the lightbox is pixel-perfect and responsive. This plugin allows users to quickly and easily construct a distinctive and modern-looking lightbox.
Price: $15
Wrapping up!
Lightbox popups, as previously stated, are an innovative and enticing approach to catch your user's attention. And with our list of the best WordPress lightbox plugins, we hope you've all added lightbox to your website. Each plugin was chosen to provide the finest online experience for our users.