Do you wish to have a streamlined payment system on your website? Do you want to know which WordPress plugin is the best for this?
There are dozens of WordPress payment plugins available. However, not every plugin will meet your exact requirements. Choose a plugin that provides you with a variety of safe payment channels and a pleasant user experience.
We'll go over some of the top WordPress payment plugins for accepting online payments in this article.
What Is A Payment Plugin?
A payment gateway is required on all company websites, from eCommerce to business blogs and even freelance websites.
It's simple to integrate a payment gateway for processing PayPal and credit card payments into your blog with the help of WordPress payment plugins.
In addition to all of this, you'll be able to sell goods and services directly through your websites, removing the need for third-party platforms.
When you incorporate a payment plugin into your WordPress website, it will create a checkout page where customers can pay for your products.
There are several payment plugins to choose from, each with its unique set of functions.
What Are the Best WordPress Payment Plugins?
When you create a new business website, you want to make money by selling your goods or services. To be more specific, you require a secure platform. Payment plugins are the ideal solution for WordPress.
Given that you require the finest payment plugin, you should think about a few key factors before selecting the best plugin for your website.
The payment gateway is the first item you'll need to create the payment option. Stripe and PayPal are the most popular and extensively utilized payment gateways among the different possibilities.
Even if you use alternative payment methods such as Apple Pay or Google Pay, make sure the plugin you chose works flawlessly with them.
You should also verify which countries and currencies the plugin support.
Stripe is available in 46 countries and supports over 135 currencies, whereas PayPal serves over 200 countries and 25 currencies.
As a result, select the plugin based on your customers' addresses; you can quickly access your customers' information using Google Analytics.
Let's get started with the list of WordPress payment plugins, which contains both free and premium options.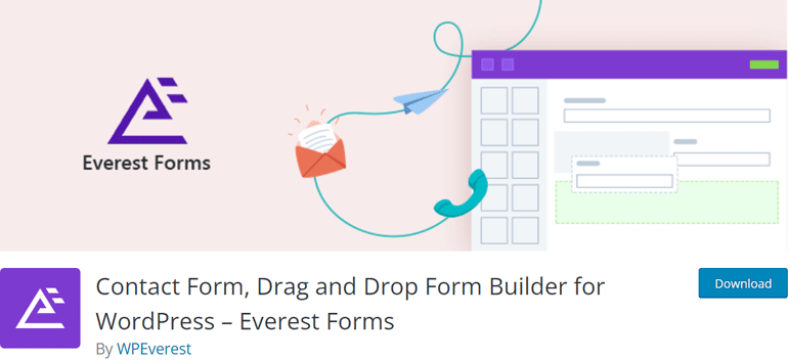 Everest Forms is a fantastic plugin for creating various forms with a drag-and-drop form builder. It also accepts PayPal payments with the PayPal add-on, which allows you to accept or collect payments via forms.
It also has a Stripe add-on that allows you to use Stripe as a payment gateway. As a result, you have the option of using the PayPal or Stripe payment systems.
To allow users to submit credit card information, simply drag and drop the field into your form. Other payment fields for the form include checkboxes, single items, multiple-choice, and so on.
Furthermore, the Stripe add-on offers recurring payments, allowing you to charge your users regularly.
Price: Free or $49 for a Personal Plan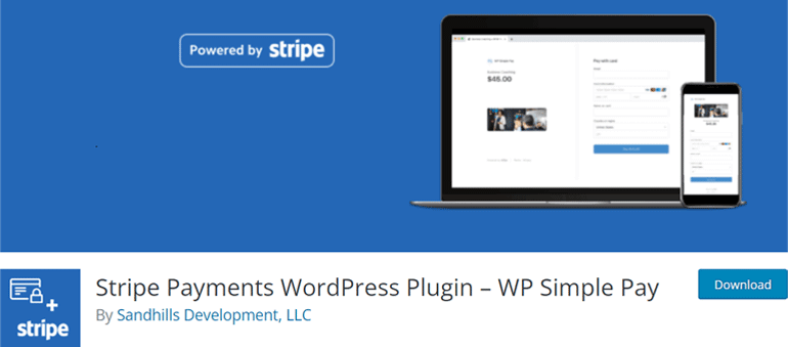 It is a premium Stripe payment plugin for WordPress. It allows you to accept one-time and recurring payments without having to upload any code to your website.
In just a few clicks, you can add services, products, and online donation options to WordPress. Customers can then pick from recurring payments, subscriptions, installment payments, or a custom sum.
You may also establish trial accounts and charge a one-time setup fee with the plugin.
You may add flexible alternatives like Stripe, Apple Pay, Google Pay, and Microsoft Pay to start accepting payments online. The best part is that you can include these options as separate buttons in your payment forms, making it simple for customers to finish their orders.
WP Simple Pay also allows you to provide your client's discounts by using promo codes. You can design discount codes that offer a percentage or dollar amount off, and they'll work with both subscriptions and one-time payments.
Features:
Payment collection for donations and items is simple.
Payment form builder with configurable fields and amounts that you can drag and drop.
SCA (Secure Customer Authentication) support ensures secure payment choices.
All devices are supported.
Subscriptions, installment plans, and trial periods are all available.
Discount codes and percentage savings are available.
Price:- You have to pay  $99.50 – $299.50 per year.
It is a premium WordPress eCommerce plugin that allows you to accept payments online. This is a complete solution for setting up your store and adding ebooks, courses, documents, and other digital downloads.
It includes an on-site checkout feature that allows consumers to pay for their products without leaving the site. Premium extensions from the Easy Digital Downloads plugin can also be used to enhance your online payment system.
To offer subscriptions, the plugin offers a strong recurring payment extension. If you sell software licenses, online courses, or other digital products, Easy Digital Downloads Stripe will help you retain customers right away.
You'll be able to accept Apple Pay, Google Pay, and Microsoft Pay payments as well. Customers have a range of checkout options with these payment methods, including Touch ID, Face ID, and digital wallets.
Features
Touch ID and Face ID are two of the many payment options available.
Subscriptions and recurring payments.
Check and resolve bugs in test mode.
Payments can be manually approved or declined.
Refunds to the customer's payment method are integrated.
Support is available in over 135 countries and 27 languages worldwide.
Features that increase conversion rates, such as stored cards and onsite checkouts
Price: The plugin costs $99.50 – $499.50 per year.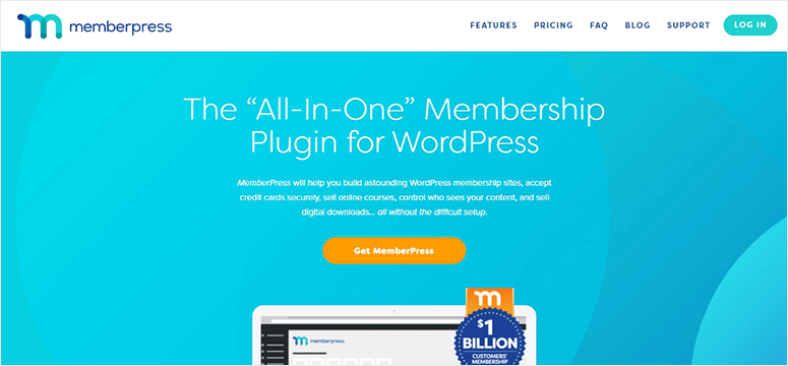 It is the greatest WordPress membership plugin. This plugin allows you to convert your blog into a membership site where visitors must pay a price to access your content.
MemberPress includes a Stripe integration, allowing you to accept subscription payments via credit card, Apple Pay, Google Pay, and other methods.
There's no need to hire a developer or learn any programming to use the plugin. You also have complete control over what material users see depending on their membership package.
Additionally, MemberPress has an online course builder, providing you with even another method to monetize your blog.
Price: MemberPress starts at $179 per year.
LearnDash is a popular WordPress plugin for learning management systems (LMS). It's a one-stop-shop for creating and selling online courses, as well as delivering certificates, badges, and engaging users.
You have complete control over adding course costs, enrolling participants, managing progress, creating user groups, and communicating via email. Users who purchase online courses from your site will also receive automatic notifications.
Aside from Stripe, you may also accept payments through PayPal, which expands your customer base.
You can simply design online courses with complex quizzing, specific prerequisites, dynamic material delivery, and more with LearnDash's drag and drop builder.
To make learning more enjoyable, your students can earn badges, certificates, and course points, and engage in discussion forums.
One-time payments, subscriptions, memberships, course bundles, and bulk access are all supported by LearnDash.
Features:-
LearnDash has many useful features, including multi-tier courses, student assignments, quizzes, and a grading system. You may easily specify requirements for students, such as completing one class before moving on to the next.
Price:- LearnDash starts at $159 per year.
PayPal Plus is a free WooCommerce payment plugin for WordPress. It connects to your PayPal account and makes adding an online payment system to your eCommerce store a breeze.
The funds will be transferred to your merchant account.
PayPal Plus accepts a variety of payment methods, including credit cards, debit cards, and invoice payments. You can directly credit the payment to your PayPal account using express checkout options.
Features:-
Checkout gateways that process payments quickly
4 common payment options
Protection for PayPal sellers
Price: FREE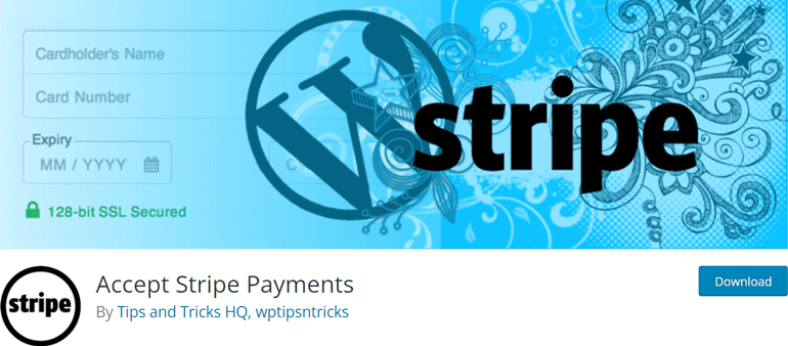 Accept Stripe Payments is one of the greatest and most popular Stripe WordPress plugins.
This basic Stripe checkout plugin allows you to add "Buy Now" buttons to your WordPress website using shortcode.
Your customers will be sent to the "Checkout Result" page after making a credit card payment, where they can examine transaction data.
From your WordPress admin panel, you can see all of the payments you've received.
Accept Stripe Payments is mobile-friendly, which means it works on any device or browser.
Features:-
Installation and setup are simple.
Sell digital content, products, and downloads.
Simple payment buttons can be created and customized.
Orders can be managed from the WordPress dashboard.
Include shipping and taxes.
Price:- Free of charge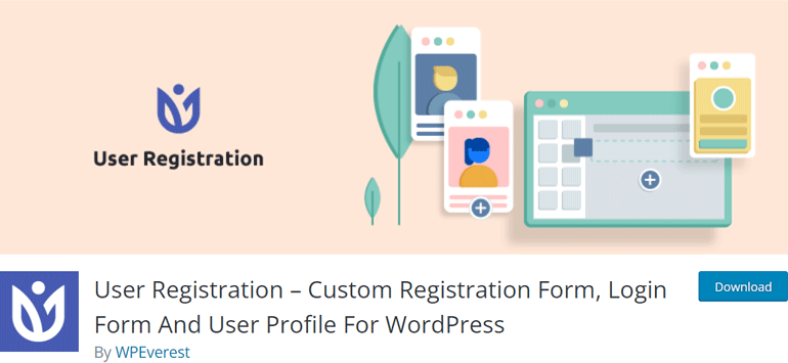 User Registration is a well-known WordPress plugin for creating personalized registration forms.
The plugin takes online payments on the WordPress website using its payments add-on, which has extensive customization possibilities for each field and form.
It allows you to integrate PayPal and Stripe into various forms, such as registration fee payment forms, donation forms, and so on, to collect payments.
Furthermore, customers can pay directly using their connected email rather than their credit or debit card.
From the "users" tab, the admin can simply see the user's payment status. Users can also check their payment status by going to their account's "payment" tab. The default currency is the US dollar, but you can change it whenever you like.
Features:
Pre-define, user-define, set, or hide the amount.
Allow login before or after payment completion.
If the user cancels or completes the payment, the URL is redirected.
Email alerts are sent for both pending and completed payments.
Sandbox mode is provided for payment testing.
Price: Free and paid plan available at $69
It is a payment plugin for WordPress that is a Stripe official partner. It accepts a variety of payment methods, including credit cards, Google Pay, ApplePay, ACH, Afterpay, iDEAL, and others.
ApplePay, on the other hand, can only process payments in currencies that correspond to the Stripe account's registered country.
You can add payment methods to any product page, cart page, or even the top of the checkout page with the plugin.
It also allows users to have their billing and shipping fields auto-populated. Additionally, the plugin accepts local payment methods.
Features:
Exceptionally adaptable
Subscriptions in WooCommerce
Test mode for plugins is provided.
WooCommerce blocks and pre-orders
Price: Free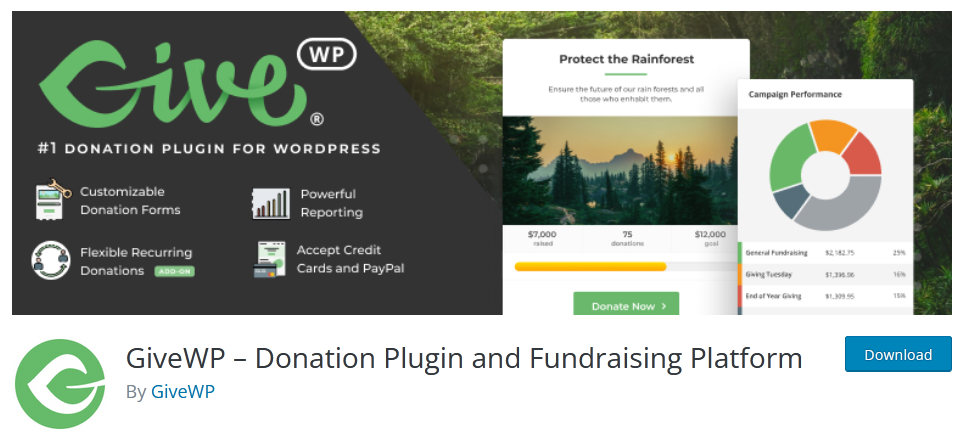 GiveWP is a well-known WordPress plugin that allows you to effortlessly collect donations on your WordPress site. It's a strong plugin that allows you to receive payments quickly and easily.
This user-friendly, donation-friendly plugin is popular among fundraising organizations and non-profits. Give WP is a versatile plugin that has received praise from over 100,000 active users across the world.
The setup wizard makes it simple to download and install the plugin, but coders can personalize the functionality by changing it in any way they want.
Although there is no cost to install or set up Give WP, the options it provides are somewhat limited.
You must upgrade to a higher, more expensive premium version to unlock the plugin's full potential.
If you're on a budget, you might have to make do with the fundamentals if the plugin only has two options: the free version or the paid version.
Features
GiveWP integrates a highly tailored giving experience for your clients, which is tightly integrated with donation drive methods.
It is simple to manage. You get an analytical evaluation of your site's performance with tables and figures visualizing your progress in collecting donations.
Import and export data from past websites and contribution drives to keep track of your donations in one location.
Use powerful add-ons to modify and personalize your store's payment procedure.
Ecommerce Tracking: The Google Analytics add-on will help you learn more about your donors' habits.
Give your contributors a detailed record of their donations and give them a chance to create accounts.
Wrapping Up
Accepting payments for your WordPress website is best done using a payment plugin that puts customer requirements first.
All of the plugins discussed in this article are reliable, well-tested, and effective. The one you choose is determined by the age of your company, the business strategy you use, and your budget.
If you're just getting started and have a limited budget, Stripe Payments is a good option. WP Simple Pay, on the other hand, will work beautifully for you if you're a mid-sized firm and can afford to buy a payment plugin.