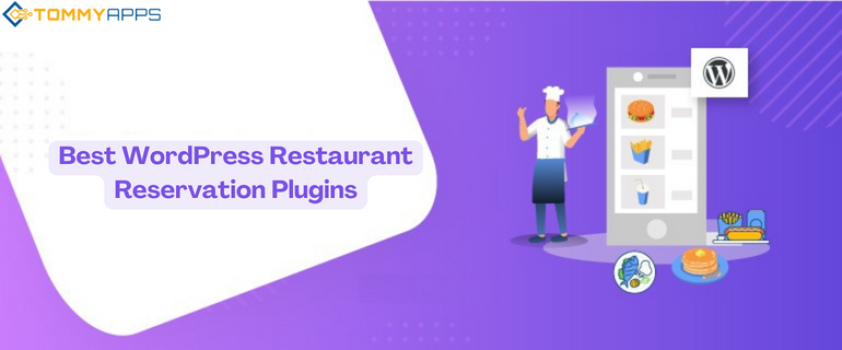 Are you looking for the finest restaurant reservation WordPress plugin for your website? Then you've arrived at the right location.
Email or phone reservations for restaurant tables are outdated. People currently prefer to make online reservations directly through the website.
Installing a WordPress table reservation plugin is an effective solution to allow people to reserve tables for themselves if you're using a WordPress site.
That's why we've compiled a list of the best WordPress restaurant reservation plugins. So, continue reading!
Why Do You Need a Restaurant Reservation Plugin for WordPress?
Before we get started with our list, let's talk about why we need a WordPress restaurant booking plugin.
By installing a WordPress restaurant reservation plugin on your site, your users will be able to reserve a table in your restaurant online in seconds. As a result, your restaurant's website is more engaging and approachable to visitors.
Furthermore, incorporating a fantastic restaurant reservation system into WordPress automates the process of managing bookings and even helps to minimize call numbers.
This makes handling bookings simple for both the restaurant owner and personnel, allowing them to focus on more vital aspects of the business.
What Should You Look for in a Booking Plugin for WordPress?
Choosing a booking plugin for WordPress is simple, however, this depends on the type of business being conducted.
A gym, for example, might have several personal trainers. On the website, each of these employees requires a timetable. A dentist's office, on the other hand, maybe required to display precise times and disclose the various sorts of services available.
As a result, it's critical to examine each WordPress booking plugin's features carefully. This way, you'll have all the features you require as well as some flexibility to help your company develop.
In our study, we found the following features to be extremely effective:
Mobile-friendly interfaces allow users to schedule appointments on smaller devices.
Options for taking appointment payments.
Multiple "agents" or "service providers" are supported. This is where each of your employees, such as personal trainers or numerous doctors in one location, has their profile and schedule.
Customers can access their reservations and make changes to them online.
On the backend of your WordPress website, a filterable and searchable booking management module.
Features for modifying your schedule, such as the ability to remove holidays and plan some free time in between appointments.
Both admins and users receive email confirmations and reminders.
Fields that can be customized and drop-down menus for when you have a lot of different services or unique offerings.
That's only a short sample of the main things you should look for in a booking plugin. Some of the features may not be appropriate to your business, so try out the ones that look intriguing and use our in-depth reviews to make sure you're getting the most out of them.
For example, some small firms may only need a simple, free calendar to take non-paying appointments. Larger brands, on the other hand, will want a more comprehensive collection of features, such as appealing layouts and effective communication tools.
Best WordPress Restaurant Reservation Plugins 2022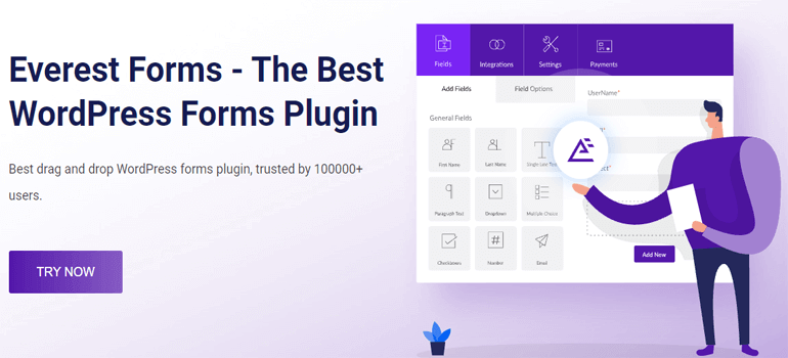 Everest Forms is one of the most popular forms builder plugins, with over 100,000 users. It has an easy-to-use drag-and-drop interface. As a result, anyone, even a novice, can quickly develop attractive WordPress forms with this plugin.
Everest Forms allows users to create simple to complicated contact forms, job application forms, donation forms, survey forms, and more. It also allows you to design a beautiful table reservation form for your restaurant or hotel website.
Moreover, if a reservation request is submitted, you can receive immediate email notifications. It's also feasible to send autoresponders to your consumers, such as welcome emails or confirmation emails.
Everest Forms Plugin Highlights:
Many pre-built form templates are available (including one for restaurant table booking).
Conditional logic is a smart feature.
Payment gateways PayPal and Stripe are supported.
Add repeater fields to your forms as an option.
Add a date/time picker and change the date and time formats with ease.
Price:- Free or $49 per year
2. Five Star Restaurant Reservation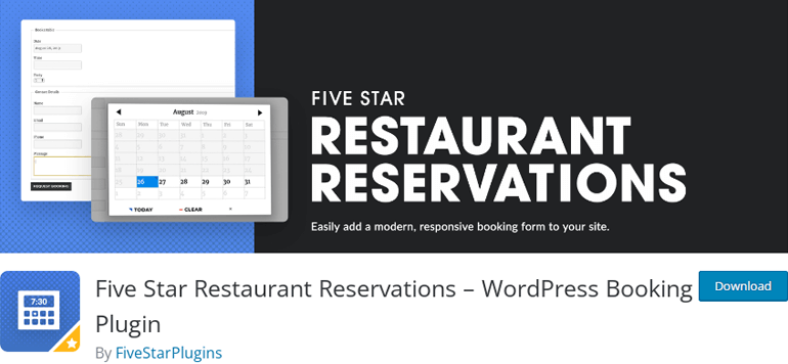 Five Star Restaurant Reservation, as the name implies, makes it simple to make reservations and book tables online. This free WordPress restaurant booking plugin offers advanced features for creating customized reservation forms as well as easy management of each booking.
You can also use the Gutenberg restaurant block or shortcode to place your reservation form anywhere on your website. On the other hand, you can easily put the reservation page from the settings. You can also opt-in for paid add-ons for more advanced functionality with this plugin.
Five Star Restaurant Reservation Plugin Highlights:
Simple booking and cancellation options.
Both users and customers will receive email notifications.
Restaurant reservation and responsive booking forms
Block bookings for holidays or closed dates are made automatically.
Option to ban abusive clients.
Price:- Free or $67 for a single site.
3. Booking Calendar
Booking Calendar lets you create a fantastic booking system for the services you offer. It's one of the best WordPress booking plugins for restaurant websites and other event management websites because it's very configurable and flexible.
It also has an intuitive booking admin panel that displays bookings in a calendar overview or listing table and allows you to manage them effectively.
Aside from that, it has customizable calendars and an excellent time picker for reserving time slots.
Booking Calendar Plugin Highlights:
Installation and integration into your site are simple.
The ideal booking plugin for a variety of businesses.
Front-end and responsive back-end design.
On the booking dashboard, you can see new bookings.
Booking Calendar Blocks are used to connect booking forms to web pages.
Price:- Free or $47.40 for a single site
4. Bookly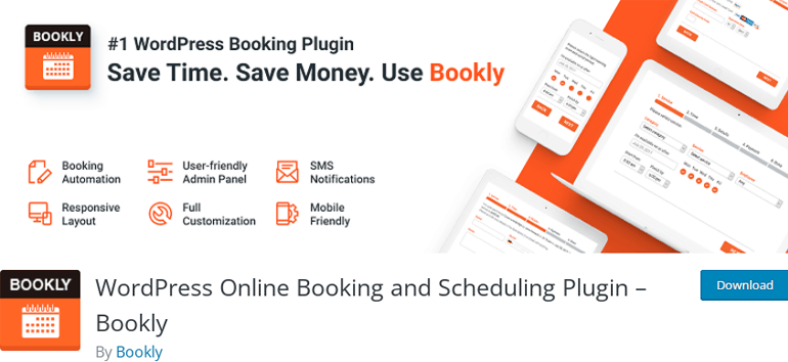 Bookly is another WordPress plugin that allows you to take online reservations and automate your website's reservation system.
Customers will be able to make appointments from any device after installing this plugin. They'll also be able to choose from a variety of categories and services, as well as the best date and time for them.
The nicest thing about Bookly is that it provides a user-friendly booking experience that demands very little data from users. Furthermore, both users and owners can receive appointment reminders via SMS and email.
The Bookly Plugin's Highlights:
There are no coding skills required.
Sort, filter, and search the booking list
Customer list management and an effective appointment schedule
The booking form's layout and appearance can be easily changed.
Appointments are automatically approved or cancelled.
Price: Free with a Regular License of $53
5. Calendarista

Calendarista is a powerful restaurant reservation plugin for WordPress. This plugin offers quick and easy online reservations, as well as the ability to sync appointments with Google Calendar.
Aside from that, the plugin has configurable form fields, pricing calculation based on distance, and quick cancellation within specific time limitations, among other features. It also allows you to book with or without payment. Without any third-party installations, you may use secure payment methods like PayPal and Stripe.
Calendarista Plugin Highlights:
Various date formats
Seasonal rates are supported.
Personalized email notifications
Support for WPML and Polylang
Google map integrations in real-time on your website
Price: A Regular License is $39.
6. WPCafe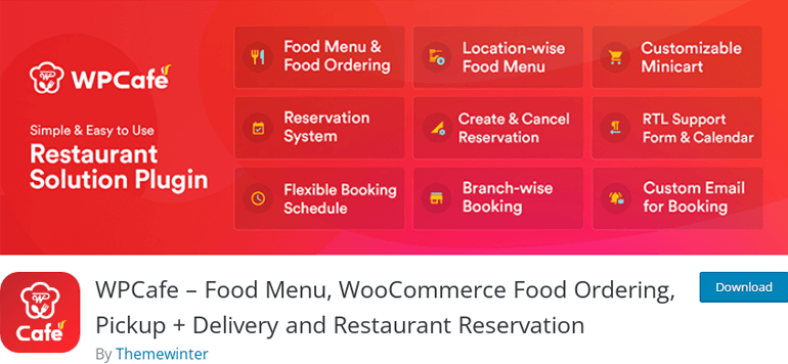 WPCafe is the best choice for you if you want an all-in-one solution to add services like restaurant meal ordering, reservations, pickup, and more to your website. This multipurpose restaurant plugin has a lovely appearance and a lot of customization options.
The plugin also comes with Elementor widgets and Gutenberg blocks, making it incredibly simple to utilize.
As a result, you can quickly customize your restaurant's website to your liking to provide an excellent customer experience. Overall, it's an excellent WordPress plugin for managing all of your restaurant's requirements.
WPCafe Plugin Key Features:
Food menus with 10+ styles that are responsive
Support form and calendar for RTL (Right-to-Left)
Reserving multiple slots
Downloadable pdfs and printings help you keep track of your reservation data.
Customers can see the restaurant's business hours if they choose to.
Price: Free or $39 per year
7. ReDi Restaurant Reservation
ReDi Restaurant Reservation is a completely automated online reservation plugin that will help you manage reservations like a professional for your restaurant.
It also enables you to design your personalized restaurant reservation form if you have CSS knowledge.
Furthermore, by installing this plugin on your site, your customers will be able to check for available seats at the chosen time and have their reservations confirmed immediately.
It also allows you to send a copy of the booking confirmation to the consumer through email if you accept their request.
Restaurant Reservations with ReDi: Major Features:
Receive immediate notification when a new reservation is made.
Option to customize email templates
Define the maximum number of seats available for reservation by week/day.
Set the period during which an online reservation will not be accepted.
Price: Free or €48 per year
8. Vik Restaurants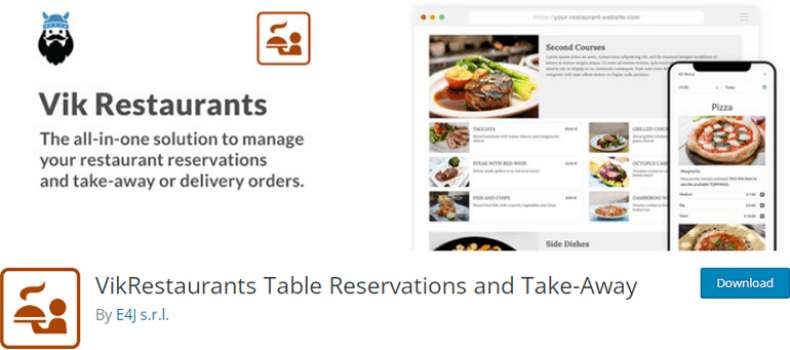 Vik Restaurants is the ideal partner if you want to grow your food business. Vik Restaurants makes accepting bookings and taking orders as simple as sailing.
What's more, the best part?
You do not have to pay anything because it is entirely free.
A customized dashboard with different widgets maps to provide a visual overview of table reservations in real-time, and other noteworthy features of the plugin You can also upgrade to the plugin's premium edition if you want more sophisticated capabilities.
Vik Restaurants Plugin Highlights:
Back-end reservation for manual/offline reservations
Order discounts with coupons
Notifications via email
Create invoices
To begin a reservation from anywhere on the site, use the search widget.
Price: €99 or free
9. Start Booking
Start Booking is another free WordPress restaurant booking plugin that makes it simple for your customers to make reservations. Surprisingly, the plugin was created to work in tandem with your WordPress theme styles. As a result, just minor or no updates are required to maintain a professional booking calendar.
Start Booking is also linked to Google Calendar, allowing you to synchronize all of your appointments with it. Furthermore, Stripe integration allows you to collect payments directly from your consumers via your website.
Start Booking Plugin's Major Features:
Customer appointment history in detail
Personalize your booking forms with custom form fields.
Establish office addresses and hours of operation.
Gutenberg and shortcode support for Google Analytics
Price: Free or $25 per month
10. Quick Restaurant Reservations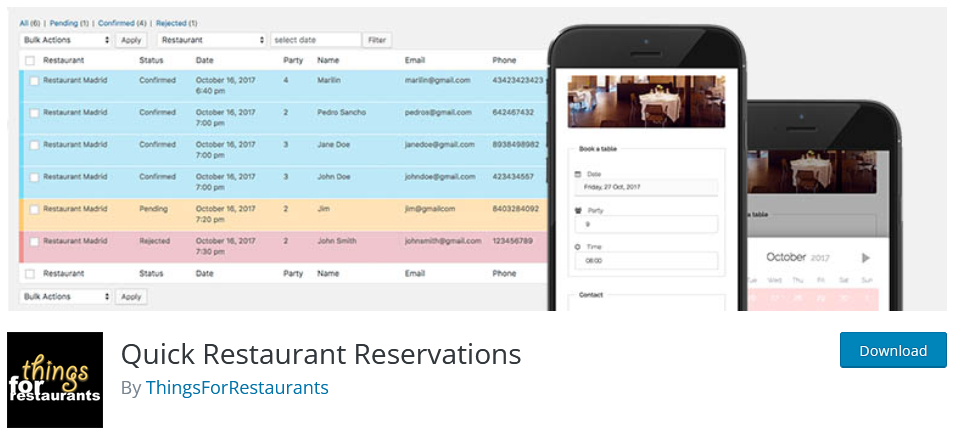 Quick Restaurant Reservations, as the name implies, makes accepting and managing reservations for your restaurant business fast and easy. Customers can check table availability, and the plugin will give them an email notification once they've made a reservation.
Quick Restaurant Reservations' free version also includes the following features:
You may create an unlimited number of schedules and limit bookings to specific periods.
For alternative schedules, set the total capacity, dates, and time frame.
Appointments can be enabled or disabled, and they can be opened or closed.
Accept an infinite number of reservations.
Pending, confirming, rejecting, or cancel are the status possibilities.
Bookings are manually confirmed and notified through email.
The minimum and a maximum number of people in your party.
Early and late reservations are available.
After submission, the form redirects to a responsive booking form with a confirmation message.
Please keep in mind that the free plugin is only good for one restaurant. You can upgrade to "Add-On Capacity" if you need to utilize it on more than one. This costs $59 and adds the following features to the plugin:
Restaurants abound.
When the maximum restaurant capacity or party size is reached, the form auto-confirmations convert to manual.
Determine the maximum restaurant capacity based on the number of seats or tables available.
Notifications with a custom logo and email address.
Views of the monthly and daily calendars.
If you need to add custom fields to the reservation forms, such as unique dietary restrictions, you can do so for $39. This will allow you more freedom with the shapes.
Quick Restaurant Reservations is now available on over 1,000 websites. It has a 4.9/5.0 star rating from users, indicating that they like it.