Wikis and knowledge bases are great for giving your visitors in-depth information to help them understand your products and services or address their most frequent questions.
Therefore, knowledge base articles, tutorials, advice, frequently asked questions, and product documentation are the most common types of information found on wikis.
Thankfully, adding a wiki or knowledge base to your WordPress website is a quick and easy process that doesn't call for complex coding experience.
A plugin or wiki theme can be used to construct WordPress wikis. However, since plugins enable a much simpler and speedier set-up, we advise using them.
WordPress wiki plugins assist site administrators in effectively and correctly classifying and arranging the knowledge-sharing content. Additionally, it makes it easier for users to find what they need without searching the entire page.
We'll examine the top WordPress knowledge base plugins in this post to help you choose the right one for your website.
We consider features like the number of installations, user reviews, and user interface when making plugin recommendations. Your wiki page will be ready in less than five minutes after the WordPress wiki plugin has been installed.
Choosing a WordPress Wiki Plugin
More than just creating and arranging content is involved in maintaining a wiki on your website.
To give your visitors and customers the finest possible experience, you must exert every effort.  In light of it, the following aspects should be taken into account when choosing a WordPress wiki plugin:
Speed: Your customer base and their informational needs will expand as your firm does. Your wiki plugin should improve your website's capacity to respond to user inquiries in a timely and effective manner.
Compatibility: It's crucial to examine a WordPress wiki plugin's compatibility with different themes. Verify that it is compatible with any WordPress themes and active plugins on your website.
Ease of Use: A wiki plugin should be simple to use for both you and your employees in the backend as well as for visitors on the front end.
Responsive Design: A decent wiki plugin should make sure that all of the devices your users use to view your WordPress knowledge base content look beautiful.
Analytics and comments: What you can't measure, you can't improve. A WordPress wiki plugin must have the ability to see which wiki articles are receiving the most views and upvotes and which ones require improvement.
Users may easily create a new wiki article type, a table of contents, unique tags and categories, and index pages with the Yada Wiki WordPress plugin's user-friendly toolbar.
Two shortcode buttons that are part of this plugin make it simple to add wiki links and wiki listings without having to know the shortcodes' values.
However, you must manually include the shortcode in the editor post if you wish to link to other websites or ordinary posts. The list of article titles for a specific category is also shown in the sidebar widgets.
The Yada Wiki WordPress plugin is free to use and doesn't need any expensive extensions or add-ons.
Price: free
This WordPress wiki plugin employs a special post type to build FAQ pages, internal knowledge bases for teams, and documentation for services or products.
Additionally, it enables users to have one or more knowledge bases on a single WordPress website.
Use the specialized setup wizard to guide you through the major steps of building up a knowledge base, or configure BasePress' settings manually.
Please take note that you cannot add sections or articles until you have finished building the first knowledge base.
3 pre-installed themes from BasePress are available for customization in their CSS files. You will have access to options for color branding, font type or size, and sticky sidebars after selecting a theme to modify.
Additionally, you may decide whether to arrange your wiki pages by date or by alphabetical order inside the sections. It facilitates the creation of a browseable index page for site visitors. Additionally, you can select icons for each component using the icon manager.
BasePress is a great option among the free WordPress knowledge base plugins since the knowledge bases generated with it are responsive to all devices.
Additionally, it provides other elements that are required to build a well-functioning wiki, such as a search bar, breadcrumbs, and pagination.
Users can upgrade to BasePress' premium edition, which starts at $79 per year, for more sophisticated capabilities. It has options like an automatic table of contents generation, manual article reordering, content limitation, article voting, and user feedback.
Price- Free
Use this free WordPress wiki plugin to easily create detailed wiki pages that will help site visitors find any material quickly. The BetterDocs plugin includes a scrollable table of contents to enhance user experience and navigation.
The quick setup option of this WordPress plugin walks users through building and customizing the pages and content step-by-step after it has been activated.
To add new material to a WordPress website, create a new post or page. With built-in features, shortcodes, and widgets, users can further customize their knowledge base.
The content can also have various categories and tags added to it, and you can preview it before publishing.
BetterDocs provides a paid plugin in addition to the free version.
Starting at $69/year, which includes tools for creating several knowledge bases for various items, placing an instant response bot on any website, and monitoring the performance of your pages.
You can limit access to the knowledge base based on particular user roles using premium features. This implies that you may use the wiki plugin to check metrics, adjust settings, and decide who gets to create articles.
A thorough setup manual is included with this WordPress wiki plugin. Users may quickly access every menu item in the dashboard sidebar once it has been deployed.
The theme colors, sidebar layouts, and the amount of shown articles can all be changed using this wiki plugin. The knowledge base wiki parts can also be shown using sidebar widgets for search, categories, and tags.
Drag-and-drop functionality for reordering articles and categories is also included with this knowledge base plugin.
As site users type their questions in the search bar, predictive text will emerge to help with navigation.
The premium edition of WP Knowledgebase starts at $74 per year.
Users can insert widgets to gather feedback, examine search data, and limit the content to particular users using the premium wiki plugin.
An easy way to generate and manage knowledge base entries and documentation pages is provided by this free WordPress wiki plugin.
Users can organize articles using a drag-and-drop capability, much like the other WordPress plugins on this list.
It also has widgets with specialized functions like a table of contents and document search.
Users can manage all wiki documents from a single screen using the weDocs interface. Instead of offering templates, this free plugin simply integrates with the most widely used WordPress themes.
Additionally, it imports files from other websites so that users can compile existing documentation into a knowledge base.
WeDocs also has an integrated email response mechanism for the knowledge base. It enables users to comment on the material, providing the support staff and other admins with suggestions on how to enhance their WordPress site.
With any WordPress theme, the plugin's 26 ready-made, responsive designs can be used. The table of contents is sticky, so it will stay in place even if readers scroll down the page.
The setup wizard will assist you in quickly creating a knowledge base if you want to use this WordPress plugin without having to navigate through many options.
You can arrange your articles and categories chronologically or alphabetically, and add tags, breadcrumbs, back buttons, and comments when you've created a few of each. Echo also comes with an automatically created table of contents.
Additionally, the plugin is designed to produce the finest SEO results, which is highly beneficial for any website owners who prioritize boosting online exposure through their knowledge base content.
There are 3 layout options available for this WordPress wiki plugin: Basic, Tabs, and Category Focused. Additionally, it offers a visual layout editor that enables users to evaluate all changes as well as adjust colors, labels, fonts, and styles.
The subscription edition of Echo Knowledge Base offers additional features including article rating and feedback for site visitors, and access manager to manage who may write or read articles, and more. Plans begin at $46 per year.
For wiki, knowledge base, and documentation sites, Helpie is a knowledge base plugin that can be used.
It is the most straightforward method for creating a wiki, sharing information among groups, and creating beautiful software documentation sites for your services and goods.
You can prevent individual users from accessing certain content using Helpie. It also offers a voting feature, allowing visitors to your site to indicate whether they appreciated the articles or content or whether they found it helpful.
With support for RTL (right to left) languages and WPML compatibility, this plugin is ready for translation.
Helpie also has a responsive and mobile-friendly design, which helps the content of this plugin seem amazing on both large desktop displays and small mobile ones. Additionally, it works nicely with both modern WordPress themes and premium themes.
8. BWL Knowledge Base Manager  (Premium: $23)
Among the extensive wiki knowledge base plugins, BWL requires no elaborate setup and launches right away. You can organize the content into your preferred categories using the grid-style presentation it has for showing your stuff.
Although a paid plugin provides all the essential elements needed to run a high-quality knowledge base website, BWL Knowledge Base Manager is brimming with features that justify its high price.
Additionally, this plugin makes sure that your users have a voting option so you may collect information regarding the advantages and efficacy of your inquiries.
You have a variety of designs thanks to a customized shortcode editor and a dynamic customizability panel. BWL is undoubtedly one of the best WordPress knowledge bases currently accessible.
With the help of this plugin, you can quickly create a WordPress-powered website with a substantial knowledge base. Heroic was created to cut down on the time and money spent on customer assistance.
Additionally, it helps you gather reader comments on articles so you can quickly see which ones are most popular with readers and which ones need to be improved. Its best feature, article feedback, enables readers to participate by highlighting changes or improvements so that others can understand them.
Additionally, you can arrange the content using a straightforward drag-and-drop method to suit your preferences.
A robust, AJAX-based search tool that may recommend articles as a user writes their query is one of the nicest features you receive with this plugin. Furthermore, you may set up search results so that your chosen articles appear at the top for particular queries.
Additionally, you get access to detailed analytics reports that may be used to determine the visitors' search terms and whether they are succeeding in locating the information they need. Customers can comment on the articles as well.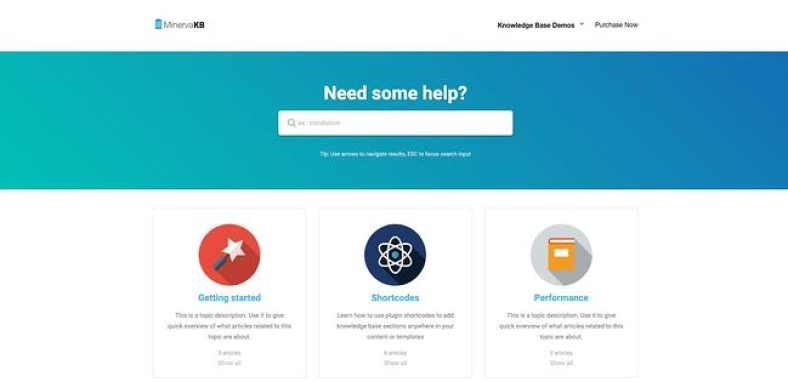 Users can use yet another Knowledge Base WordPress plugin to build their wiki. More functionality that is necessary for such a webpage is included in MinervaKB.
It was primarily created to function as a powerful knowledge base plugin. The fastest-growing knowledge base plugin for 2021 is predicted to be a trending plugin called MinervaKB with Analytics.
The MinervaKB plugin is adaptable to your needs, has a high number of positive customer ratings, and is reasonably priced at $69 for the premium features.
Using this plugin, users can add forms from the front-end interface and add follow-up articles for comments.
Conclusion
Although some of the plugins on this list may have functions that overlap, a few of them offer distinct features and tools based on your needs to make your website useful.
WordPress wiki plugins enable you to create encyclopedia-style websites, and knowledge portals and add a helpdesk area for customer service.
Most importantly, these plugins give you access to provided documentation for frequently asked questions, enabling your visitors to find accurate solutions to their questions with just a few easy clicks.