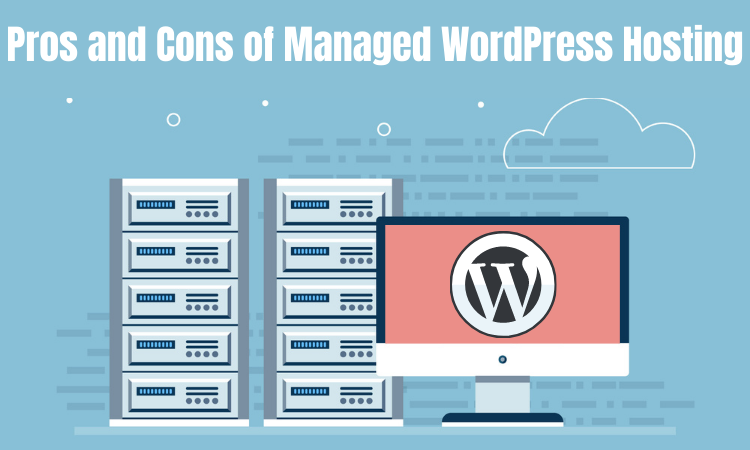 Before going ahead with the blog post, we would like to categorically state that not all WordPress managed to host plans are worth your time or money.
Most managed to host isn't managed once you start analyzing the services properly; you'll find out that they offer very few benefits.
In this blog post, we shall look at the pros and cons of WordPress managed to host and provide you with a clear perspective so that you can decide whether you should opt for it not.

There's no standard definition of managed WordPress hosting, and every hosting company offers its definition for the same.
The absence of any standard definition allows the hosting companies to add a managed label on any hosting plan they're offering.
This is another good reason why you should dig into the details of a managed WordPress hosting before signing up for the same.
Managed WordPress hosting must include WordPress-specific features and benefits, which you can never get with the standard hosting plans.
Thus, a managed WordPress hosting implies that the hosting provider will manage the setup and other aspects of your WordPress hosting.
The definition of managed varies from one hosting provider to another as most of them generally mention the advantages like backups, improved security, automatic backups, etc.
However, these benefits will remain on paper unless managed by the hosting provider.
To make your choice of managed WordPress hosting easier, let us delve into its pros and cons in detail.
Related Articles:
Pros of Managed WordPress Hosting
Some of the pros of managed WordPress hosting include the following:
WordPress Optimized Server – The majority of the managed WordPress hosting companies advertise their servers as completely WordPress optimized. However, you shouldn't click on the subscribe button by looking at such an advertisement and dig in more to find out the reality. Web servers that support a database engine and PHP can be used for setting up WordPress websites. Most of the hosting plans offer this feature, so no specific setting for WordPress is needed to run a website.
A managed WordPress hosting offers the latest and sophisticated server setups that include powerful hardware and latest server software such as Nginx, the latest PHP version, and powerful VPS configurations.
Must have Plugins:
Shortpixel | Optimus Key CDN | Ewww Image | Shutterstock | Kraken | DepositPhotos | OptimizePress
Easy-to-use Control Panel – Well, if you've ever used multiple control panels, then confusion must have been a consistent feeling! Irrespective of whether your hosting provider offers cPanel or Plesk, user panels are super-confusing. You will have to put in a lot of effort to learn how to use them. Now, managed WordPress hosting plans offer customized user panels that are easier to use and quickly access the essential features.
Reliability – almost all the hosting providers guarantee 99.9% uptime, and whichever managed WordPress hosting plan you choose, it won't be bought differently. All the major hosting providers are reliable, and you don't need to worry about downtime.
Fully managed WordPress hosting – Your hosting provider manages all the core server functions, and you don't have to put your hands on anything related to the server.
Improved Performance – Well, you get better performance with managed WordPress hosting compared to shared hosting. Since the server is optimized for WordPress, it delivers better performance when it comes to website loading time and performance.
Hosting providers usually integrate the site with caching technology and CDNs to improve the performance of their websites. This is a significant advantage because you don't have to worry about setting up these, and at the same time, you're delivered a fully-configured server.
Best Plugins to Use:
Post Affiliate | Magus OST to PST | ChatBot | Fusebox | CaseFox | MalCare/MetaSlider | Sucuri | Social Warfare
Better Security – Managed WordPress hosting servers are securer than their cheaper shared hosting counterparts. This isn't just because of the WordPress factor, but the overall security of such servers is better because of their premium quality setup.
Managed WordPress hosting platforms come loaded with DDoS protection technology that can protect the network and application levels. They can easily deflect the attacks by using a Web Application Firewall (WAF).
There're a few Managed WordPress hosting plans that offer access to premium plugins like Managed WordPress hosting platforms or iThemes Security. These solutions are WordPress specific and offer better protection, easy restoration, and malware scans and removal in an attack.
Automated Updates and Backups – Managed WordPress hosting plans will always include automatic updates and backups. You don't have to worry about manual updates of critical software and backups of your files and databases.
Best Plugins List:
Zigzagpress | MyThemeShop | Envato | Elementor | iThemes | Genesis StudioPress | Hello You Designs
Cons of Managed WordPress Hosting
Expensive – This is quite an obvious downside, but when you're availing of premium services, then you can't expect to compare the prices with shared hosting plans. For shared hosting plans, you pay anything between $3 and $4 whereas for a managed WordPress hosting, you cough up more than $15 per month.
Absence of Email Hosting – No reputed managed WordPress hosting plan by any top provider offers email hosting. This is a considerable drawback, mainly because you're paying quite a lot of money.
A limited number of websites – The majority of the basic managed WordPress hosting plans allow only one website hosting. Multisite hosting is a big issue, and the plans are costly.
Quitting is a big challenge – If you ever decide to quit your managed WordPress hosting plan, it can pose multiple challenges. Most hosting companies tend to modify your WordPress files to suit the server's environment, and these modifications don't work well with other hosts. Thus, you'll be stuck with WordPress files that don't work when you host them on another server.
Not all Plugins are supported- Shared hosting servers allow you to install and run all types of plugins, which is not the case when you host your website on a managed WordPress server.
Limited Storage – Managed WordPress hosting plans offer minimal storage space, and this can be a problem if you have a large website that requires higher disk space.