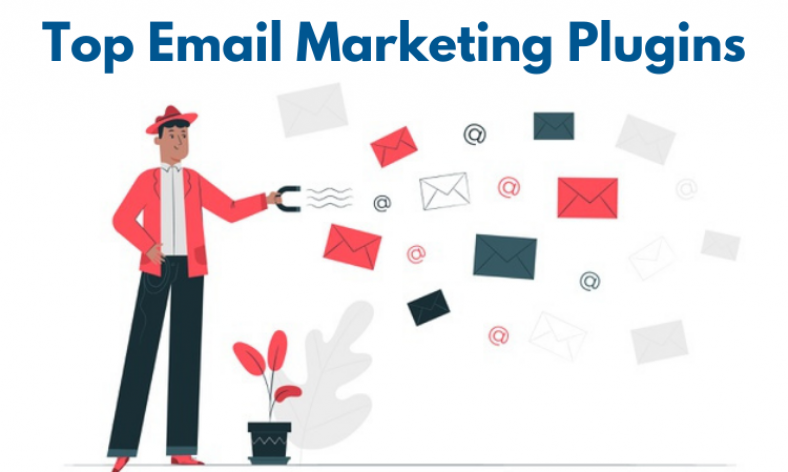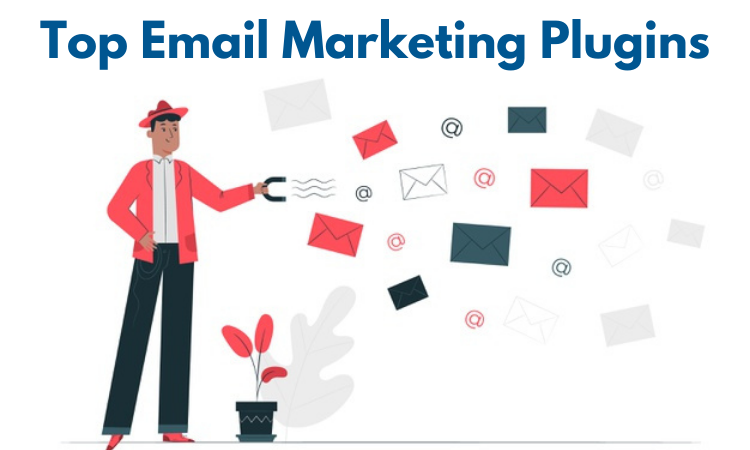 Email marketing is one of the oldest and most cost-effective online marketing tools available, and website owners, as well as digital marketers, are always on the lookout for new tools and plugins to optimize their email marketing campaigns. If you, too, own a WordPress website or online store, then you must choose the best WordPress email marketing plugins.
In this blog post, we shall compare the top email marketing plugins to make it easier for you to choose the best among the lot.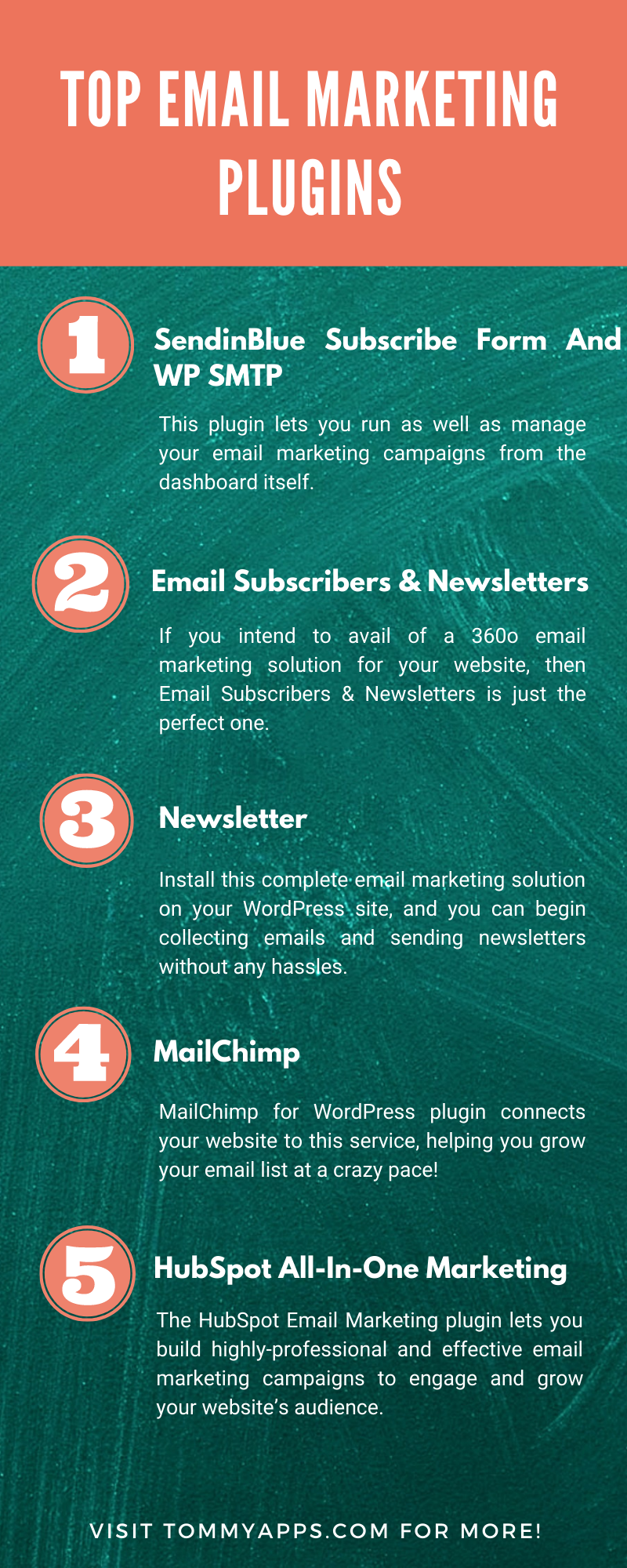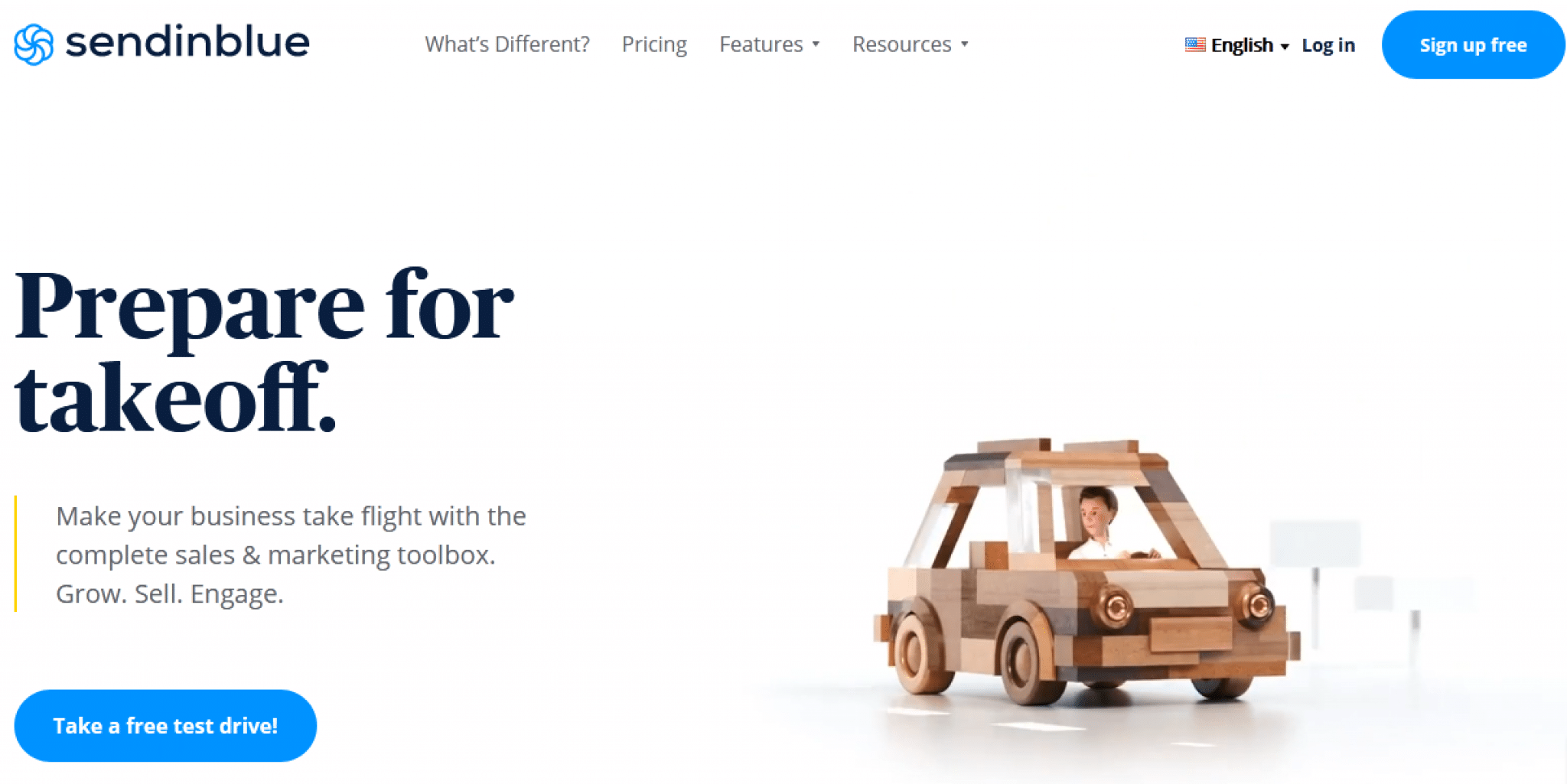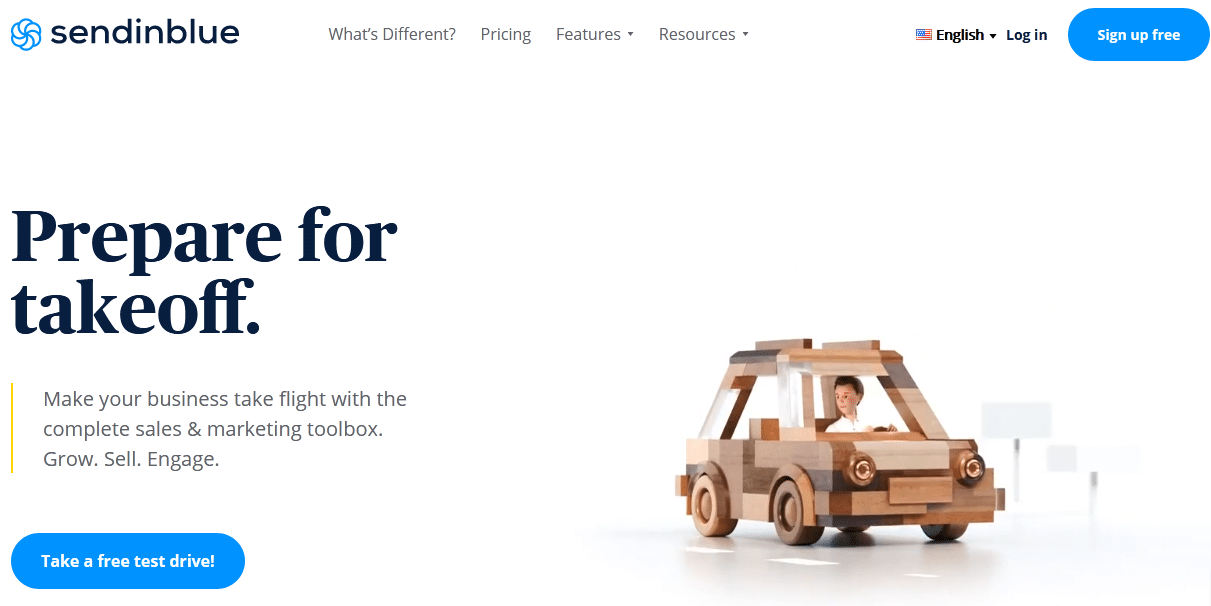 SendinBlue email marketing service has helped several website owners make the most of their email marketing campaigns by creating the SendinBlue Subscribe Form and WP SMTP plugin for WordPress. This plugin lets you run as well as manage your email marketing campaigns from the dashboard itself.
Some of the standout features offered by SendinBlue Subscribe Form and the WP SMTP plugin include:
Users can not only create customized subscription forms but also embed those in pages, posts, and even widget areas
Emails can be created by using the drag and drop tool
Try different ways to segregate and automate newsletter campaigns
Real-time statistics available for the emails, which includes open, clicks, etc
You can't use this plugin on a standalone basis as you'll have to subscribe to the SendinBlue email marketing service. The good news is that the service is free!
Pricing: This plugin is free, and you can send up to 300 emails/day under this SendinBlue plan.
Lite version (40.000 emails / month) – $25/month
Essential plan (60.000 emails / month) – $39/month
The Premium plan (120.000 emails / month) – $66 per month
If you're an existing customer of the SendinBlue service, then this plugin is a must-have. However, that's not the only reason. It's a premium-quality WordPress email marketing plugin that offers advanced features like automation and segmentation.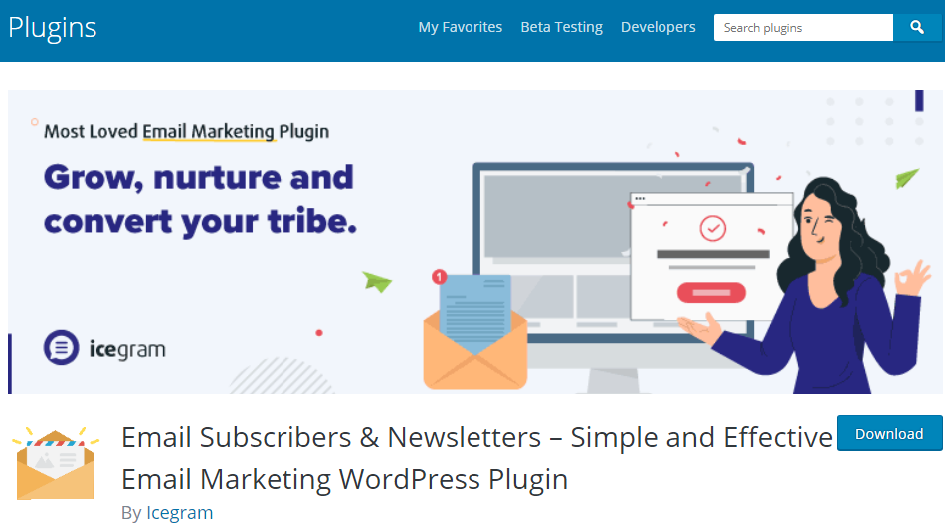 If you intend to avail of a 360o email marketing solution for your website, then Email Subscribers & Newsletters is just the perfect one. It has all the features and functionalities required to create and managed an email list and even sends newsletters. The best thing is that you can complete the entire task without even worrying about 3rd party connections.
Some of the incredible features offered by Email Subscribers & Newsletters include:
Quickly create and add a subscription box to a website for collecting the email addresses
Manually send email newsletters or set automatic triggers for the same
New subscriber signup notification and automated welcome mails
Real-time email data including open sent and clicked
Since Email Subscribers & Newsletters use your email server to send the emails, 3rd party subscriptions and tools are not required.
Pricing: The basic version is free, but the Premium version starts at $9/month, including access to features like in-built spam filtering, email templates, and newsletter testing.
This plugin will suit you if you don't want to avail 3rd party tools and manage your email campaign right from your website's backend. You get access to the primary email marketing tools and make use of the automation features.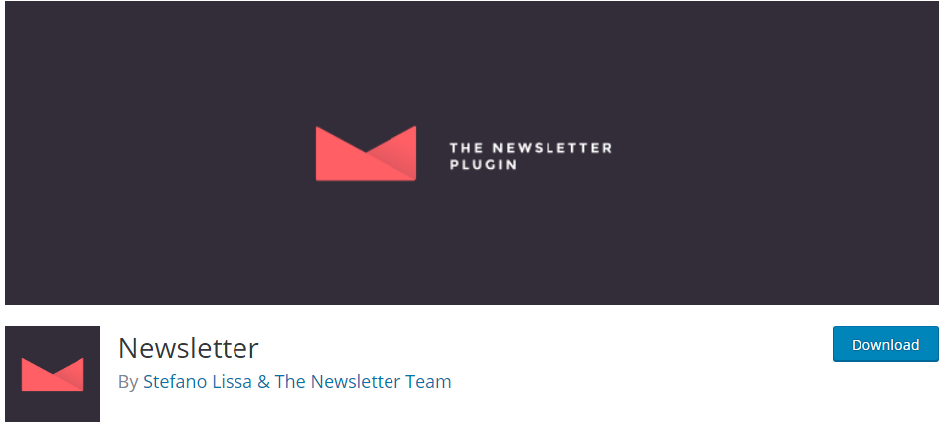 Install this complete email marketing solution on your WordPress site, and you can begin collecting emails and sending newsletters without any hassles.
Some of the standout features offered by the Newsletter plugin includes:
Collecting email addresses by using the customized page, form, or widget
Using the responsive drag and drop tool to create newsletters
Segmentation and automation of emails based on specific messaging needs for the different target audience
A central control panel for configuring the plugin and managing the email marketing campaigns
You don't require 3rd party services or tools for using this plugin; however, it still offers the option of connecting to any other SMTP plugins required to deliver the emails.
Pricing: The essential plugin is available for free, and quite a few premium extensions are available that come with additional functionality and features. These extensions can be purchased individually, or you can buy the complete pack for $76.59 (3 websites) and $298.60 (Unlimited websites).
Newsletter plugin is best suited for targeted email marketing campaigns, and even though there're very few automation options, the advanced segmentation adequately compensates for the same.
MailChimp is one of the most popular email marketing services globally and boasts millions of customers. MailChimp for WordPress plugin connects your website to this service, helping you grow your email list at a crazy pace!
Some of the critical features of MailChimp for WordPress plugin include:
Building customized signup forms and adding them to the website
Integrating with different types of eCommerce and form builder plugins
Detailed reporting for all the email marketing campaigns
Automatic notification for new user sign up
To avail of this plugin, you need to subscribe to the MailChimp email marketing service, and you can always start with the free plan, which includes 12,000 emails and 2,000 subscribers per month.
Pricing: Premium licenses start at $59/month
MailChimp is comparatively expensive than the other email marketing services or plugins; however, one must always keep in mind that this plugin is also immensely feature-rich. This plugin is suited for complex email marketing campaigns where website owners have to create highly-customized campaigns.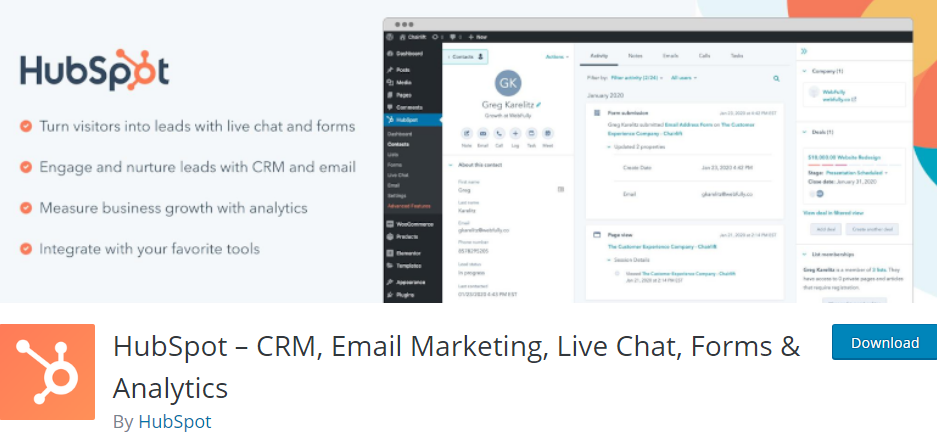 HubSpot is a popular marketing service provider, and it offers one of the most reliable and feature-rich email marketing plugins for WordPress websites. The HubSpot Email Marketing plugin lets you build highly-professional and effective email marketing campaigns to engage and grow your website's audience. The convenient drag and drop tool helps you build complex yet effective email campaigns.
The most significant advantage is that HubSpot Email can easily connect to the HubSpot CRM that facilitates customized and relevant email campaigns based on various data like website activity and form submissions.
Some of the key features of the HubSpot Email Marketing plugin include:
Drag and drop email editor to create incredibly beautiful emails
Access to goal-based email templates
Customized content, links, subject lines, call-to-actions, list membership, and attachments
Email campaign optimization with analytics and A/B tests
Pricing: The essential HubSpot Email plugin is free for 2,000 monthly emails, and premium versions start at $50/month 
HubSpot Email suits all business sizes, and since it's free, anyone can start and test its efficacy before upgrading. Additionally, this plugin is automatically integrated with the HubSpot CRM, sales, and service tools, making it an ideal choice for teams looking to streamline their business operations by consolidating their data and tools under one roof.