Are you looking for a useful WordPress Menu Plugin?
A website's menu bar is considered to be quite useful as well as a source of attraction for visitors. It's also designed to present information in a very orderly manner. However, a standard menu isn't always appealing. As a result, you may need to include some eye-catching elements on your website to make it more interesting.
Fortunately, there are various WordPress menu plugins available. These plugins will give you a lot of customization options and stunning displays that will also serve as a guideline for your website.
We'll go over the top 5 best WordPress menu plugins in 2022 in this article.
Importance Of Including Menu In WordPress Website?
A menu is a critical component for the success of your website because visitors utilize it to navigate around it. It can make users stay on your website for considerably longer, resulting in higher conversion rates. In the end, search engines will see this as a positive indication.
Visitors may not stay on your website for long if your menu is inadequate, and they may simply leave. This is regarded as a website's ineffective and inadequate skill. The menus on your website's pages take up a lot of screen real estate.
They also provide a useful service to your website. Menus are the most effective way to make a website aesthetically appealing and improve its aesthetics.
Although WordPress already has basic options for creating menus, the inclusion of plugins allows you to modify your menu to a far greater extent. These menus are used to display the most significant content of your website, as well as an image and links, on the homepage.
Related Plugins:
Tribulant | MonsterInsights | Barn2 Media | aThemes Sydney | Mojo | WP Review Pro | CSS Igniter | Delicious Brains Inc | Brizy | Elementor
Why Shouldn't You Use The Default Menu?
A default menu function is included in the majority of WordPress themes. However, it just has very minimal customization options that aren't particularly practical or appealing.
In contrast, a WordPress menu plugin gives us a much wider range of customization choices. Some of the plugins can also be used to enhance and improve your website's speed.
Best WordPress Menu Plugins
For your WordPress website, a responsive navigation menu is a requirement. Life is made easier when a plug-and-play solution is readily available.
Today, we'll go through the best ten WordPress menu plugins that can help you add flexible navigation menus into your existing theme or website quickly and easily.
We've used all of them ourselves at some point, and I know they work right out of the box. You may need to make a few adjustments to adapt the styling, but they will save you a lot of time and money in the long run.
The plugins described below will save you not only money but also time.
MonsterInsights | CSS Igniter | Pretty Links | Tidio | Apollo 13 Theme | Themeum | Pretty Darn Cute Design
The best WordPress menu plugins are listed below:-
The WP Responsive Menu, a terrific little plugin that turns WordPress menus into elegant sliding menus that perform exceptionally well on all platforms, has just made creating responsive menus easier and more fascinating.
It's fully customizable, has an easy-to-use admin interface, and fits in seamlessly with the usual WordPress menu layout. Customize the menu with unique search kinds, colors, and icons, and eliminate unused items on mobile devices. WP Responsive Menu is a fantastic plugin.
Features of WP ResponsiveMenu
Let's have a look at some of the amazing features that WP Responsive Menu has to offer.
Fully responsive and compatible with all mobile devices.
Integrates well with the WordPress menu system.
The admin interface is simple to use.
On mobile devices, just replace your menu with the responsive menu.
Customize your colors to fit your theme.
The menu can be accessed from the top, left, or right.
Add your website's logo to the menu with ease.
On mobile devices, you can easily hide undesired features.
Swipe gestures are supported.
The pinch to zoom feature can be enabled or disabled.
It's compatible with a wide range of mobile devices.
Related Articles:
Plans & Pricing of WP Responsive Menu
Let's take a look at the premium plans that this WordPress menu plugin has to offer. So, if you want to get more outstanding tools and features, WP Responsive Menu Pro is the way to go. Let's have a look at the various licenses available.
SINGLE SITE
The cost of this plan begins at $25 per year. This plan is only relevant to a single website.
2-5 SITES
The cost of this plan begins at $79 per year. This plan is suitable for two to five websites.
UNLIMITED SITES
The annual fee for this plan is $149. This subscription covers an infinite number of websites.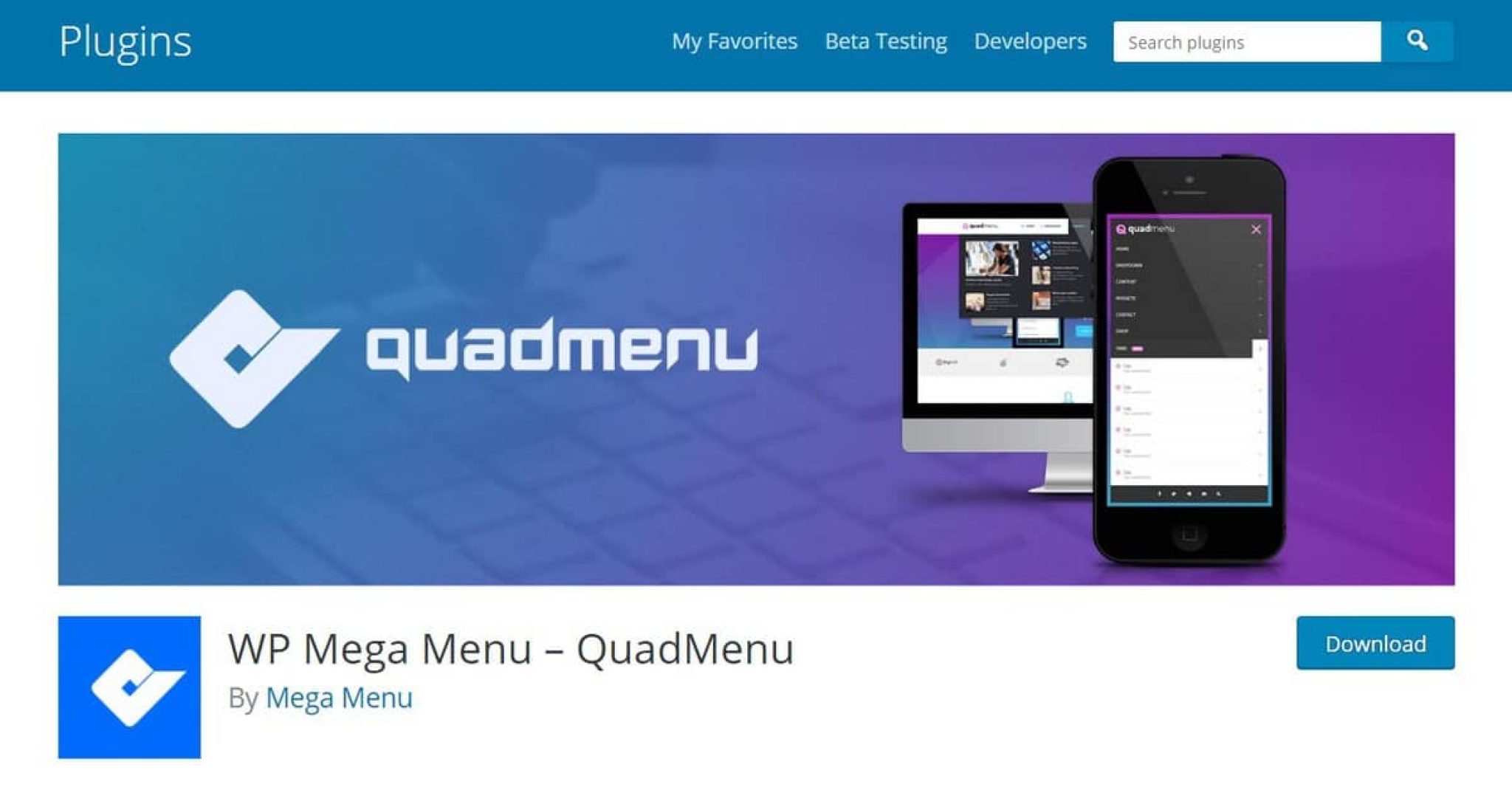 The QuadMenu plugin for WordPress is a free and easy solution to add mega menus to your site. The plugin is compatible with smartphones and has choices for the vertical, sidebar, and off-screen menus. Google fonts, FontAwesome icons, search and car tin menus, float drop-downs, and display or conceal menu items depending on screen size are among the other menu possibilities.
Do you want to change the look and sound of your menus? To change colors, backgrounds, fonts, and more, only use the built-in menu admin panel and customizer options.
Features of QuadMenu
You might be interested in learning more about the functions and features of this WordPress menu plugin. Let's have a look at it.
Menu integration, both automatic and manual
Multiple menu locations are supported.
Admin builder with drag and drop
In your menu, put WordPress Widgets.
Children's themes are supported.
The themes for the menu are limitless.
Vertical Menu Extravagant
Mega Menu Horizontal
Mega Menu Offcanvas
To open links, click or use the hover Intent plugin.
Options for aligning links
Options for floating dropdown menus
The menu collapse breakpoint can be adjusted.
Depending on the size of the screen, you can show or hide objects.
Plans & Pricing of QuadMenu
Quad Menu's premium plans provide some of the extra features not available in the free plan. Let's have a little talk about it.
Personal Plan:- This plan starts at $15 for a lifetime.
Agency Plan:- This plan starts at $30 for a lifetime.
DEVELOPER PLAN:- This plan starts at $60 for a lifetime.
Related Articles: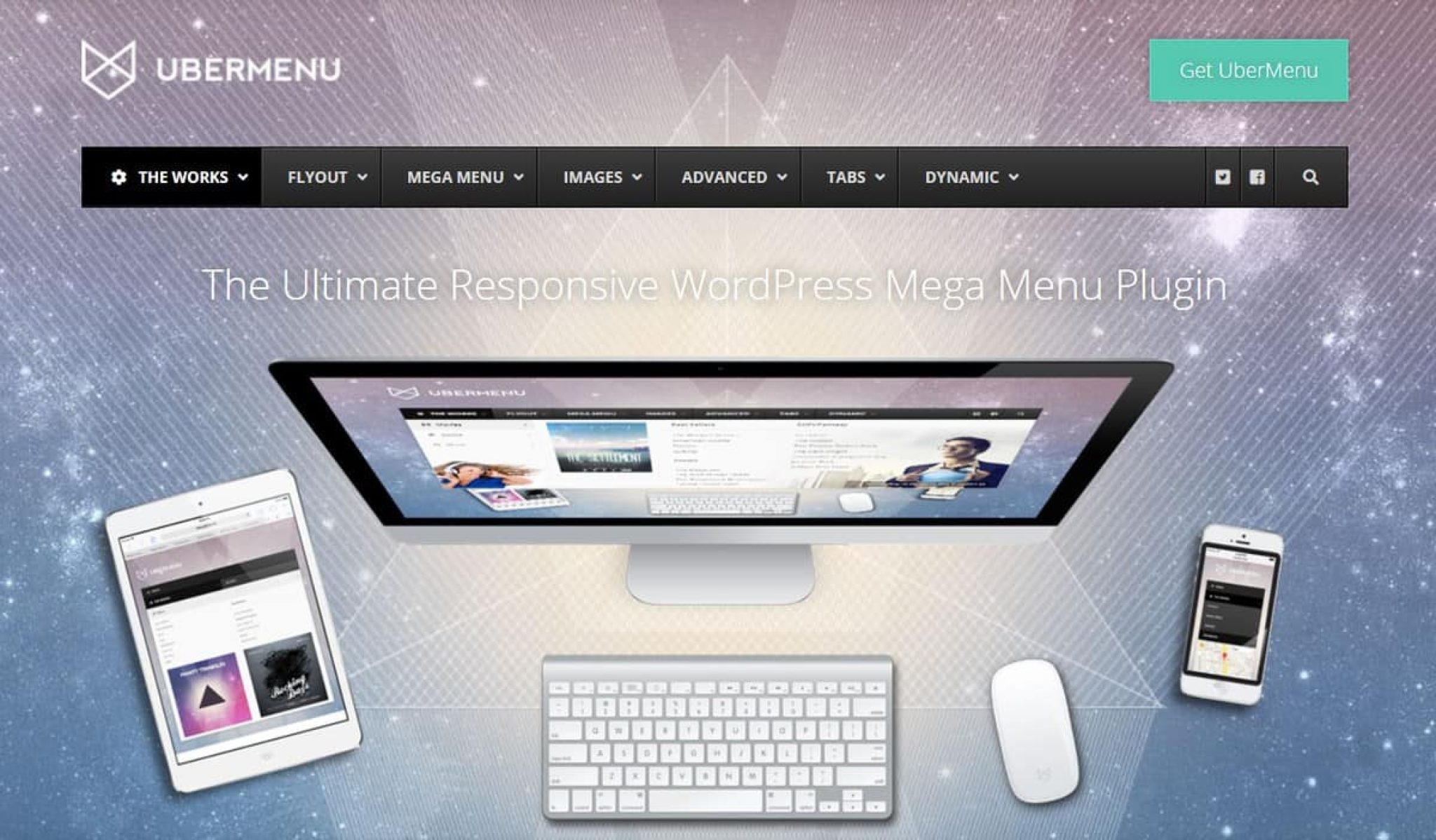 Uber Menu is the most user-friendly WordPress menu plugin available. The UberMenu team packed this tool with a tonne of useful features.
UberMenu not only comes with various pre-built menus for WordPress pages, but you also have a lot of control over how they appear and work.
Pop-up menus, drop-down photo menus, tabbed menus, and, of course, super menus are just a few of the menu designs you may add to your WordPress website with this plugin.
You may immediately start creating content-rich drop-down navigation regions to your site using the Super menu function, which includes images alongside text in a variety of formats.
Features of Uber Menu
It's easier than ever to create beautiful mega menu layouts with a built-in grid system and specific layout settings for each menu item.
UberMenu 3 not only features a responsive design but also offers a touch interface that unifies the user experience across mobile platforms.
Provide visual references to assist your customers in navigating your website fast.
UberMenu allows you to customize the menu using any HTML, shortcode, or widget.
UberMenu can help you create a menu for your shop. Products, categories, featured photos, cart summaries, and more can all be added.
UberMenu comes with several pre-designed skins, as well as a connection with the WordPress Customizer, which has over 50 adjustable parameters, allowing you to build your menu layout while viewing it in real-time.
You can add any Posts, Pages, Categories, Terms, Custom Post Kinds, or Custom Taxonomy Terms to your menu using UberMenu's Dynamic Posts and Dynamic Terms menu item types.
If your submenus contain a lot of content, you may easily organize it into tabs — above, below, left, or right of the content panels.
Mojo | aThemes Sydney | PayPro Global | Jackmail | Pabbly | WP Fix It | WPBuffs | GoWP | StatusCake | WP Curve
Plans & Pricing of Uber Menu
Uber Menu is a paid WordPress menu plugin with no free version available. You must purchase a regular license worth $ 25 to use the Uber Menu plugin for creating responsive business directories.
Another popular plugin for upgrading the WordPress web navigation structure is the Responsive Menu. The Responsive Menu is ideal for people who have a distinct view of their website and want their menu structure to merge in with their overall site design, thanks to the multitude of customization options, including 150 settings and 22,500 possible configuration combinations.
Fonts, text sizes, colors, and style and design are just a few of the options available for this theme. You may also use the icons as a background view for your menus, which is a quick and easy approach to make your navigation regions stand out.
Features of ResponsiveMenu
Change the color of every text, background, and border.
Set your desired fonts, font sizes, and text alignment.
Choose which side and location you want the button to appear on.
Choose which side of the menu appears (left, right, top or bottom)
For the menu, use a background image.
The size of the screen on which the menu will appear is a personal taste.
For the Menu & Button Integrated Search, you may choose from a variety of animation types and speeds (fully customizable).
The ability to disable and reorder various components
Ability to keep the button at the top of the page or let it scroll with it
Uploading logos, sub-arrow pictures, and other graphics are possible.
Plans & Pricing of ResponsiveMenu
If you want some premium features, then look no further.  The Responsive Menu Pro is a must-have. Although you can try out any license for free for seven days. Now let's go down and have a look at the Responsive Menu Pro licensing options.
Membermouse | Subscription Billing | MemberPress | Blog2Social | Analytify | Squirrly | Netpeak software
1 SITE LICENSE
This license costs $29.99 per year. This is especially for 1 site.
2-5 SITES LICENSE
This license costs $69.99 per year. This is especially for 2-5 sites.
100 SITES LICENSE
This license costs $99.99 per year. This is especially for 100 sites.
Max Mega Menu is a well-known WordPress menu plugin that has over 300,000 active downloads. Max Mega Menu could be a good alternative if you're seeking for a simple solution to add mega menus to your WordPress account.
After you've installed this plugin, regardless of whatever WordPress theme you're using, you should start adding a range of widgets to your menus to improve the features available to your audience. On mobile devices and other small-screen devices, you still have a lot of control over how the menus are displayed.
Features of Max MegaMenu
It's based on the WordPress menus system.
Multiple menu places are supported, each with its settings.
Off-canvas (slide in from the left or right) or a regular mobile drop-down menu.
Using the Grid Layout builder, divide your submenus into rows and columns.
In your menu, put WordPress Widgets.
Using the built-in theme editor, you can change the look of your menus.
Plans & Pricing of Max MegaMenu
So now we'll go on to premium licenses that include premium addons. Let's have a look at what each of these licenses has to offer. Let's have a look at it.
PERSONAL License
The cost of this license is $29 per year. This is for a single website.
BUSINESS License
The cost of this license is $49 per year. This is for a total of five sites.
LICENSE FOR DEVELOPERS
This license is available for $99 for a lifetime. This is for 99 sites.
Conclusion
One of the most important factors in a website's success is the navigation menu. They assist in attracting visitors and providing them with appropriate directions. This finally leads to the visitor reading your entire content and achieving your conversion goals.