Adsanity is owned by Pixel Jar, which is an agency, specialized in designing websites for enterprise customers. The company focuses on the development of plugins that helps companies make more money by increasing the conversion rates on their websites.
Description
AdSanity, created by Pixel Jar, is an incredible tool that allows users to create as well as display banner ads of different sizes on a website. This is usually done y the use of shortcodes and widgets. Users can access detailed stats on the clicks and views quite easily.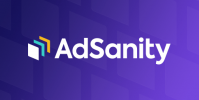 Products: Basics, All in one, and All in one for life. Overall: Ad management plugins galore but AdSanity helps users make money without much hassle. Installing AdSanity plugin on our website saved a lot of time and effort that usually went into managing display ads manually. We were able to gain more control on the display ads and provided us with the critical stats on performance of each ad.
PROS
Beginner-friendly
Fast and lightweight
Option for multiple publishing
Availability of multiple Addons makes the plugin even more powerful.
CONS
No feature to directly sell ad space
Unavailability of in-depth analytics
Lack of detailed documentation
Inquiries
General Inquiries
There are no inquiries yet.