ManageWP was founded in 2010 and is headquartered in Belgrade, Serbia. The company offers services like website monitoring, backups, automated migration, deployment, publishing, etc. However, its single centralized dashboard for managing multiple WordPress websites is extremely popular.
Description
ManageWP is a management dashboard for WordPress created to facilitate management of multiple WordPress sites conveniently. Using a centralized platform, one can perform single or bulk updates and at the same time streamline maintenance tasks across all sites, irrespective of the server they're hosted on.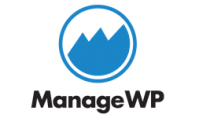 Products: ManageWP WordPress website management dashboard Overall: ManageWP is an excellent product for WordPress for numerous reasons. However, it's totally your decision to use the premium add-ons, depending on your situation. However, for webmasters managing multiple WordPress websites, the incredible free plan is something that they must try at least once.
PROS
Consolidation all critical WordPress site management services into one dashboard
It's easier to carry our tasks like website backup, cloning, and restoration
Simple and easy to use interface
CONS
Lack of proper support for WordPress
Security scan doesn't have the option to use preemptive measures for countering issues
Inquiries
General Inquiries
There are no inquiries yet.