HelloYouDesigns
It is a web designing company and online store selling feminine WordPress themes at affordable prices. The company was established in 2015 and since then has launched several beautiful themes with enhanced functionality. It has helped clients from 70 different countries design and develop their websites quickly.
Add to wishlist
Added to wishlist
Removed from wishlist
0
Add to compare
You will get:
Aesthetically appealing themes
Great for beginners
Caters well for website that need a feminine touch
Hello You Designs offers some popular and functionality-rich WordPress themes that can be installed quickly and customized as per the user's needs. Their online store has 21 themes, which can be purchased and downloaded without much hassle.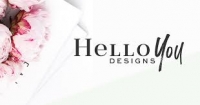 Products: Hello You Designs WordPress Themes. Overall: The Hello You Designs' website has some really beautiful themes; however, they all have a feminine touch, which makes them unsuitable for many types of websites. We tested most of the themes for performance and customization options but were left quite disappointed with most of them as they fell short of our expectations on numerous counts.
PROS
Aesthetically appealing themes
Great for beginners
Caters well for website that need a feminine touch
CONS
Not suitable for business websites
Nothing much for advanced users
Expensive considering the limited customization options
4 reviews for
Hello You Designs
General Inquiries
There are no inquiries yet.