Launched on June 2nd, 2011 by Schema.org, it was designed to create and support organized data on web pages. This is a WordPress plugin that enables you to add rich snippets on the search results page. The snippets add a classy look to your website on Google SERPs and gets the attention of visitors instantly.
You will get:
Setup is easy
Supports major schema types
No specific technical abilities required
Schema Pro WP plugin facilitates the creation of schema mark-ups conveniently without having to tinker with the coding. This plugin was created for users who aren't familiar with the Schema.org language.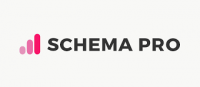 Products: Convert Pro, Astra Theme, Ultimate Beaver, Ultimate Gutenberg. / Overall: Schema Pro is the perfect plugin if you intend to make your website attractive during Google searches. This plugin facilitates the creation of snippets for displaying ratings, features, costs and any other relevant information. You can enhance frequency of organic clicks for your websties and improve its credibility.
PROS
Setup is easy
Supports major schema types
No specific technical abilities required
CONS
Available only in the paid version
General Inquiries
There are no inquiries yet.