Headquartered in France, SendinBlue was founded in 2012 by Kapil Sharma and Armand Thiberge. SendinBlue offers a SaaS solution for business relationship marketing. The cloud based marketing software suite includes transactional email, email marketing, customer-relationship management, facebook ads, SMS marketing, retargeting ads, and landing pages.
You will get:
Inexpensive plans
Robust email automation
Landing page editor
Tool for SMS Marketing
SendinBlue WP plugin helps websites build as well as grow relationships using email campaigns, marketing automation, transactional emails, CRM, SMS, Chat and Facebook ads. The platform has a good mix of sophisticated services under one umbrella.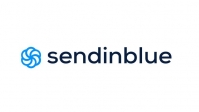 Products: SendinBlue WP Plugin Overall: SendinBlue is highly recommended if you're trying to send transactional and trigger-based emails. This is probably the best and the most sophisticated tool one can get on a lower budget. Customizable triggers which are based on purchase data are ideal for e-commerce companies.
PROS
Inexpensive plans
Robust email automation
Landing page editor
Tool for SMS Marketing
CONS
Integrations are limited
Sending limit in the free plan
General Inquiries
There are no inquiries yet.