Founded in 2002, LiveChat (US based company) launched ChatBot in 2017. This AI-powered framework facilitates the creation of multipurpose bots for answering customer queries, automation of lead generation and even gathering feedback.
Description
ChatBot has been designed for businesses that want to design, create, and deploy AI-driven custom chatbots for support, sales, and marketing. Creating of multiple chatbots for varied purposes is possible by using diverse templates.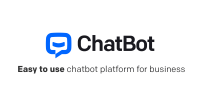 Products: ChatBot Platform for business - Overall: ChatBot is an impressive improvisation on the existing bots as it can improve customer communication by quite a few notches. This ChatBot can be trained to answer repetitive questions as well as simple questions quickly and effectively. If you're willing to walk the extra mile for creating a list of immensely satisfied customers then ChatBot can be your perfect ally.
PROS
Highly interactive
Convenient method of delivering standard messages and information
Quick data collection for follow up
CONS
Challenging to train the ChatBot in absence of adequate conversational data
Lack of emotion
Understanding the intent of customers is difficult
Inquiries
General Inquiries
There are no inquiries yet.