WP Fix It is owned and operated by Jarrett Gucci and he established the company back in 2009. The company offers maintenance service for all WordPress websites and employs a dedicated team of WordPress experts to helps website owners fix all types of issues. WP Fix It has been in the service for over a decade and boasts to have serviced over 18000 customers across the globe.
You will get:
Easy access to support
Quick solution
Affordable
WP Fix It WP plugin lets the website owner connect directly with an agent live without even having to log in. Users can expect to avail instant WordPress support and they can either choose to explain the problem being faced or they can simply connect live with a skilled agent.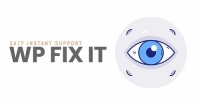 Product: WP Fix It WP plugin Overall: WP Fix It is a great WordPress maintenance tool that helps users resolve issues easily and at affordable rates. They even undertake complex tasks of malware removal and completes that successfully quickly. They have a very skilled and polite team of experts who can help users without much fuss.
PROS
Easy access to support
Quick solution
Affordable
General Inquiries
There are no inquiries yet.