Founded in 2013 by Jonathan Buttigieg and Jean-Baptiste Marchand-Arvier, WP Rocket is the most popular WordPress caching plugin. They have a dedicated team involved in the process of product improvement and customer support. The company has over 1,34,000 + customers spread across 100 countries across the world.
You will get:
Easy Setup
Database Optimizations
Cache Preloading
WP Rocket is a WordPress caching plugin that can speed up websites with simple tweaks. WP Rocket is a caching and performance optimization plugin that boosts website loading time by creating page caches, image lazyload, compressing HTML, CSS, and JavaScript files and several other optimization features. The popularity of the product has grown over the past 5 years and presently it's used by 1 million+ WordPress websites.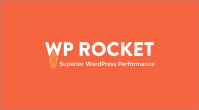 Products: WP Rocket plugin. Overall: WP Rocket is a quick solution to improve the loading time of your website and even though it doesn't have a free version, it's still worth the money. It is the most effective and affordable WordPress caching plugins in the market and with all the add-on features, website optimization is a breeze.
PROS
Easy Setup
Database Optimizations
Cache Preloading
CONS
Lacks native image optimization
Results often vary
No live chat support
General Inquiries
There are no inquiries yet.