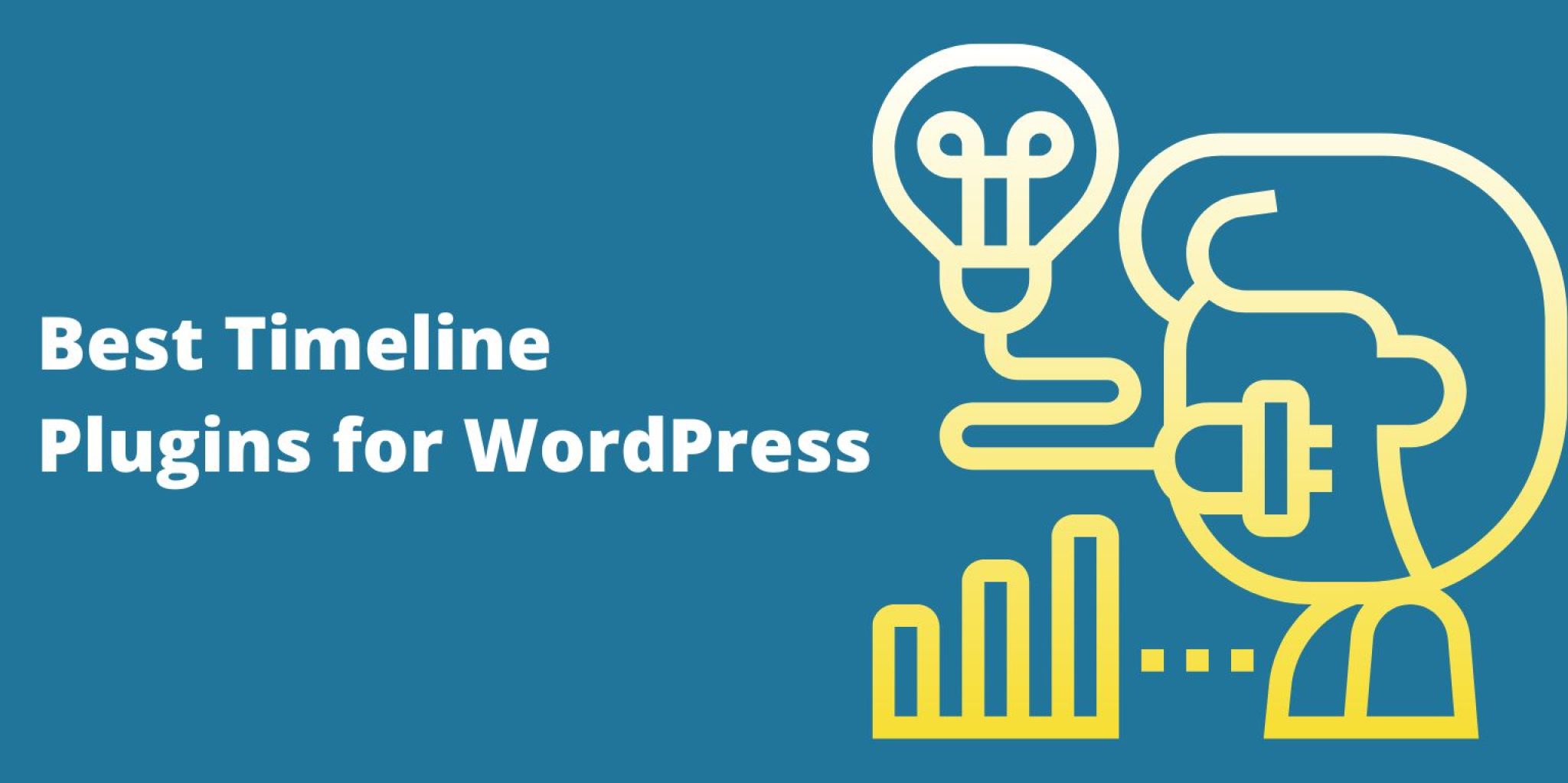 Timelines are distinctive components that can be used to organize and depict growth through time. This is very useful for displaying information about your company's history, current products, professional experience, a project roadmap, and more.
CSS can be used to build an interactive timeline, but this will demand some real technical skill. A WordPress plugin provides a much simpler solution for individuals without coding knowledge.
Users may simply construct and alter timelines without knowing any programming thanks to WordPress timeline plugins. Let's look at the top choices listed below.
What is a timeline plugin?
There are several ways you may incorporate a timeline plugin into your website design.
It can be used by business websites to display their corporate history. A startup can utilize it in the interim to display its route map. A professional can use it to add their previous work and experience to a resume website, while a freelancer can use it to display his portfolio.
You can include a special area on your website to present information more excitingly by using a timeline plugin.
With the aid of timeline plugins, you might create more engaging user interfaces that would encourage users to explore the timeline on your website. This enhances the user experience on your website and makes it more interesting.
You can create a similar timeline section to be able to accomplish that purpose by using an excellent WordPress timeline plugin.
On WordPress, numerous timeline plugins can be used. But in reality, there are fewer possibilities.
Thankfully, we have chosen the top timeline plugins available, compared their capabilities, and determined which ones stand out.
1. Cool Timeline
Create responsive horizontal and vertical timelines in the Gutenberg editor by using the free plugin Cool Timeline. A cool Timeline is a tool that will automatically fill a timeline with blog posts you've written based on their publish date in either ascending or descending order. It was intended to assist you to improve the blog feed on your website. You can add photos, icons, buttons, and custom colors to each story to alter how the timeline appears.
With the aid of this plugin, you can easily make posts, add photographs, and add dates, and your website will then automatically generate a well-designed timeline. Additionally, it can generate short timelines that are retina-ready.
A premium edition of Cool Timeline is also offered with more pre-made themes and sophisticated features including animation effects and pagination choices.
2. Timeline Express
The Timeline Express plugin, like Cool Timeline, is a great option for people who want to create adaptable and dynamic vertical timelines for their websites.
Timelines can now include stunning CSS animations thanks to this free plugin. Using the plugin, each announcement can be set up differently.
You can choose the excerpt length, conceal the announcements' dates, submit your image, choose whether to display the announcements in ascending or descending order and choose the excerpt length. Both small and large websites have seen great success with the Timeline Express plugin. Although this plugin is also ready for translation, it is currently only available in a few languages.
The plugin's Lite and Premium versions are both incorporated. The Lite edition is free; the Premium version costs money.
3. Elementor Timeline Widget Addon Plugin
You may add horizontal timelines and vertical timelines to your WordPress site by using the Elementor Timeline Widget addon, which is a component of the Elementor page builder plugin.
You may quickly add or alter colors, fonts, icons, photos, and material in your timeline stories with this widget's advanced options.
A paid edition will provide a wider range of features and templates, such as numerous pre-designed templates. You may construct gorgeous timelines using sophisticated features, such as animation effects and pagination choices. When advertising your brand online, in particular, you will be able to showcase various tales and events in more detail with the help of this add-on. When promoting a brand, it's critical to let your audience know about its past.
However, this is a plugin add-on for Elementor. Utilize the other plugin suggested in this post if you wish to use a dedicated plugin for the timeline. Although the plugin is $33, there is also a Free version available.
4. Bold Timeline Lite Plugin
You can display an infinite amount of events using the Bold Timeline Lite WordPress plugin, which can be applied to a wide range of situations, including company histories, biographies, historical events, life tales, step-by-step instructions, and timelines.
As a result of the user not having to deal with many complicated settings, the plugin is quite simple to use. Five predefined styles are provided by the application for a user-friendly interface.
You may completely personalize the appearance of your timeline by picking a style, adding your text, and including photographs. Furthermore, you may make it appear as though it was custom-made for you by utilizing various fonts, colors, and icons.
A free version for the lite version and a $24 version for the premium version.
5. Everest Timeline
Everest Timeline is the next plugin on our list of the top WordPress timeline plugins. Another expensive tool with positive ratings and reviews on Envato is this premium extension. With this powerful, dynamic plugin, you can build almost any kind of timeline you can think of.
Although it has a cost, it's not as high as some other solutions on this list. Additionally, it has a tonne of strong features that make it a top pick for any website owner.
There are more than 50 pre-built templates available in Everest Timeline, and there are numerous layout possibilities for one-sided, vertical, and horizontal layouts. Even Facebook layout options are available, in case you want to highlight social media content.
Pricing: $18
6. Post Timeline Plugin
Create a visually appealing vertical timeline for your WordPress posts by using the Post Timeline WordPress plugin. Based on the tags and dates you enter, this plugin creates a timeline that is then integrated into the navigation.
You can quickly take use of some amazing capabilities and get a lot of value with this feature. With this tool, you can easily view beautiful timelines and will ultimately gain a lot of value.
If you want to make multiple timelines, Post Timeline is a must-have plugin. Additionally, a customizable header post is included.
The Lite edition is free, while the Premium version costs $24.
7. Blog Designer
The main purpose of Blog Designer is to assist you in creating blog pages for your WordPress website. But because it includes particular news and timeline structure, it may also be classified as a WordPress timeline plugin. This template is specially made to make beautiful and effective timelines for your website.
You may easily alter the background colors to suit your needs by using this plugin. Additionally, it supports many browsers. As a result, you can be sure that your timeline will look great on every web browser.
8. Event Timeline
This WordPress timeline plugin enables you to flawlessly display the occasions that are connected to or connected to your business on a timeline.
The Event Timeline plugin was created with a variety of rich features for your WordPress website. It also features a very responsive design that works well with all WordPress themes and can be used on any device, regardless of screen size.
Additionally, this timeline plugin enables you to post your timeline as a single page or in conjunction with a blog. To display the timeline on your website, you can also contribute tales through movies, slideshows, and photographs. You can also change the timeline's appearance with the plugin.
9. Post Timeline
Do you want to design a stunning timeline for your website? Post Timeline will then be very useful to you. With the aid of this plugin, limitless vertical timelines can be produced. If the history timeline appears excessively long or crowded, the timeline can also be expanded by including another timeline or multiple timelines.
Furthermore, this free WordPress timeline plugin allows all the data to be shown in a nice arrangement. Additionally, you can automatically generate animated scroll navigation based on tags or dates in ascending order.
10. Timeline Awesome
Timeline Awesome is a very awesome yet free WordPress timeline plugin, as the name suggests. You can easily construct beautiful horizontal and vertical timeline elements for your site using this plugin.
Additionally, it provides a lovely timeline template with a smooth transition. It also offers a tonne of customizing choices. Additionally, you may use shortcodes, Elementor Blocks, and Gutenberg Blocks to insert the timeline anywhere on your website.
Conclusion
That concludes our list of the top free WordPress timeline plugins. These plugins were chosen particularly to offer you the finest usability, interface, and user experience. To build your timeline on the WordPress website, you can install any of them.
You can select the plugin that best suits your needs based on your needs. Please feel free to ask any questions you may have in the comments area below about any of the plugins on the list.