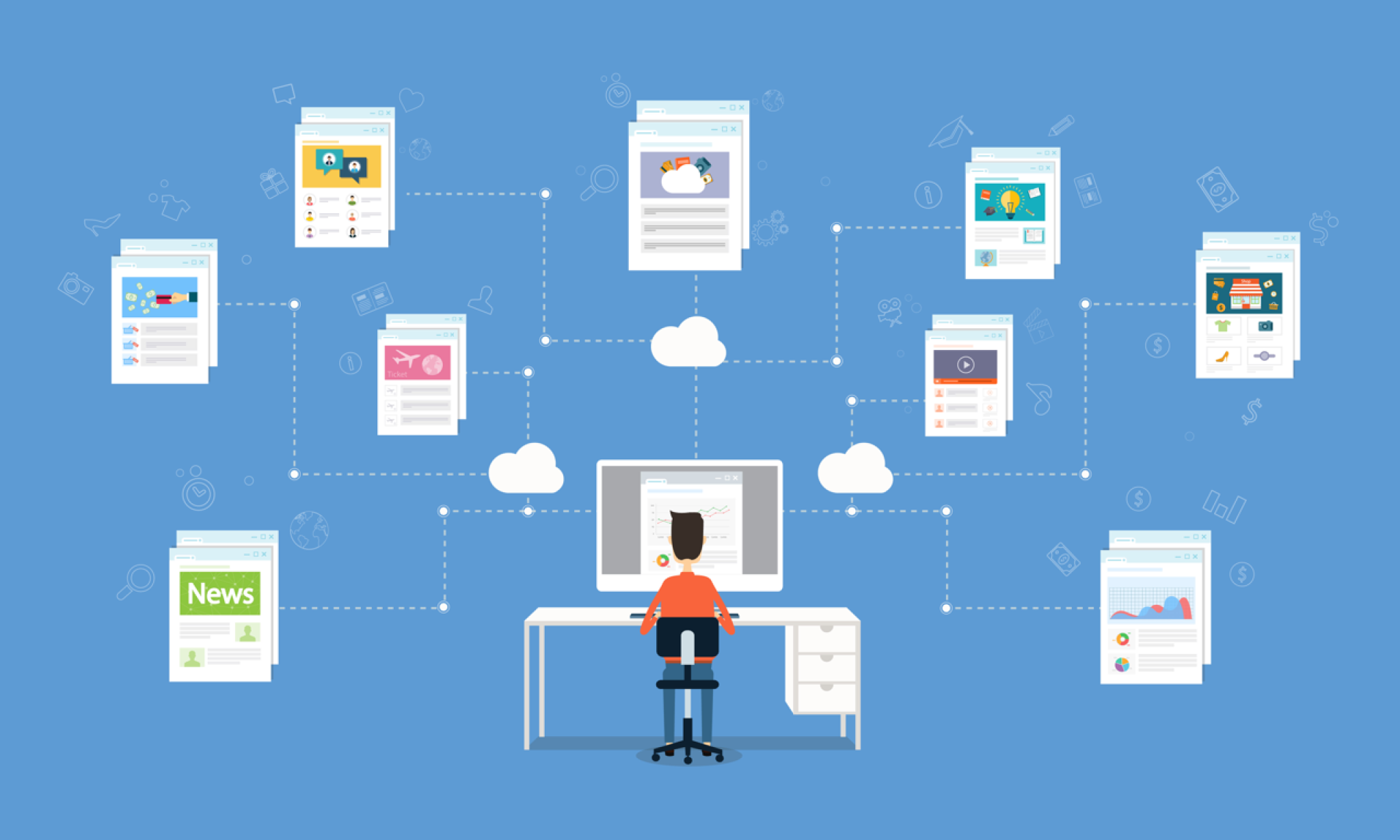 The idea of email marketing automation is interesting, and it's one of those things that can benefit you greatly without requiring you to put in a lot of daily work.
For example, according to recent data, companies that use automation software get twice as many leads as those that rely solely on broadcast emails.
In other words, if your company conducts any kind of web activity, getting involved in email marketing automation could be profitable.
The top email marketing tools and services are covered in this article to help you complete the task successfully:
What is email marketing automation?
The automatic transmission of email letters is known as email automation. The recipient initiates the mailing by way of so-called triggers or actions, such as opening an email or clicking a link (e.g., anniversaries or birthdays).
Automated emailing aims to engage the receiver directly and deliver emails that are appropriate for their activity. Senders save a significant amount of time compared to manual sending.
Email automation is referred to by many different names in email marketing. It's common to interchange words like "triggered emails," "automatic email marketing," "email drip campaigns," "drip emailing," "serial emails," "email marketing automation," and "lifecycle mailing."
These descriptions of the automatic email-sending procedure all refer to the same process. Emails that are prompted by the recipient's activities have exceptionally high open and click-through rates.
1. Active Campaign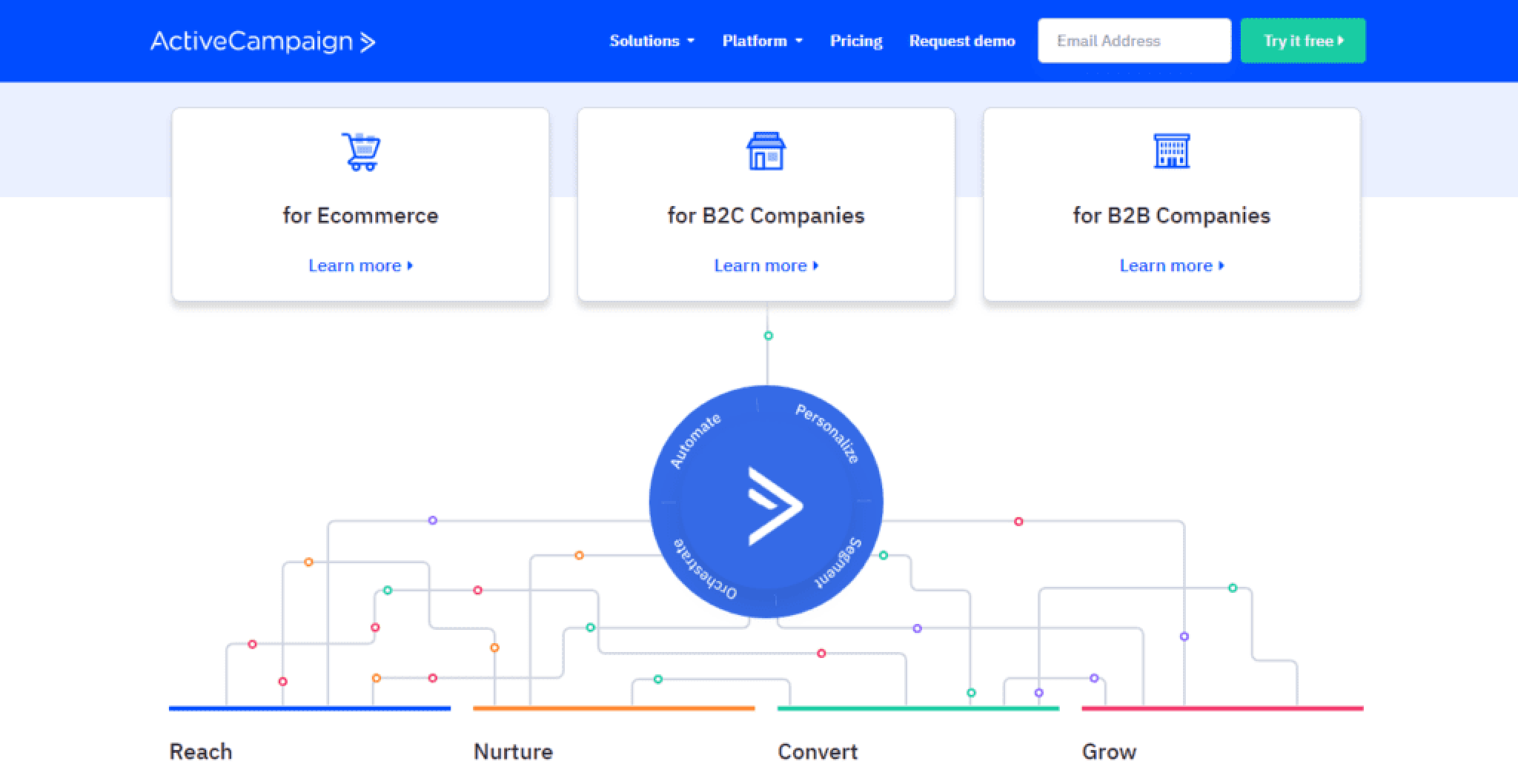 More than 60,000 businesses of all sizes already utilize ActiveCampaign.
With ActiveCampaign's email marketing automation tool, you can easily build drip emails that will increase subscriber involvement and take advantage of their interests, demographics, history, and more.
Active Campaign can be used as a CRM and marketing automation tool. This email marketing automation software will appeal to you in terms of email deliverability, price, customer service, and integrations.
Customer experience automation (CXA) software with email capabilities is called ActiveCampaign. It supports more than 850 integrations and is made to manage contacts and the sales process.
The software can be tried out for 14 days without cost. The next step is to sign up for one of the four premium programmes, which you can do either monthly or annually. Depending on the plan, the savings for paying annually ranges from 15% to 40%. Each plan's price is also based on the number of contacts it includes (nonprofits receive a 20% discount).
Pros
Excellent automation tools that make customer interactions simpler.

Quick, courteous, and helpful customer service.

Data migration and implementation services are included in every plan level.

Free CRM with built-in sales automation (For a limited time).

Has more than 850 integrations with the most widely used programmes.
Cons
The learning curve might be difficult.

The Lite plan has a few features (and includes ActiveCampaign branding).

Plans quickly increase in cost as contacts increase.
Pricing:- The cheapest price plan has 500 contacts and costs $9 per month with an annual payment. The Enterprise plan, which costs $229 per month, has the highest price.
2. Hubspot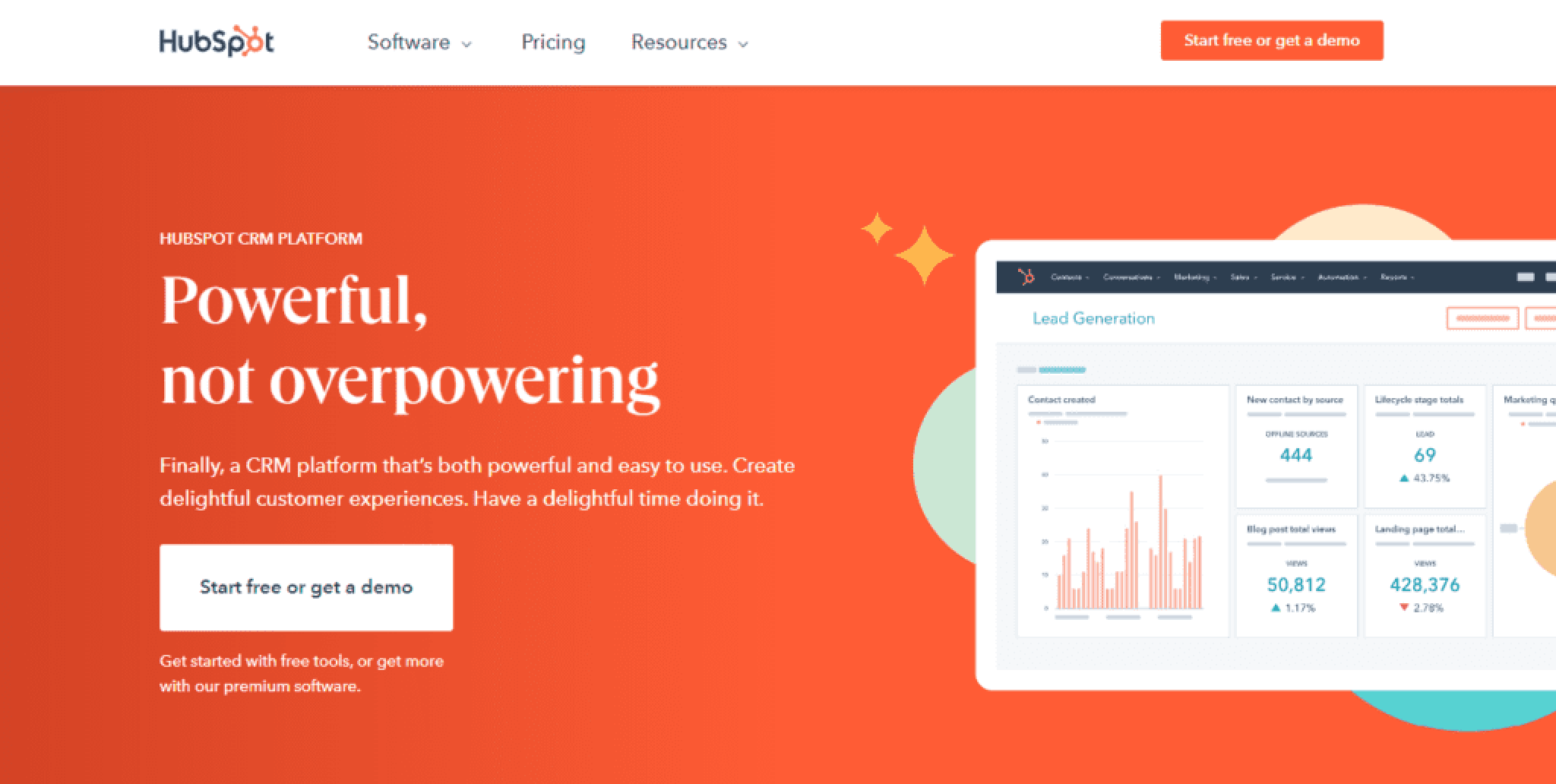 Because it includes excellent tools and reporting for all of your marketing efforts across numerous channels, Hubspot is the greatest all-in-one marketing suite (website, social, email marketing, and more).
With Hubspot's CRM, you can keep track of every contact information and draw customers through lead forms, live chat, and online advertisements.
Hubspot is one of the best email automation solutions because it is used by 48,000 small businesses.
In order to give you a unified picture of how contacts interact with your website, Google AdWords, social media, and email marketing, Hubspot consolidates all of your marketing operations into one location.
It offers insights into the buying process, assisting business owners in more successfully customizing their marketing initiatives. The platform comes with a robust training system that not only goes over system usage but also identifies the key elements of effective marketing campaigns.
Pros
The capability of behavior-based user experience customization.

Wonderful user interface.
Cons
Most startups cannot afford their prices.

Non-compliance with HIPAA
Pricing:- There are three different price options for HubSpot Marketing Hub. HubSpot Marketing Hub's entry-level package costs $50 per month. The Professional plan at $800 per month, and the Enterprise plan at $3,200 per month.
3. Constant Contact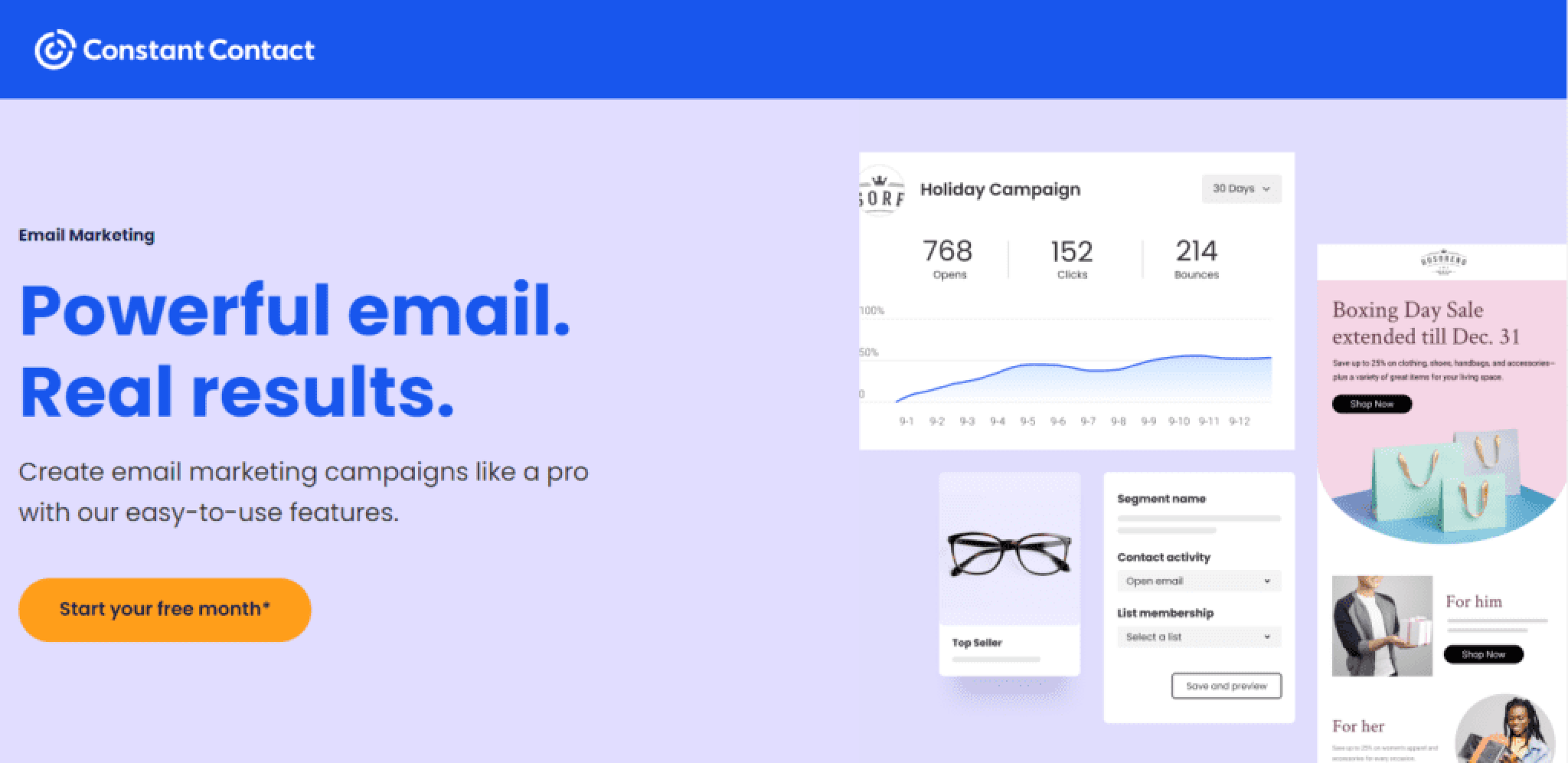 With a history going all the way back to the middle of the 1990s, Constant Contact may be the only email marketing tool on this list that could be considered legacy software. Although its user interface may seem antiquated and uninspired, a non-technical audience will find it simpler to utilize.
It includes all the features you'd anticipate finding in tried-and-true email automation software, such as list management, workflow automation, website forms that can be embedded, and streamlined reporting.
It offers an autoresponder like other email marketing automation programs on the market. The reasonable cost of this email marketing automation tool is one of its key features.
Pros
The demographics of email receivers are clearly outlined.

Easy to use and simple UI.

Outstanding customer service.
Cons
Contains branding for Constant Contact at the bottom of the emails.

Depending on the platform that users utilize, email templates frequently change.

The designing possibilities available in email builders are somewhat constrained.
Pricing: There is no free plan offered by Constant Contact. Its Core Plan, with a cap of 500 subscribers, is priced at $9.99 per month.
4. Drip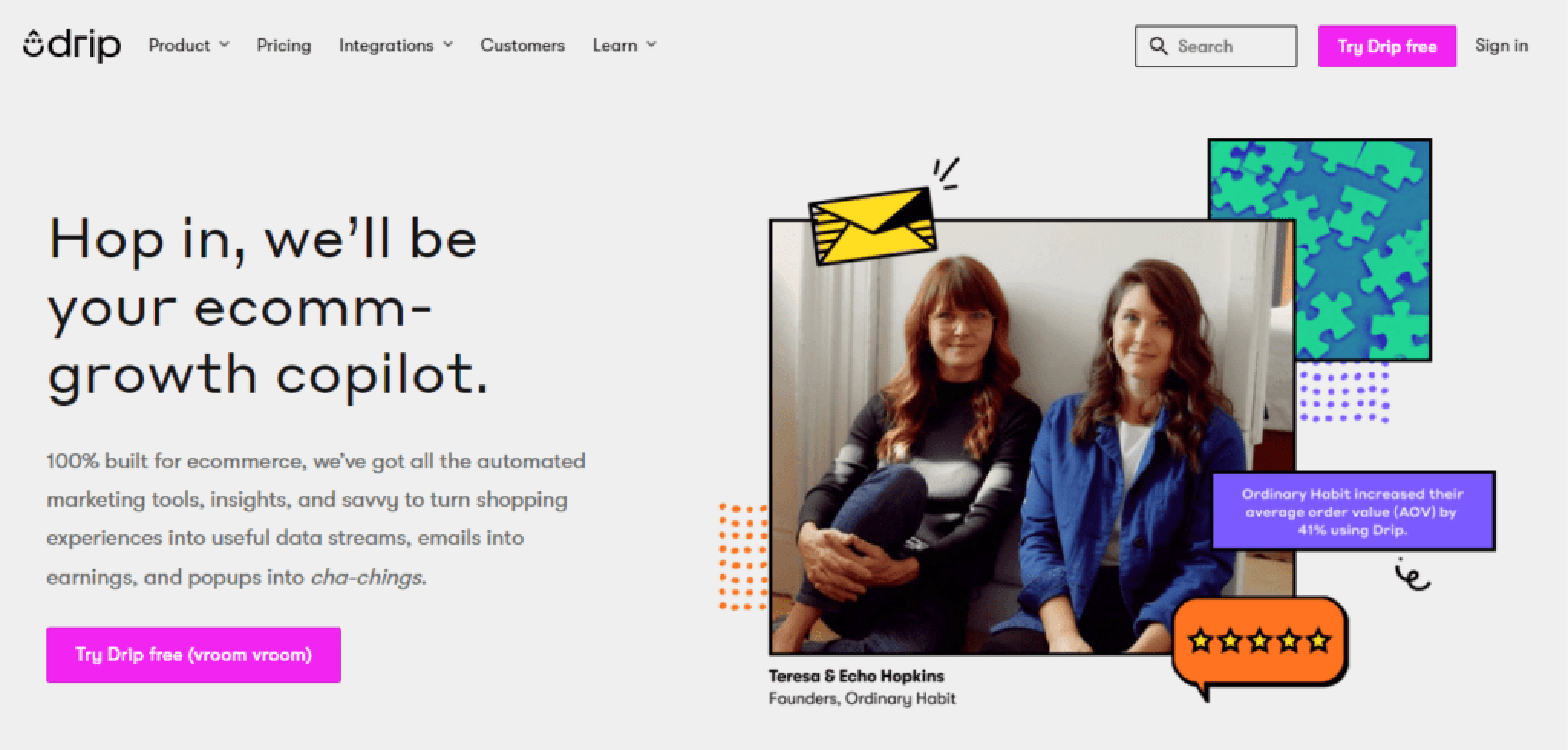 Drip offers an easy-to-use UI and is an email drip campaign program. In your emails, you can use drag-and-drop features, email-gathering technology, and ready-made themes.
This email marketing software is excellent for you if you own an online store. It features reasonable pricing options for simple email marketing automation! For instance, you must pay $49 per month for more than 100 contacts. With this app, the drip email process can be streamlined.
Pros
Efficiently manages a lot of info.

A user-friendly interface is offered, as is dark mode.

Being able to design original responsive HTML email templates.
Con
Sluggish client service

Reports and analytics are average.
Pricing: $19 per month for the first 1,500 contacts
5. Moosend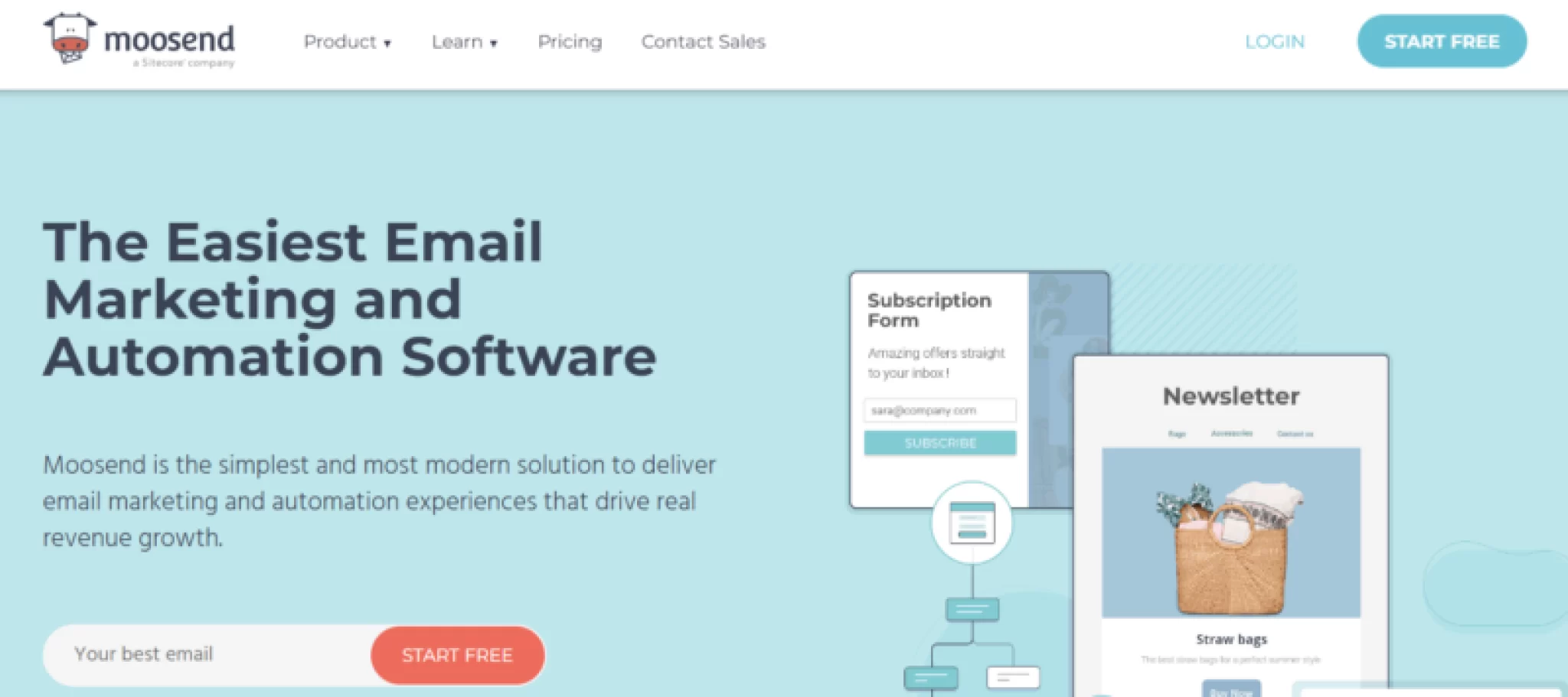 The most cost-effective alternative is Moosend, not only because its premium plans are cheaper than most of those on the market, but also because you can choose to pay either by the number of subscribers or the number of emails sent, whichever is more affordable for you.
Additionally, its capabilities are simple to use and make it simple to send your audience engaging emails at the appropriate times.
Users of the affordable platform Moosend have the option of being invoiced via email or by subscribers. If you need assistance customizing one of the many supplied templates, phone support is available.
Pros
Cheapest plan prices.

The choice to just pay when sending emails.

Use a template from the library or one that is simple to customize.
Cons
From a Gmail or Hotmail account, emails cannot be sent.

Lesser-developed user interface.

Only a few integrations.
Pricing: The price starts at  $10 per month and goes towards $40 per month depending upon the number of subscribers. 
6. Sendloop
One of the best marketing automation programs available is Sendloop. It has a user-friendly UI and doesn't need IT. So, using a straightforward drag-and-drop email builder, you can personalize your emails. With a few special features, it provides more than 80 free email templates.
By concentrating on the right demographic, you can improve a drip campaign. You can follow your clients' online activities with Sendloop. You can manage very successful email marketing campaigns by utilizing this email automation software.
Pros
Drag-and-drop functionality

WYSIWYG Email Editor is available for quick and simple editing.

Track analysis report

Excellent technical assistance.
Cons
Quite pricey because subscribers are charged, not plans.

Emails are not optimized for mobile.
Pricing: Based on subscriber count, their service cost. On their website, you can estimate the cost of your service. Unlimited emails and a minimum of 500 subscribers are available for $9 per month.
7. MailChimp
Another excellent email marketing automation tool that enables email customization is MailChimp. New members can automatically receive a welcome message, birthday wishes, or any other content you want.
Additionally, you can utilize it to stop cart abandonment and recover from it. MailChimp is for you if you want to customize your store's order alerts or reconnect with dormant customers. It is a fantastic tool to use if you're looking for efficient email marketing automation software.
In comparison to other marketing automation tools, the price is not that reasonable. For up to 2,000 contacts, it is free. However, depending on your overall subscriber count, it can cost up to $425 or more every month.
Pricing:- Free plan with 2,000 contacts is available. Paid plans with custom branding and A/B testing start at $10/mo for 500 contacts.
8. Benchmark Email

If you're searching for a straightforward email automation solution, Benchmark Email might be a suitable option for you. Many people don't want to cope with the complexities and problems that need for knowledge in this area. It has a user-friendly interface and excellent customer support because of this.
It does the bare minimum fairly well. With no issues, you can use the drag-and-drop method. If all you need is something basic, we suggest this tool. However, you should certainly have a look at some alternative email marketing automation software if you're searching for something more potent for your email marketing advantages.
Pricing: There is a free plan that allows 250 emails each month. Paid plans start at $13/mo. and include unlimited emails, but they have less features than more expensive options.