To ensure that your transactional emails are sent to users' inboxes, use SMTP (Simple Mail Transfer Protocol). Depending on the behaviors and habits of your users, you can even automate emails.
Finding the best SMTP service might be challenging because there are so many email providers available.
The top SMTP email providers for marketing and automation are listed below after extensive study on our part.
What is a Transactional Email?
When a user completes a certain action, an automatic system known as a transactional email sends a confirmation, invoice, or receipt. For instance, following a product purchase and receiving confirmation and receipt by email. Or, if the user requests it, a link to reset their password.
These are distinct from marketing emails, which have lead generation and conversion as their primary goals.
First of all, there isn't a "one size fits all" solution.
There was no apparent winner right away; all transactional email providers offered almost everything you could need. Knowing which services meet your needs the best among the competition—and how much they cost—is the key to making an informed decision.
So let's start by examining each of their advantages and disadvantages, then we'll compare prices and look at some of the crucial factors to take into account when selecting an email system.
1. Sendinblue
You can manage transactional emails and much more with Sendinblue, an all-in-one email marketing platform. The software is marketed as providing "all your digital marketing resources in one spot."
Sendinblue's core features include more than simply transactional emails, but that doesn't mean any costs were skimped on. Instead, they provide one of the industry's most dependable transactional email delivery engines. You can select the configuration choice that best suits your company's needs from a variety of available options.
For instance, you can use the API or SMTP Relay if you're a developer and wish to combine SendinBlue with a custom or external application. Use eCommerce plugins to automatically integrate it with your website if you prefer to keep things simple.
Using a drag-and-drop template-based editor, you can create transactional emails that appear professional and then customize them by adding dynamic material from your website programmatically using their sophisticated templating language.
With frontend drag-and-drop editors like this, you don't have to manually type all the code, which makes things faster and simpler for non-technical people.
Additionally, Sendinblue has a dedicated team of deliverability specialists working on their infrastructure to ensure that all emails arrive in your customers' inboxes consistently and as quickly as possible. They tout a 99% delivery rate, which is impressive. You can monitor deliverability and engagement statistics in real time after your emails are sent to see how they are doing.
Sendinblue provides a tonne of other helpful marketing tools besides transaction emails, such as:
Email marketing and SMS marketing

Advanced CRM

Conversion tools
Pricing: With Sendinblue's free plan, you can send up to 300 emails daily. Paid packages begin at $25 per month for up to 20,000 emails each month.
2. SparkPost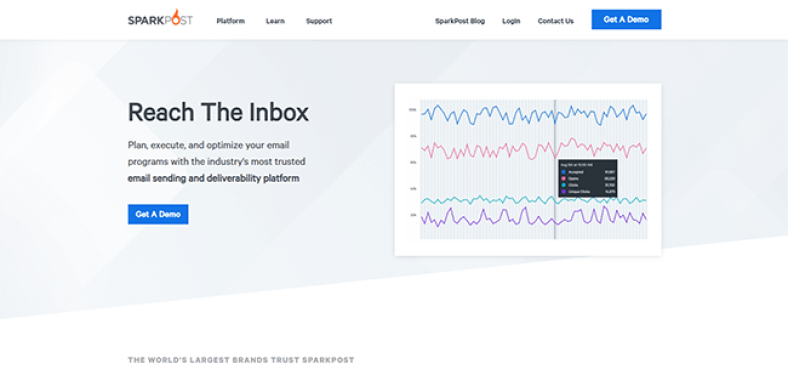 One of the oldest and most trustworthy email-sending and deliverability solutions available is SparkPost. They have been in business for more than 20 years and send out 40% of all commercial emails (around 5 trillion each year).
Several of the biggest organizations in the world, including Adobe, Twitter, Pinterest, MailChimp, and Booking.com, trust SparkPost due to its exceptional reputation.
For enterprise-level companies who are concerned about their sender reputation and can't afford any missteps when it comes to email deliverability, SparkPost is a superb option. With a 99.9% uptime guarantee, they provide the greatest standards of efficiency, quickness, dependability, and security.
Industry-leading analytics capabilities are one feature that sets SparkPost apart. Their email analytics tool, Signals, enables you to focus on the most crucial statistics and identify trends. To provide you quick visibility into any deliverability or performance concerns and to give you suggestions on how to optimize your emails for optimum engagement, they utilize a predictive algorithm to proactively monitor email performance in real-time.
Recipient Validation is another useful feature that makes it simple to check that all the email addresses on your mailing list are legitimate as soon as you gather them.
To train its algorithm to find and identify frequent issues like syntax errors and non-existent mailboxes, SparkPost examines billions of bounce and delivery events. You may prevent bounces and fraud by confirming your recipient lists before you transmit.
Pricing: Depending on how many emails you send, SparkPost offers customizable pricing plans. You can sign up and send up to 100 emails every day with a free test account. Paid packages begin at $20 a month. On request, SparkPost offers enterprise-grade solutions, but you'll need to contact them for a price.
3. Postmark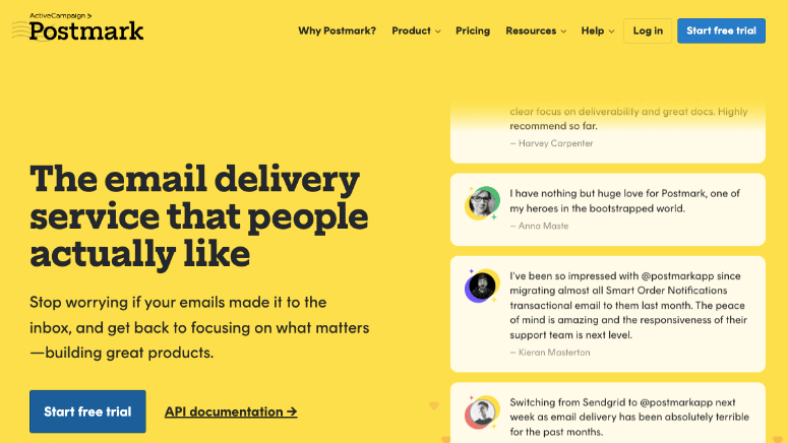 Another trustworthy transactional email service is Postmark, which has 100% API uptime over the previous 90 days and lightning-fast delivery rates.
One of the tools on this list with the most developer-friendly and user-friendly API is Postmark. They offer thorough migration tutorials, API libraries for nearly all programming languages, and clear, comprehensive documentation that makes setup a snap.
The Postmark support crew is one of the best we've encountered if you need a little more assistance. They are rated as great by 93% of people because they are informed, quick to respond, and always helpful. You can get in touch with customer service by phone, email, live chat, or visit their comprehensive help center.
The transparency of Postmark is yet another great feature. They have nothing to hide, as evidenced by the fact that they make their delivery times (Time to Inbox) and uptime data available to the public on their status page.
Your consumers will receive transactional emails more or less instantly because, as of the time of writing, the average Time to Inbox for emails sent to Gmail accounts is just 2.41 seconds.
Other aspects of PostMark that we enjoy are:
Create welcome emails, password reset emails, trial expiration emails, and more with the help of simple email templates.

DMARC security safeguards your users from phishing attempts.

Superior delivery rates guarantee that your transactional emails always get into the inboxes of your recipients.

Every email has a 45-day content history with open and links tracking to aid in troubleshooting.

You can get automatic notifications when emails bounce thanks to bounce webhooks.
Pricing: For various monthly email volumes, Postmark offers a variety of price levels. Plans start at $10 a month for up to 10,000 emails, plus $1.25 for every extra 1,000 emails. A dedicated IP can be purchased for $50 per month if you send more than 300,000 emails each month. There is a free trial (100 test emails) that may be used without a credit card.
4. SendGrid
Email API and email marketing campaign plans are both provided by the email delivery service SendGrid. SendGrid allows you to send marketing emails like newsletters and promotions as well as transactional emails like shipping notifications and password resets. SendGrid powers the emails of over 80,000 companies, including well-known brands like Uber, Airbnb, Yelp, and Spotify. Professionally created email templates may be used by marketers and developers to create fantastic emails in a user-friendly UI and send them programmatically.
SendGrid offers developer-friendly RESTful APIs, SMTP, libraries for all the most common programming languages, and extensive documentation that make it easy to integrate SendGrid with your website or app.
Leading email providers SendGrid partners include Microsoft and Gmail. To increase delivery rates, they have built a dependable infrastructure with automated queue management. They also include strong security features including TLS encryption, Teammate Permissions, Event Webhook Security, and two-factor authentication.
Pricing: SendGrid offers a free version that supports up to 100 emails each day. Paid plans with a monthly cap of 100,000 emails start at $14.95. Plans starting at $89.95/month include a dedicated IP and support for 1.5 million+ emails.
5. Mailjet
The cloud-based, all-in-one email marketing solution Mailjet comes with a robust email builder, an email API that is user-friendly for developers, tools for managing contacts, deep analytics, and more.
It's ideal for interdisciplinary cooperation and makes it simple for developers and marketers to collaborate in real time.
With Mailjet, you can send, schedule, and track emails using either SMTP or RESTful API in a matter of minutes. You can customize your transactional emails with loops, conditionals, and functions using the templating language. Additionally, you may see a sample of how your emails will appear on various devices for your receivers.
The major drawback with MailJet is what appears to be a dearth of customer service. Numerous evaluations note that they are unresponsive when you need assistance and find it difficult to adequately address problems and complaints.
Pricing: 200 emails a day are included in Mailjet's free plan (6,000 per month). Paid packages begin at $15 per month.
6. Mailgun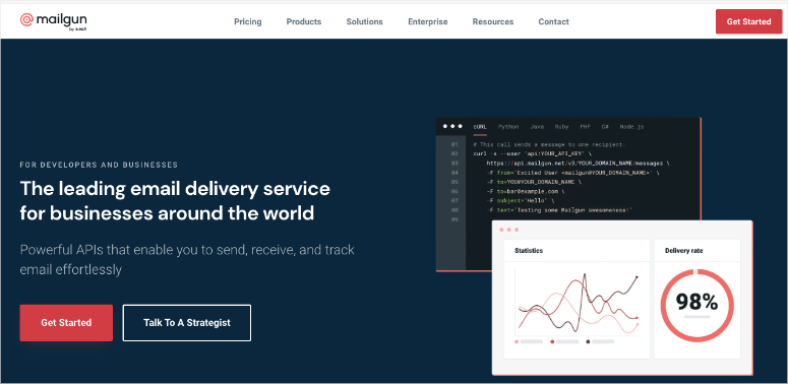 One of the industry's most adaptable email APIs is Mailgun. Every day, it is used by hundreds of thousands of businesses to send transactional emails such as invoices and requests for password resets.
Your domain is used by Mailgun to send emails, which is fantastic for branding and building a domain reputation. Additionally, it increases delivery rates because mailboxes like Gmail check the domain to see if the message is spam. Use the given sandbox email if you don't already have a domain name.
Emails can be sent using SMTP or API. Setting up SMTP is simpler; all you need to do is take your login information and enter it into your external application. When developing your software, API is preferable because it is more versatile and scalable.
For the programming language you use (such as Python, Java, Ruby, PHP, C#, Node.js, and others), you can download sample code. Then, alter the text, from address, and to address as necessary to automate sending emails according to your requirements.
Pricing: A 3-month free trial plan with 5,000 emails each month is available from MailGun. Paid plans begin at $35 monthly (50,000 emails per month). Extra emails cost $0.80 for every 1000 sent or received.
7. Amazon SES (Simple Email Service)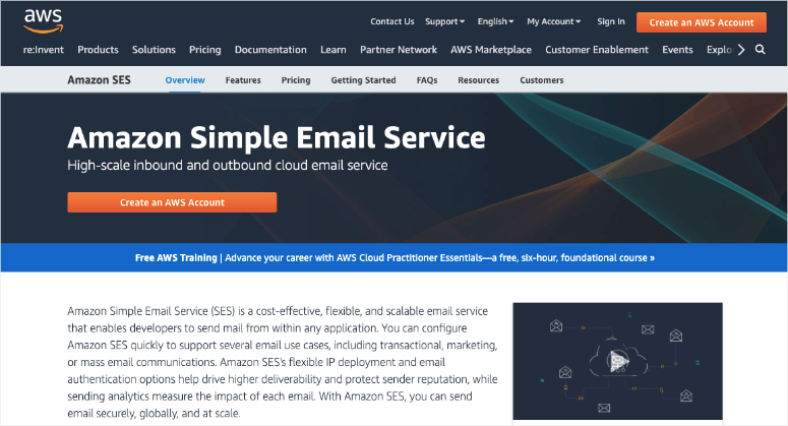 Amazon's own email delivery service is called Amazon Simple Email Service (SES). Pay-as-you-go programs are extremely cost-effective, flexible, and expandable.
Given that it was produced by Amazon, you may be sure that it will be dependable and feature-rich. Excellent deliverability is provided by Amazon SES, which also provides customizable IP setup and email authentication options.
It connects smoothly with other Amazon services, is quick and simple to implement, and is secure. If you already use AWS or EC2, this makes it the ideal solution.
Pricing: The price of Amazon SES is $0.10 for every 1,000 emails sent. The first 62,000 emails per month that you send from an application that is hosted on Amazon EC2 are free. On their pricing page, you can find several other supplementary fees and optional extras.
8. Elastic Email
Popular email service company Elastic Email provides both an affordable email API and an email marketing platform. Using the latter, you can configure transactional emails for your app or website.
Over 30,000 businesses use Elastic Email, one of the most well-liked email service providers available. Brands like Brightmetrics, ScheduleOnce, and Adclick put their trust in them.
They concentrate on providing excellent deliverability and reliability, just like other well-known transactional email services, and they do so with the help of a well-documented, user-friendly API, a lightning-fast global infrastructure, and top-notch tracking features like open-rate and CTR tracking, unsubscribe management, geolocation tracking, and others.
You receive a visual depiction of all the most crucial email data points to assist you in making data-driven decisions regarding your company's strategy.
But what sets Elastic Email apart is how reasonably priced and scalable it is. As a result of their decision to use a pay-as-you-go pricing structure, the sum you pay is directly correlated with the volume of emails you send.
For cash-strapped startups and small enterprises that don't produce a lot of transactional emails but need a solution that can scale with them, this makes it very affordable. Your monthly costs will increase together with your sales and revenue.
Elastic Email stands out, though, for being both inexpensive and scalable. They chose a pay-as-you-go pricing model, so the amount you pay is directly related to the number of emails you send.
Pricing: Email API ($0.10/1000 emails + $0.40/day) and Email API Pro ($0.12/1000 emails + $1/day) are the two pricing tiers offered by Elastic Email. You'll pay between $10 and $12 per 100,000 emails sent, plus daily fees, depending on the plan you select.