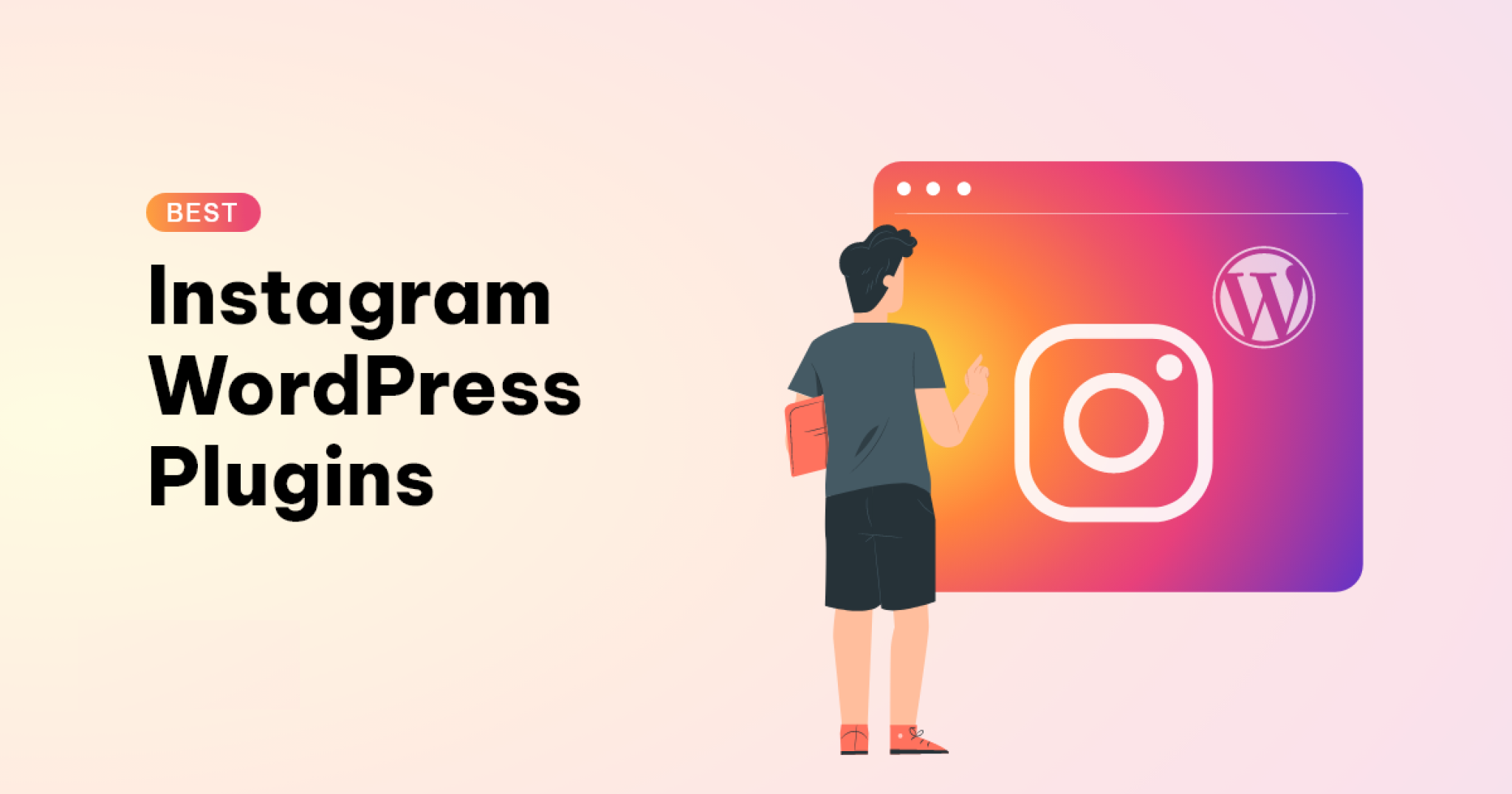 When displaying photos and images from your accounts on your website, Instagram may be a terrific source of the material.
Adding that content to your website has never been simpler than it is right now, due to these WordPress Instagram plugins.
The WordPress plugins in this list, both free and paid, all make it simple to add images from your Instagram account to your website.
You can select which of your accounts to import photos from, how many things to import, and a few other variables while configuring the plugin.
After that, you can use a widget to show the Instagram photo feeds in your site's sidebar or footer or insert them into your articles and pages.
You can do a lot more, though, if you upgrade to one of the premium WordPress Instagram plugins listed here. When choosing which photographs to publish on your site, you can make use of more filters with a premium tool.
The premium plugins also give you many more options for how the content from Instagram is displayed on your site for a very little financial outlay. The live demos on the plugin pages usually allow you to see these display and presentation settings in action.
Some pretty outstanding solutions can help you show Instagram photographs on your WordPress website, regardless of your budget.
Best Instagram WordPress Plugins
1. Spotlight – Social Photo Feeds

Despite being a relatively new free WordPress Instagram plugin, Spotlight has already received a large number of great customer reviews.
This WordPress plugin, as its name implies, strives to make it as easy as possible for you to show images from your Instagram accounts on your website.
Anyone looking for a quick and simple way to integrate their WordPress website with Instagram might find this free plugin to be an intriguing option due to the three-step setup process.
The only thing left to do is link Spotlight to your Instagram accounts once it has been installed on your website, create your feed, and then embed it wherever you choose on your website.
Spotlight has an interactive live preview customizer to help you get your feeds looking the way you want. This allows you to see how your Instagram photo feed will appear while you work on it. It's beneficial that you can see your feeds while editing because this plugin allows you to present your Instagram posts attractively.
You don't need to be concerned about how your Instagram photographs will appear on smartphones or other tiny screen devices because the chic grid structure used to show them is entirely responsive.
It is immediately obvious that the images in the feed can be clicked on because of the hover effects that are activated when the user's cursor moves over an image.
When clicked, a lightbox window appears with them. Users can browse collections of photos that have been uploaded to Instagram directly from your website because of the strong support for gallery postings.
While the free Spotlight core version provides more than enough functionality for you to show Instagram photographs on your WordPress website, a premium version is also offered.
You can see in action here how upgrading gives you access to more layout options, enhanced feed control, the ability to create hashtag feeds, and functionality that lets you embed Stories on your WordPress website.
The free Spotlight option is a great alternative if you're searching for a quick and practical Instagram plugin.
2. Smash Balloon Social Photo Feed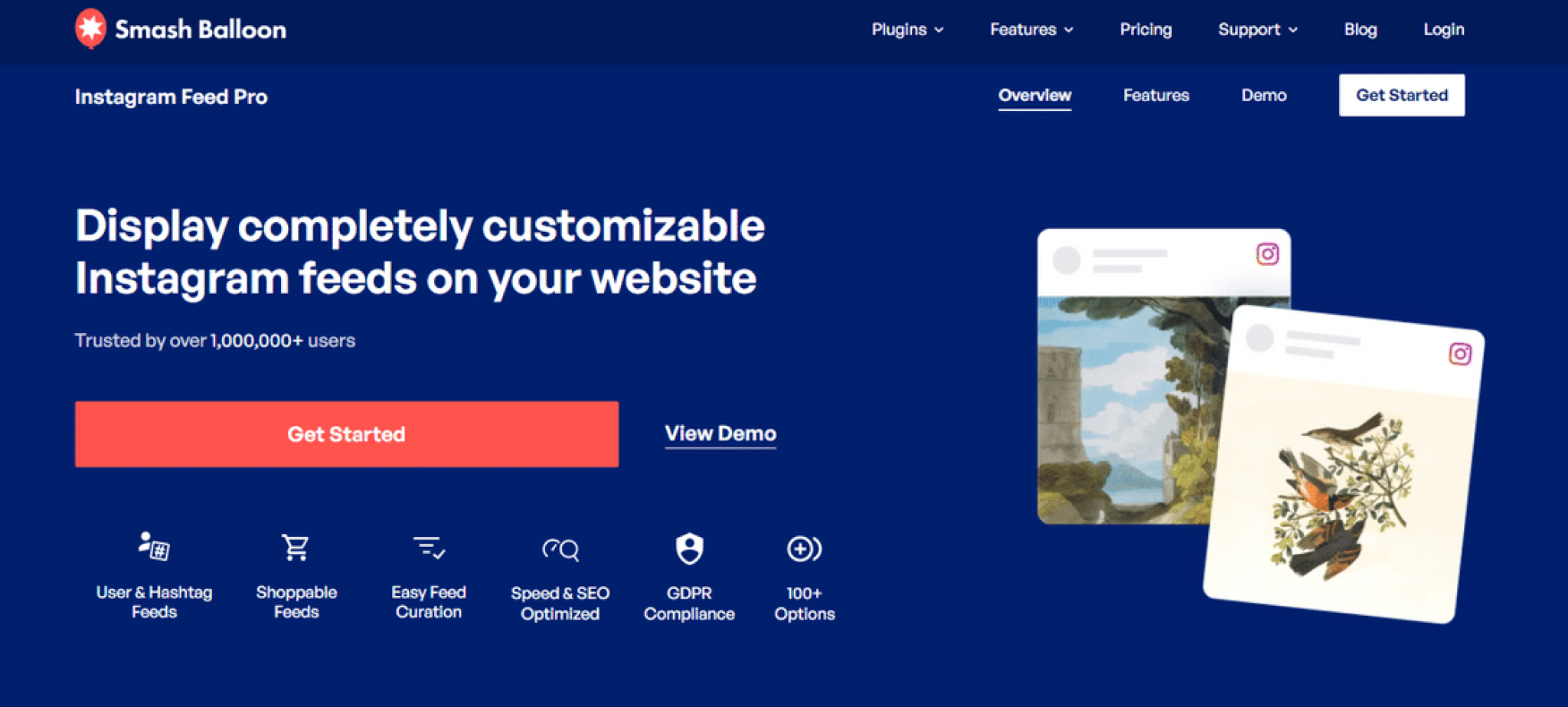 A well-liked free WordPress Instagram plugin called Smash Balloon Social Photo Feed has more than 1 million active installs and a high user rating.
Once your WordPress website is operational, you can begin showing images from your Instagram accounts. You have the opportunity to create numerous feeds with the plugin to utilize on various pages of your website.
Each feed can show images from several accounts, making it an excellent way to guarantee that your website shows a steady stream of images from various sources.
You have a lot of control over how the photographs appear on your website, as would be expected from one of the best WordPress Instagram plugins. The photos' height and breadth, as well as the number of images shown at once, are all editable.
Your visitors have the option to view additional content from your featured feeds if they so choose by selecting the optional "load more" button. Any device will display your Instagram content beautifully because this plugin is mobile responsive.
Because Smash Balloon Social Photo Feed is frequently updated, it should continue to operate with Instagram's most recent modifications.
3. Feed Them Social
Facebook, Twitter, Pinterest, and Instagram are all supported by Feed Them Social.
Feed Them Social may be the solution if you'd want to use a single plugin to display content from many social media networks on your website.
You have a selection of possibilities thanks to the plugin's free edition, which supports Instagram feeds, Facebook feeds, albums, groups, events, Twitter feeds, Pinterest boards, pins, and most recent pins.
The option to display content from Facebook video feeds and carousels as well as YouTube video feeds is unlocked by upgrading to Feed Them Social's premium edition. 
You can display content from a variety of feeds and accounts when utilizing the free Feed Theme Social plugin.
The information from your feeds can then be shown in your site's sidebars, posts, pages, and other types of content. To ensure optimum device compatibility, all of the material is responsive to mobile devices.
Feed Them Social is a social networking plugin that is incredibly adaptable and adjustable and can show content from several sources. On the plugin's home page, you can watch demos of Feed Me Social in action.
4. WPZOOM Social Feed Widget

You will have complete control over how Instagram content is displayed on your website thanks to the WPZOOM Social Feed Widget.
You'll have access to a feature-rich widget that you can add to your sidebar and footer regions, as well as integrate into posts and pages, once you've installed this free WordPress Instagram plugin on your website.
For displaying the Instagram photographs on your website, you can select a one, two, or three-column layout using the basic widget options.
Additionally, the widget has a full-width option that enables you to utilize a horizontal banner to display Instagram content on your website.
Using the WPZOOM Social Feed Widget plugin in full-width mode will enable you to build a header or footer area specifically for showing the images from your Instagram feed.
There are a few additional ways you can customize the widget's presentation of your photos and other images. Examples include deciding how many and what size photographs are displayed in the widget.
Simply enter the desired amount of pixels between each image to adjust the spacing between the photographs as well.
Whether or not a button is displayed is another choice that affects how your widget will look. You may easily edit the button text, which is currently set to "View on Instagram."
You can apply your CSS using the widget settings panel if you'd like more control over how your widget and its content appear.
However, most users won't likely need to add custom CSS because the widget controls should be adequate.
Check out the WPZOOM Social Feed Widget demo to see how this Instagram widget can appear on your website.
5. Enjoy Plugin for Instagram
You have a good selection of options with Enjoy Instagram for how Instagram content is displayed on your WordPress website.
Enjoy Instagram makes sure you can get your social media feed integration working the way you want it to with photo grid and carousel options, as well as the capability to import content from your accounts and hashtags.
Additionally, you have the choice of displaying the feeds on your website via the sidebar widget or shortcodes. This makes it simple for you to add a content feed to your posts and pages.
Enjoy Instagram also doesn't fall short in terms of how your photos are presented.
You may enable the lightbox effect for your Instagram photographs in addition to grids and carousel modes, allowing viewers to view larger versions of your content.
By clicking the demo links on the plugin page, you can learn more about what Enjoy Instagram is capable of.
6. AccessPress Instagram Feed Pro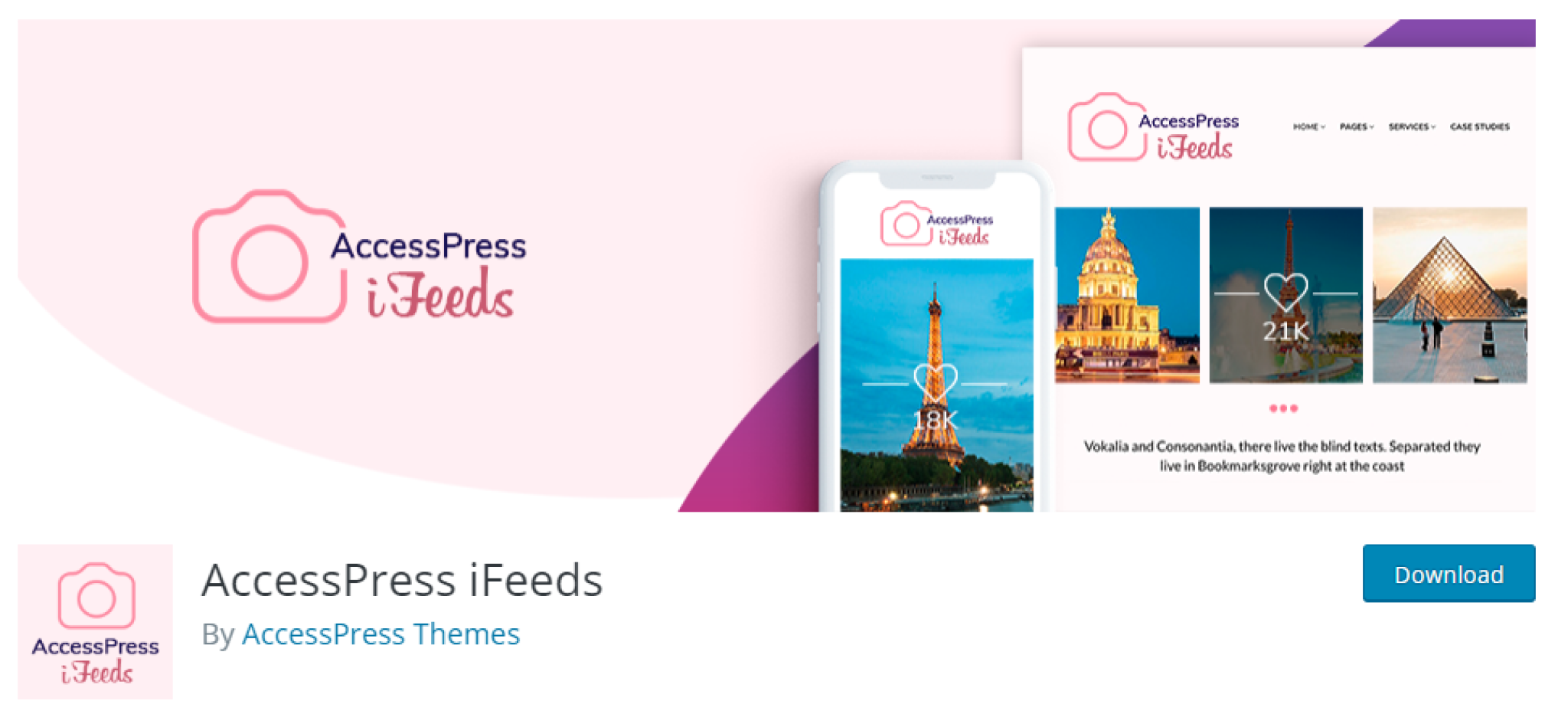 The AccessPress Instagram Feed Pro plugin allows you to fully customize your website using images from your Instagram feed.
If you want to seamlessly integrate your Instagram feed with your website, you can select from six different lightbox options and 15 different layouts.
For a cleaner look and feel that lets the images stand out on their own, you can choose to hide username and profile information when importing photos from your feed.
Conclusion
Above we have listed the best Instagram plugins for WordPress websites. You can choose any of these according to your needs and requirements. Use your preferred plugin to link several Instagram accounts, then show your photographs on a blog post, a web page, or the sidebar of your website.