Shortcodes are valuable since they make using WordPress easier for us, thus we can see their usefulness. The same as a shortcut, a shortcode enables users to quickly add several features to a WordPress page or post.
Adding features like unique buttons, content boxes, tabs, alert notes, and more is possible with shortcodes.
There are numerous WordPress Shortcode Plugins that can give you advanced capabilities for building your website.
You should utilize a shortcode plugin rather than the built-in shortcode system provided by the themes because you risk losing all of your functionality if you switch themes later on.
Finding the ideal plugin only requires assessing its caliber, the kinds of shortcodes it supports, and whether or not it starts automatically.
The top WordPress Shortcode Plugins are listed in this article so you may quickly and easily add a variety of features to your WordPress pages.
Top 7 WordPress Shortcode Plugins
1. Affiliate Booster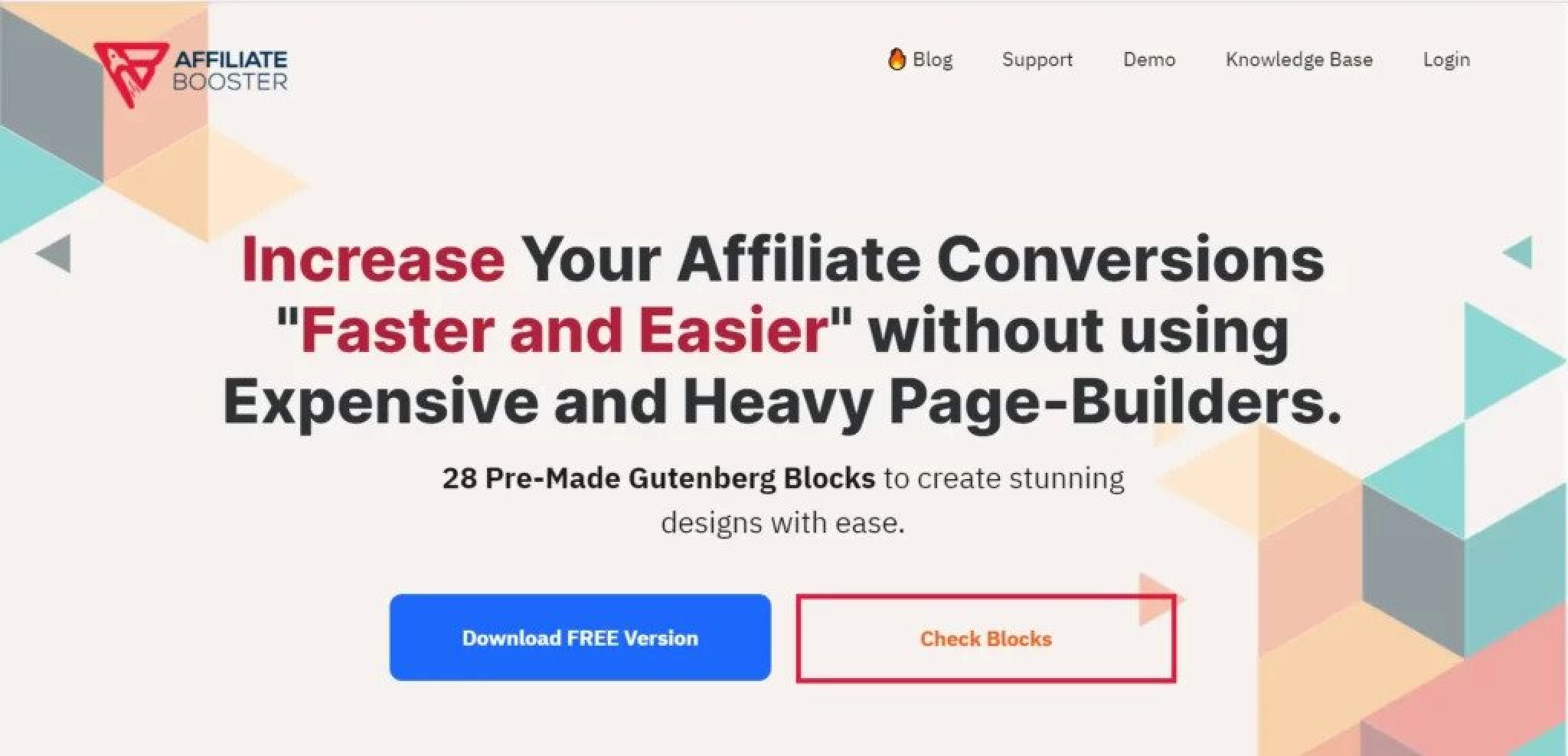 For your WordPress website, Affiliate Booster is a fantastic, well-designed plugin. It's a platform with one solution and hundreds of features to help your website become outstanding. More than 25 pre-built designs are available for this plugin. It implies that you can concentrate on producing content while saving time for design.
Using this customizable plugin, which enables you to embed your material with typography, colors, and icons, you can also customize your page or post. Use these programmable blocks with plugins to boost the sales of your goods.
This plugin's outstanding feature is compatibility with Gutenberg. You have complete control over all the features thanks to its support. This gives you the option to modify and improve the color of the page using buttons, graphics, and themes. Additionally, regardless of the device you use, this plugin enables it to become more visible.
The fact that no coding is necessary while utilizing this shortcode plugin is an additional benefit. Instead, use the WordPress plugin's affiliate marketing theme to optimize your website and business by raising your sales and CTR.
Pricing
The affiliate booster plugin is available in both free and paid editions. However, there is an annual fee associated with adding the plugin to your WordPress website to have support for 28 Gutenberg blocks.
Single website: $29.5/year

25 websites: $36.75/year

50 websites: $44.25/year
2. Shortcodes Ultimate
A well-known powerhouse of shortcode components is called Shortcodes Ultimate. This useful free plugin is ideal if you want to easily access a variety of choices. Through 50 shortcodes for various page elements, it simplifies the handling of everything from carousels, sliders, media embeds, lists, and buttons to lightboxes.
Additionally, you can use Shortcodes Ultimate to adjust your shortcode properties and choose the ideal shortcode for your menu. The shortcode can be made functional by being inserted into your website's posts and pages in addition to being separated.
Using HTML code, you can customize your plugin with the aid of Shortcodes Ultimate. Through the use of shortcodes, this plugin guarantees the delivery of dependable, swift, practical, and optimal performance. The WordPress themes you have all installed can be used with the Shortcodes Ultimate plug-in.
Working with the Gutenberg blocks editor is a further aspect of the plugin that adds to its distinctiveness. More than 800,000 downloads paint a fantastic picture of valuable and high-quality testimonies. Make your website content stand out and be distinctive by using these plugins' customizable shortcodes.
Pricing
Shortcodes Ultimate is readily available and cost-free through the WordPress source. However, you must spend $59 for add-ons to a single WordPress website if you want to access its advanced capabilities.
3. Shortcoder
Another excellent WordPress plugin that is cost-free is shortcode. With this plugin, you can make unique shortcodes. With the help of Shortcoder, you can quickly develop shortcodes for CSS, HTML, and JavaScript.
This plugin allows you to create a shortcode as well as give it a respectable name to set it apart from others. Any post, page, or widget sidebar can contain your shortcode.
You get access to all choices thanks to Shortcoder's support for Gutenberg. Shortcode placement controls that are integrated into the plugin allow you to personalize it.
By including images, videos, and advertisements, this wonderful plugin brilliantly embeds your material. The Shortcoder plugin also has no restrictions on where and how long you can save embed codes in your WordPress widgets.
All you have to do is generate a shortcode for each embed and put the code into your content editing dashboard. Controlling your website is the most fascinating aspect of utilizing this plugin. For your WordPress website, you can restrict the devices.
With a customized Shortcoder code, you may quickly create and publish the same information in several locations. You are free to use your unique shortcode to show content on your WordPress website for desktop, mobile, or both.
Pricing
Enjoy excellent website functionalities by downloading this wonderful WordPress plugin for nothing.
4. Woo Shortcodes Kit
A fantastic WordPress plugin for owners of eCommerce websites is Woo Shortcodes Kit. A shortcode library called this kit is utilized by the WooCommerce plugin. The plugin's name makes clear that its purpose is to enhance the functionality of your WooCommerce store. This plugin offers a tonne of shortcodes that will improve the user experience for your visitors.
Increasing sales will improve the quality of your shopping account, checkout, and other aspects of your eCommerce store. More than 60 shortcodes and features are included in this plugin to help the eCommerce industry.
It suggests that to increase your eCommerce sales, you must install WooCommerce on your WordPress website. This top-notch plugin may also be inexpensive and with little effort customized. Its user interface melds seamlessly with the WordPress user experience to provide an excellent workflow at a breakneck speed.
Additionally, its user-friendly design enables you to inform users. Limit access to your account from various places, gadgets, and other sources to achieve targeted growth. By increasing sales and business leads with the integration of Woo Shortcodes Kit, you may increase the value of your online business.
Price
The Woo Shortcodes Kit is available without charge. However, you must purchase premium features to use its pro version.
5. WP Shortcode
Another WordPress shortcode plugin, WP Shortcode, adds slick elements to other websites, such as Google Maps embeds, alerts, accordions, tabs, and buttons. Additionally, it offers the chance to use customized parameters.
Although this plugin only offers a few capabilities, implementing these 24 specifications will nevertheless greatly improve your website.
Nearly 83 shortcodes with various slick and fashionable page components are included in this plugin. Using this plugin, you can make codes, sliders, blocks, charts, menus, and lightboxes.
This fluid-responsive supporting plugin also inserts audio, tables, and movies successfully. Use the many WP Shortcode elements to swiftly change or create one-of-a-kind web pages.
Using this shortcode plug-in, you can incorporate original layouts, buttons, and much more. Additionally, this shortcode is excellent for designing your website or even completely customizing the appearance.
Price
WP Shortcode has a price of $27 per website.
6. Meks Flexible Shortcodes
One other outstanding WordPress theme and plugin developer is Meks Flexible Shortcodes. For getting personalized page elements, it provides a shortcodes tool. Additionally, this plugin has 12 built-in shortcodes and a very dependable user interface.
Users can also add WordPress panels to your website, which guarantees hassle-free shortcode insertion. You are welcome to customize these built-in shortcodes to suit your tastes and preferences.
You can add engaging, imaginative, and distinctive content to your website using this plugin. You have the option to manage and insert buttons, columns, icons, drop caps, highlights, and separators using the 12 helpful shortcodes.
Additionally, because this plugin allows for customization, you can alter your web page to match your preferred theme, color, and design. Easily fulfill all of your shortcode requirements by utilizing this plugin's innovative features.
Price
Download this plugin from the WordPress source, install it, and use it for free.
7. Column Shortcodes
Within WordPress, you can create several columns by using the Column Shortcode. You don't need to define the size of your columns when using this plugin; Column Shortcodes take care of everything.
Many magazine-style designs allow you to divide and arrange content using shortcodes. These scripts enable aesthetically pleasing presentations.
The Column Shortcodes plugin can be adjusted with unique CSS or theme styles in addition to working with the majority of WordPress themes. You can combine columns of various widths and build up to six columns with the aid of column shortcodes.
Padding can also be configured by admins to guarantee that the content has enough room to breathe.
Price
The premium edition costs $89, while the lite version is free.
Bottom Line
The best way to add content to any post, page, or widget is through shortcodes. Additionally, having shortcode plugins on your WordPress site helps the viewer comprehend the content.
Additionally, you can produce original material quickly and conveniently with the use of shortcode plugins.
Whichever of these 7 shortcode plugins you choose to employ for your website, they are all excellent for improving your site's functionality without cutting any corners and at a reasonable price.
So use WordPress shortcode plugins to save your time and energy.