Since we live in a digital age, social media networking websites are the only method for us to stay in touch. Social networking websites and applications have grown in popularity over time because they are simple and generally free.
As a result, more of them, including Facebook, Instagram, and Twitter, have been developed and are now utilized frequently. Even for corporations and social organizations, social networking websites and apps have been the primary means of self-promotion.
Therefore, it is safe to argue that, given our fixation on digitalization, online socializing has always been the greatest option.
Speaking of social networking sites, Facebook is unquestionably one of the best and most widely used social media platforms, with billions of users worldwide.
Facebook & WordPress!
An excellent approach to stay in touch is through a social networking website or app that Mark Zuckerberg initially made available to the public in 2004.
In addition, with billions of users worldwide, Facebook has undoubtedly emerged as one of the leading social networking platforms.
It is without a doubt one manner that even bloggers and website owners stay connected with their subscribers or audience because of the huge number of users.
The good news is that WordPress, one of the top platforms for websites and blogs, has now developed a method to combine the two into one.
Given that WordPress Facebook Plugins have been developed for this reason, it is no longer a challenging task that is only reserved for WordPress developers.
And specifically for our users, we have done the research and compiled the list of the Best WordPress Facebook Plugins! Please feel free to look them over and choose the one that best suits your needs.
What is WordPress Facebook Plugins?
Here is an explanation of the Best WordPress Facebook Plugins and how they function before we get into our list.
The applications that allow you to integrate Facebook with your WordPress site are known as WordPress Facebook plugins or widgets.
These plugins are made to make things easier for you, whether you want to display posts or restrict content or even make sure you stay connected to your users!
Additionally, adding the widgets to your website's widget-friendly section only takes a few minutes. So how precisely does including Facebook on your site benefit it?
Engages users and adds visual intrigue to your website.
The user experience is enhanced on both ends by the addition of Facebook.
Utilize social networking to increase the visibility of your company or website!
Utilize social networking to expand and build your audience.
Sharing updates with users on either platform can be done more quickly.
Increases interactions by linking you and your users.
You may fully install and activate the Smash Balloon Facebook Feed plugin for WordPress websites by using the Custom Facebook Feed plugin. Using this plugin, you may add a feed to your website that search engines can thoroughly scan. It is therefore completely SEO-friendly.
You can install and activate the plugin quickly because the installation process is simple. The Facebook feed can be shown on your website by simply embedding the shortcode and adding the Facebook ID to the settings page. This will significantly enhance the social proof effect on your website.
You can use this feed on your website and add feeds to your Facebook account forever by using the shortcode. A built-in cache system in the Custom Facebook Feed plugin makes it possible for the Custom Facebook Feed to load more quickly.
You can utilize several widgets with this plugin to give the content you wish to share on Facebook appealing features. This plugin works with all of the most widely used WordPress themes and is not theme-dependent.
There are restrictions while using Custom Facebook Feed's free version. For instance, in the free version, you can only view the text and links of Facebook account postings; you cannot view photographs, videos, or comments. You may purchase the premium version of this plugin for $49 for a year and enjoy all of its features without limitations.
The top WordPress plugin for prizes and contests is RafflePress. It makes it simple to manage a competition where participants must follow certain rules.
One of the quickest ways to increase Facebook page likes and engagement is to run contests. A giveaway template is already included with RafflePress to help you expand your Facebook page.
Visitors to your Facebook page and/or viewers of one of your posts or videos are required to enter your contest.
With its drag-and-drop contest builder, you can easily add actions and give them varying numbers of contest entries. You can also utilize it in conjunction with other well-known social media sites like Twitter and Instagram, or you can hold contests to expand your email list.
RafflePress also makes it simple to choose a winner. The software itself includes a link that you can use to email the winner.

One of the top WordPress social media plugins is Shared Counts. You can quickly add social sharing buttons to your WordPress posts with this tool. This consists of buttons for Twitter, LinkedIn, Facebook, Pinterest, and other websites.
It can precisely display the number of shares across various social media platforms and is highly tuned for speed and performance. It even has a variety of button designs. This implies that you can select the design that suits your website the best.
The amount of shared posts on social networks is one aspect of this plugin. You can thus observe how frequently an article has been shared across various social networks.
If you add an SSL certificate (HTTPS) to your site and switch your domain name from HTTP to HTTPS, this plugin can count the number of shares for both HTTP and HTTPS.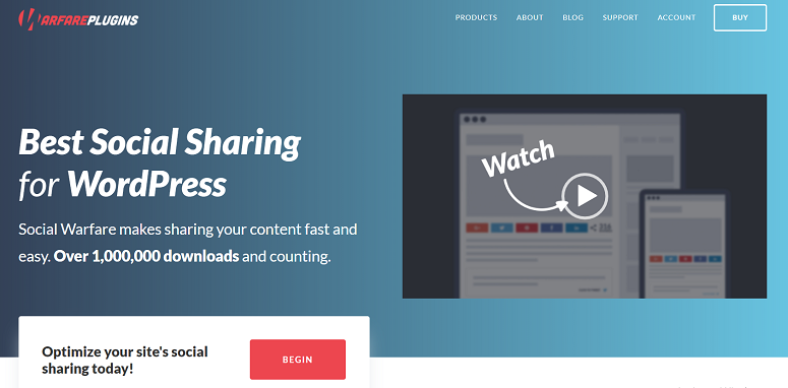 The Social Warfare plugin is an excellent additional plugin for social networks that adds content sharing features. Use the commercial edition of Social Warfare if you require more features and settings; otherwise, use this plugin for free.
A professional team of social media marketers created this plugin. It makes the best use of the tools and resources on your website. Because this plugin is responsive, it functions effectively across all platforms. The Social Warfare plugin can therefore be used by users of any device to share engaging material on social networks.
You can view how many times an article has been shared with the Social Warfare plugin. You can discover website content that has received higher user attention as a result. Therefore, you can create more of this kind of material to boost site traffic and user numbers.
All popular social networks, including Facebook, Twitter, Google Plus, Pinterest, and LinkedIn Posts, are supported by the Social Warfare plugin. Consequently, you can use this plugin to publish website content on various social networks. Both the plugin and the widget can be tailored to your preferences and requirements. You may even choose the title and description that will be displayed in the premium edition of the plugin. When distributing your material on social networks, enables you to achieve that.
The Share Recovery tool is another function of the Social Warfare plugin. Even if the URLs are deleted or modified, this tool can still determine how often your content has been shared.
There is a free Lite edition and a premium version that costs $29 each.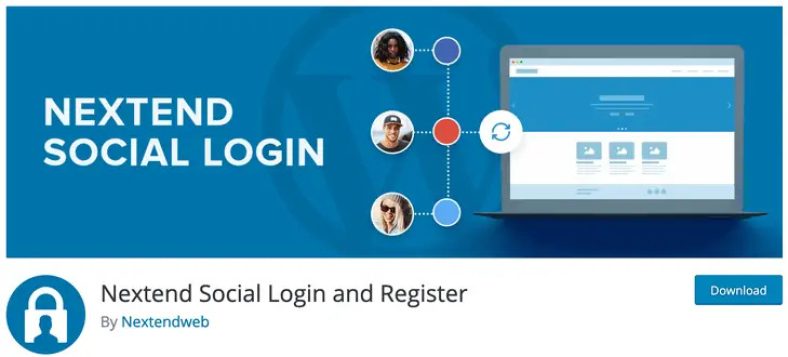 You should make the registration procedure as simple as you can if you want users to sign up on your website. The WordPress CMS by default enables user registration. But there are flaws and shortcomings in this system.
Utilizing the Nextend Social Login and Register plugin is an excellent method to replace the built-in WordPress registration process. This plugin gives users of your website the ability to sign up for an account and log in using that account, but it does not let you change the appearance of the WordPress login page.
It is simple to install, activate, and utilize this plugin on a website. This plugin's user interface is appealing and simple to use. You may simplify the login procedure for visitors to your website by using the Nextend Social Login and Register plugin.
Three social networks are supported by this plugin's free version for login and registration. These social media platforms include Google, Twitter, and Facebook. Additionally, it allows users to use the images from their social network profiles as their WordPress account avatars.
From the WordPress directory, you can download and set up the free version of Nextend Social Login and Register. However, you can utilize the premium version of this plugin if you pay $50.
The simplest feasible connection between users and the website is made using the Zotabox plugin. The Zotabox company created this plugin, which currently has more than 20,000 active installations. Due to its characteristics, the Facebook Messenger Live Chat plugin enables a complete and live chat system for WordPress websites.
If you've never utilized Facebook Messenger Live Chat, we strongly advise using this plugin to build up a live chat system because it includes a tonne of capabilities.
The free/lite version is available, whereas the premium version has a monthly fee of $12.99.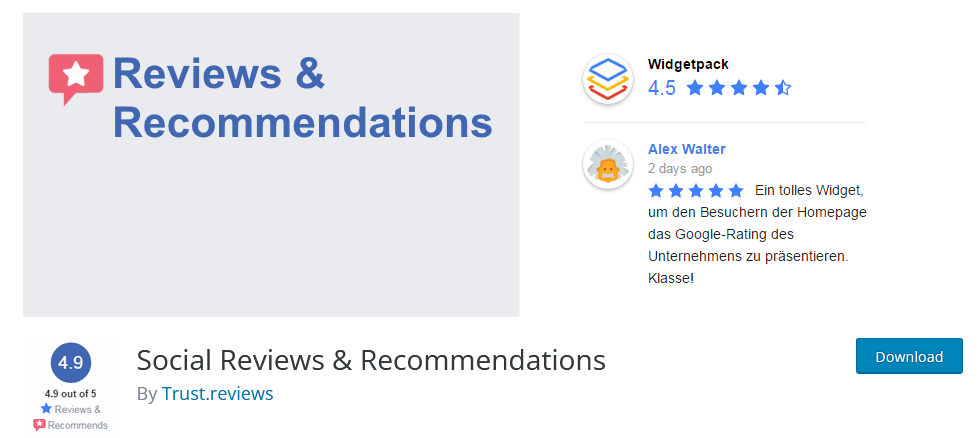 You can show Facebook page reviews on your WordPress website with the help of Social Reviews and Recommendations. It has an intuitive widget that enables you to link your website to your Facebook page and show reviews from Facebook users.
By doing this, you can increase social proof on your site and create brand trust. The free version functions perfectly, however, the "Business" edition costs money and only shows reviews in the Schema.org rich snippets format.
One of the simplest methods to integrate Facebook customer chat to your WordPress website is by using the WP-Chatbot for Facebook Messenger Customer Chat plugin.
Because of how simple it is to use and the promising outcomes, this WordPress Facebook plugin has been gaining popularity. One of its standout features is the ability to handle all of your incoming communications from a single inbox.
This WordPress Facebook plugin is also excellent for website compatibility. It was created by the creators to work flawlessly on any WordPress website running any WordPress version. To ensure that using this plugin is hassle-free, it is compatible with all WordPress themes and plugins.
Key Features:
One-Click WordPress website installation.
Live chat with website visitors all the time using Facebook Messenger.
Effortless connection with Facebook Messenger and your Facebook business page.
Compatible with all WordPress versions.
Can be applied to any WordPress website type.
Continual assistance with chatbot technology even when customer service agents are not on duty.
All WordPress themes and plugins are compatible with it.
Cost: Free
Want your Facebook page to receive more likes, comments, and views? Well, this plugin is just what you need! Facebook SpiderLink is a plugin that limits access to content on Facebook by requiring people to either react or like the post to view it. The plugin also manages all of the user databases for you while they're doing that.
Facebook SpiderLink is undoubtedly your best alternative and worthy of a position on our list as it is the ideal plugin to invest in if you want to build and increase your audience interactions.
10. Facebook Likebox Slider for WordPress (Premium)
This useful widget, the Facebook Likebox Slider for WordPress, can be used for social media platforms other than Facebook. You may configure your social media platforms to increase shares, traffic, fans, and popularity with just three clicks. You can now quickly integrate all the major social media platforms into a slider on your WordPress site, including Facebook, YouTube, Instagram, Vimeo, and many more.
With a fast and Live Preview, quickly display the posts and pages you desire.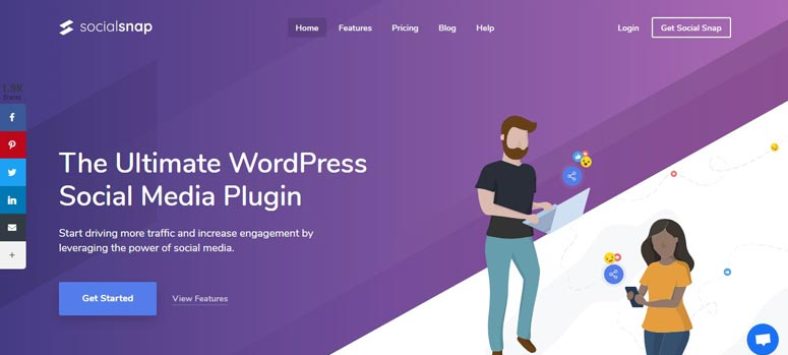 With the help of the potent Facebook plugin Social Snap, you can manage how visitors to your site view and distribute your content to their friends and followers. It enables you to automatically display follower counts in addition to adding a lovely social link to your articles and pages.
This plugin, however, doesn't restrict your activities to Facebook. It can also be used to advertise your content on other websites like LinkedIn, Instagram, and Twitter.
It will automatically broadcast your just written content on social media to let users know about it. Your engagement will go up, and your conversions will go up. Additionally, the plugin makes sure that your previous posts don't vanish. Instead, it will continuously upload them on various social media sites.