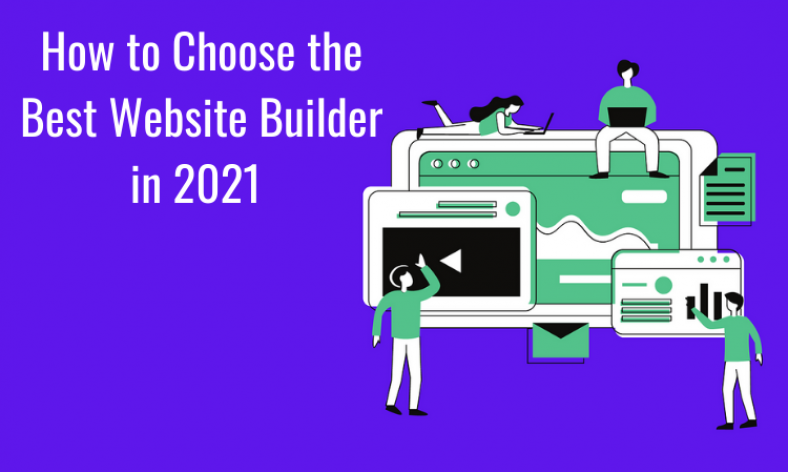 Are you looking for the best website builder for your small business, eCommerce store, or another project? Using pre-made templates and quick drag-and-drop editing, website builders make it simple for anyone to create a website. However, not all website builders are made equal, and there are some critical distinctions in terms of functionality, ease of use, and cost.
We tested six famous website builders to help you find the right one for your unique needs. Now we'll present you with the most pertinent details to assist you in making your decision.

WordPress.com is the most straightforward website-building platform. WordPress.org, on the other hand, is a more advanced content management system that has more control but necessarily requires a higher level of technological knowledge. WordPress powers over 39% of all websites on the internet.
Pros:-
You have full control over every aspect of your website and online presence with WordPress. It can be used to create almost any kind of website. You can create an eCommerce store, online forums, a social network, a membership website, an essential website, a landing page, and more.
You can choose from thousands of high-quality pre-made WordPress themes for your website's design. It also has fantastic drag-and-drop page builders, including SeedProd, Beaver Builder, and Divi, allowing you to construct your page templates with a drag-and-drop editor easily.
WordPress is accessible in hundreds of languages and can be used to build multilingual websites conveniently.
Cons:-
You will be responsible for maintaining your website, which will require you to learn a new framework. Most users can quickly resolve this small learning curve, but it may seem challenging at the beginning.
You will also have to keep up with WordPress updates, plugin updates, and create backups.
Pricing:-
Though WordPress is a free website builder, you'll need a domain name and web hosting to get your site up and running, which will cost you at least $14.99 per year and $7.99 per month, respectively.


Wix is a famous drag-and-drop website builder that allows you to create a free Wix-branded site or a paid site with your branding. It's the second-most famous all-purpose website builder after WordPress, powering 2.3 percent of all websites.
Pros:-
Wix has developed Wix ADI, an artificial design intelligence that can create a beautiful website for you.
You won't have to pay for hosting because the Wix website creator is a completely hosted platform. You'll have access to hundreds of templates to choose from when it comes to the design of your website. With their user-friendly drag-and-drop site builder, each design can be fully customized.
Cons:-
Wix branded ads will appear on your website if you choose the Free or Connect Domain plans. To get rid of the commercials, you'll need to switch to their Combo or Unlimited plan.
If you ever plan to move your website away from Wix, you will find the process to be complicated.
Pricing:-
There is a free plan as well as eight paid plans that start at $14 per month. You have over 500 templates to choose from, but be careful: once your site is online, you won't be able to change it.


Squarespace is a feature-rich website builder that caters to both creatives and businesses. It isn't the most user-friendly builder available, but it won't take long to get used to – it just takes a little more time and patience than Wix.
Pros:-
For hosting your website, Squarespace provides enterprise-grade infrastructure. This safe and reliable platform helps you to focus on growing your business rather than thinking about hosting.
To get started, Squarespace has a plethora of website templates.
Cons:-
Squarespace has a limited number of third-party integrations, which can be a hindrance to expanding your business.
Stripe, Apple Pay, and PayPal are the only payment methods accepted by their eCommerce plans. You won't be able to add any more payment gateways.
Pricing:-
Squarespace websites cost between $12 and $18 a month. Their online stores start at $26 per month and go up to $40 per month.


Gator is a famous online website builder from HostGator, one of the world's largest web hosting companies. The Gator builder is an all-in-one website builder and hosting solution, making it suitable for small businesses.
Pros:-
You don't have to worry about software, updates, or backups since Gator is a completely hosted platform.
Gator also includes a built-in stock picture library, allowing you to find and use stunning images on your website.
Cons:-
Gator does not offer a free plan, unlike some of the other choices on the list. They don't even have a free trial.
Pricing:-
Gator's paid plans start at $3.84 a month for the basic plan, $5.99 for the premium plan, and $9.22 for the eCommerce plan. It is unquestionably one of the most affordable website builders on the list.

Weebly is a simple website builder with a lot of great features and templates. It comes with a beautifully built page builder that helps you edit your website without learning any coding.
Pros:-
You don't have to install or maintain any program since Weebly is a completely hosted platform. They are in control of hosting the website as well as handling all backend applications.
Weebly is consistently ranked as one of the best DIY website builders for beginners due to its ease of use and great features.
Cons:-
Any purchase made through your eCommerce store is subjected to a 3% transaction charge from Weebly. To stop these extra charges, you'll need to upgrade to their business plan.
Pricing:-
Weebly offers a very basic free plan. Paid plans start at $8 per month and are billed annually. The pro plan costs $12 a month, while the business plan costs $25.


Another famous eCommerce website builder is Shopify, which is designed specifically for online stores and eCommerce websites. It is used by over half a million businesses and has over one million active users.
Pros:-
Shopify is a completely hosted, all-in-one solution, which means you won't have to worry about managing software, downloading updates, or backing up your data. Shopify takes care of it for you.
It has a built-in payment platform called Shopify Payments that allows you to accept credit cards. You can also accept payments via third-party payment gateways.
Cons:-
Shopify's pricing might be a little higher than some of the other website builders on this list if you're just getting started.
It would be not easy to switch your website away from Shopify if you ever plan to do so.
Pricing:-
The simple Shopify plan will cost you at least $29 per month. For $79 per month, you can upgrade to Shopify, and for $299 per month, you can upgrade to Advanced Shopify. For $9 a month, Shopify also provides a Shopify Lite plan, which allows you to add a buy button to any website.