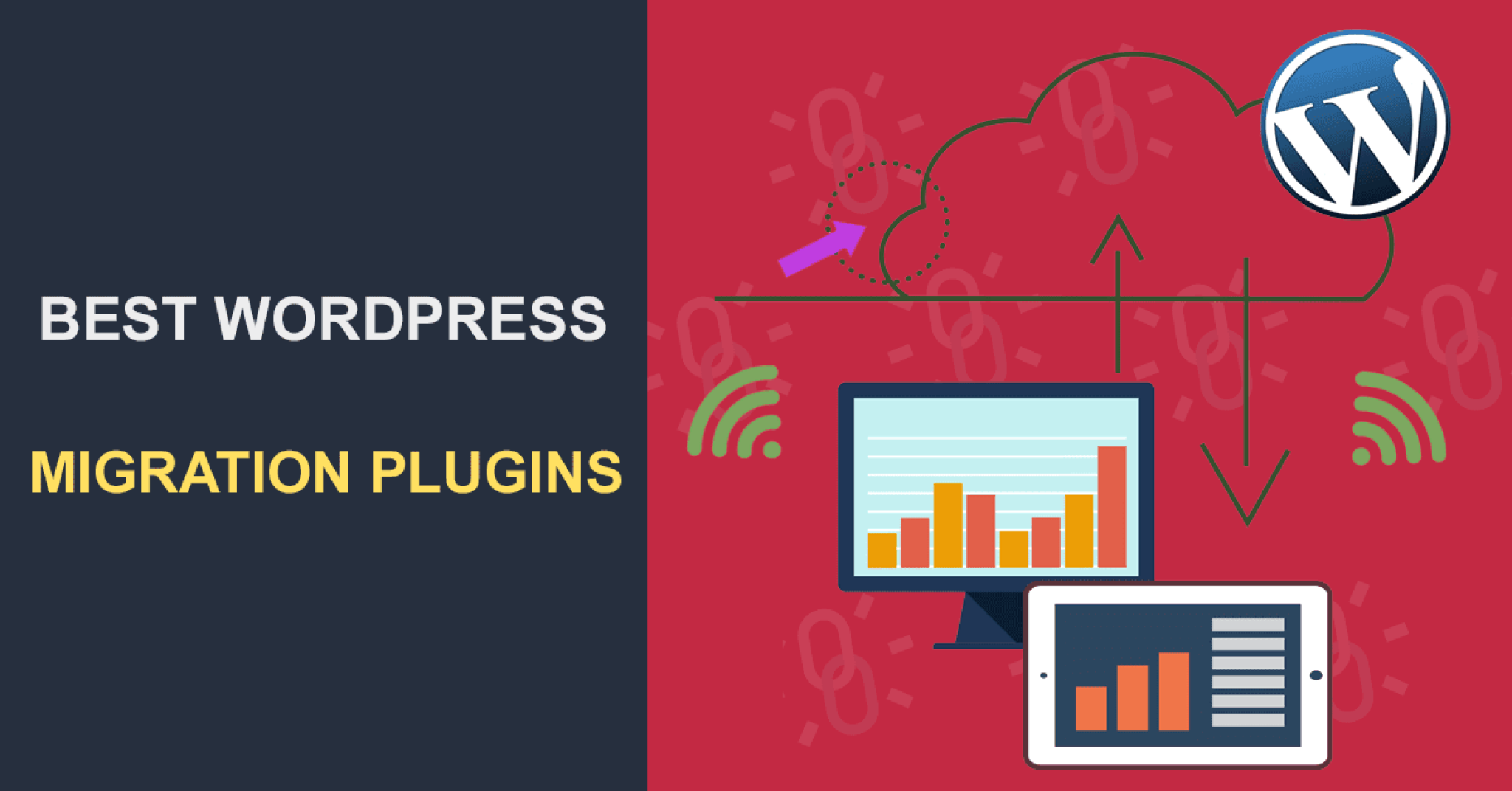 Do you want to use WordPress Migration Plugins to migrate your WordPress site to a new web host or vice versa?
Although WordPress is simple to install, moving an already established WordPress website to a new server can be a pain.
Manually migrating your WordPress site is one method, but it can be time-consuming and requires the completion of various stages to assure a successful conversion.
Instead of manually migrating your site's files and database, you can use WordPress migration plugins. These plugins automate the process of migrating your WordPress site and ensure that all stages are completed to ensure a successful Top WordPress Migration Plugins You Should Use in 2022 conversion with no data loss.
Below we have listed top WordPress migration plugins that can ease the process of site migration.
Best WordPress Migration Plugins in 2022
Duplicator is the best Migration plugin for WordPress when it comes to migrating your website to a new web server. Duplicator is a WordPress plugin with over 1 million active users and a 4.9 rating.
Duplicator is a WordPress plugin that allows you to migrate, copy, relocate, or clone your website from one location to another.
This plugin works excellent if you want to relocate your site from one web host to another, and the best part is that your website will never go offline.
Furthermore, you may backup your entire WordPress website manually with a single click. This plugin generates a zip file containing your website's content, files, plugins, and theme, which may be used to migrate WordPress.
It's important to remember that Duplicator's free edition is only suitable for small-to-medium WordPress sites. If you have a large WordPress site, the premium edition is recommended because it provides greater support for big websites.
Duplicator can be downloaded for free from WordPress.org. The Pro edition of Duplicator provides additional functionality than the free version. You can schedule backups and upload backup files to Dropbox, Google Drive, Amazon S3, and other services with the Pro version plugin.
You'll have to pay $69.00 for the premium edition.
Migrate Guru is a free WordPress migration plugin. Migrate Guru takes a novel method to WordPress migration, making it a particularly attractive choice for large WordPress sites.
The plugin is available for any sort of WordPress site up to 200GB in size and has no "premium" version or paid add-ons.  Migrate Guru is also designed to be simple to use, so once you've entered the information, all you have to do is click the migrate button instead of going through the time-consuming export and import processes.
For sites hosted on Bluehost, Siteground, Hostgator, GoDaddy, WPEngine, and Flywheel, there's built-in instant migration, and you can transfer to other hosts through cPanel or FTP.
Related Posts:

At WordPress.org, All-in-One WP Migration is the most popular WordPress migration plugin, with over 44 million downloads. It can be used for a variety of tasks, including migration, cloning, and backups.
The plugin works by allowing you to export a single file from your existing WordPress site. You can either save the file to your local computer or download it.
Alternatively, the plugin offers paid integrations with a variety of cloud storage services, including Dropbox, Google Drive, Amazon S3, and others. There's also an FTP option that allows you to copy the file to any server through FTP, allowing you to move it directly to your desired location.
All you have to do now is build a new install at your destination and reinstall the plugin after you've exported your existing site. Then you may import the one file that represents your site and you'll be done.
As part of the migration process, you can conduct a find/replace on your database, which is useful if you're changing domain names.
WordPress.org offers the basic All-in-One WP Migration for free. The free version, on the other hand, allows you to change sites solely by downloading the file to your desktop and then submitting it to the new site. This method is acceptable for smaller sites, but you'll often have problems moving huge sites this way because the upload may fail.
As a result, you'll almost certainly want to invest in one of the premium integrations for large sites. You could, for example, export your site to Google Drive and then import it immediately from there, eliminating the need to download/upload files manually.
Depending on the storage location, these premium add-ons range in price from $29 to $99.
UpdraftPlus is a popular WordPress backup plugin that is available for free. One of the finest options for backing up your site is to use the free version. However, you can utilize UpdraftPlus to migrate your site to a new location if you upgrade to the premium edition.
In short, you'll make a "backup" of your current site and then import it into a new WordPress installation at your destination. The UpdraftPlus Migrator component will then assist you in changing your database if necessary during the conversion.
WordPress.org has a free version of UpdraftPlus. However, you'll need to buy UpdraftPlus Premium, which starts at $70, to get access to the migration feature.

BackupBuddy Migration is a famous WordPress security plugin from the company of iThemes. BackupBuddy allows you to make and download a backup copy of your website, which you can then use to migrate it.
It is a paid WordPress plugin that is extremely simple to use and has a large following among WordPress users. It's been around since 2010, and over half a million WordPress sites use it.
BackupBuddy, as the name suggests, was created primarily as a WordPress backup service, but it also works well for site migration. When transferring to a new domain, built-in functionality makes it simple to move hosts or servers, change your domain, and automatically modify URLs.
One of the most significant advantages of using a premium plugin is the added support and guidance you'll receive.
If you run into troubles with a free plugin, you'll have to look around and experiment until you figure out what's wrong. With a premium plugin like Backup Buddy, you can rest assured that the support and development teams will be there to help you with any issues you may encounter.
Related Posts:

Another viable plugin for your migration needs is Super Backup and Clone. On CodeCanyon, the plugin is available for $35. For this price, you get six months of premium assistance.
The backup, cloning, and migration processes are all made easier with this plugin. It can be used by any level of the user without requiring any technical skills. To save your files, the plugin uses third-party cloud services such as Google Drive, Amazon S3, and Rackspace.
It enables you to create a restoration point from which you can restore your files at any time. You have the option of restoring the files on the same site or in a different place. It merely takes a single click to schedule a backup. You may also set the plugin to automatically download the backup once the operation is finished.
Multisite support for multiple website backups is included in Super Backup and Clone. The plugin performs a great job of optimizing the migration process and ensuring that the system runs at its best.
Related Plugins:

VaultPress is a real-time backup system that also provides users with migration options. Posts, comments, revisions, media files, and dashboard settings are all efficiently backed up by the plugin. This robust backup program also guards your website against hackers, malware, and server problems.
Jetpack powers VaultPress, allowing you to get the best of numerous tools in one place.
Though it is a security and backup plugin for WordPress. It also includes great features to assist you in migrating your site using backups.
With a simple click, you can move your site to the same or another location. You can automate backups and spam prevention for comments in addition to migration.
SiteGround Migrator is completely focused on migration. It is a proud SiteGround hosting product. SiteGround is also one of the most well-known hosting businesses nowadays. The SiteGround Migrator plugin is extremely user-friendly. The token from your SiteGround hosting account must be entered. The remainder is taken care of by the plugin.
If you don't want to deal with the plugin, you can also ask SiteGround support to migrate your site for you. They'll take care of it.
Conclusion
We hope that this post has helped you find the finest WordPress migration plugin for properly migrating your website. Any of these plugins will help you with your migration. Make sure that the plugin you choose has an automated backup capability. It will keep your files safe while they are being migrated.
If you require a plugin to handle migrations and website cloning, Duplicator is a wonderful choice. Check out All-In-One WP Migrations if you want a specialized free migrating plugin for your WordPress website.
Finally, it's always a good idea to double-check whether you need a migration plugin! Many WordPress hosting companies provide free migration services. So, if all you're doing is changing hosts, you should see if they'll do it for free.