Restaurants have progressed over time. Nowadays, ordering food over the internet is the standard, and this is unlikely to change.
As a result, creating a restaurant website has become critical. A basic requirement for your restaurant website is to have an online menu.
WordPress restaurant menu plugins will assist you in creating a menu that will allow guests to select, order, and pay for your items.
However, a menu by itself is insufficient. You must have a customer-friendly restaurant menu to stay ahead of the competition.
A restaurant menu that caters to customers is interactive. It includes photographs, descriptions, and prices for so many dishes you serve.
Customers can click and select the foods they desire, put them in their cart, and pay for them online. It also gives customers the option of using a range of payment methods in addition to delivery or pickup.
Here in this article, we will go through the best WordPress restaurant menu plugins for 2022.
Best Selling Restaurant Menu Plugins for 2022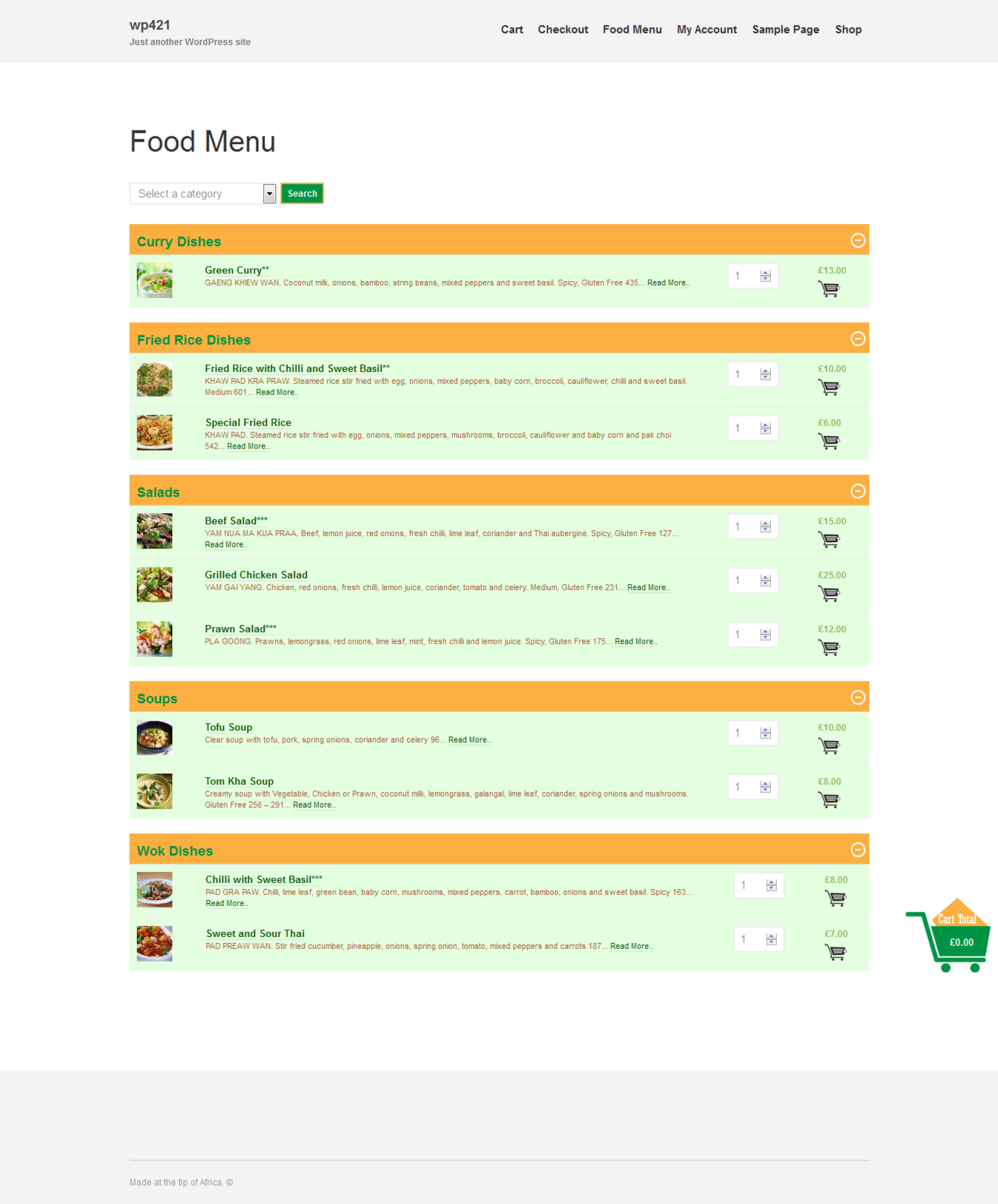 Foodify is a powerful WooCommerce food menu plugin. This plugin is for you if you want to provide a smooth meal ordering experience for your visitors.
To place an order, your customer will simply select the food item, quantities, and can press the Order button. Foodify is a user-friendly plugin that includes features like search, card choices, complete image preview, and more.
It is retina-ready and device responsive, supporting all modern devices. From the admin panel, you can choose to display or hide a full image preview.
It's one of the best WordPress restaurant menu plugins that also work with WooCommerce.
It will cost you $39 for a single site.
Top Articles: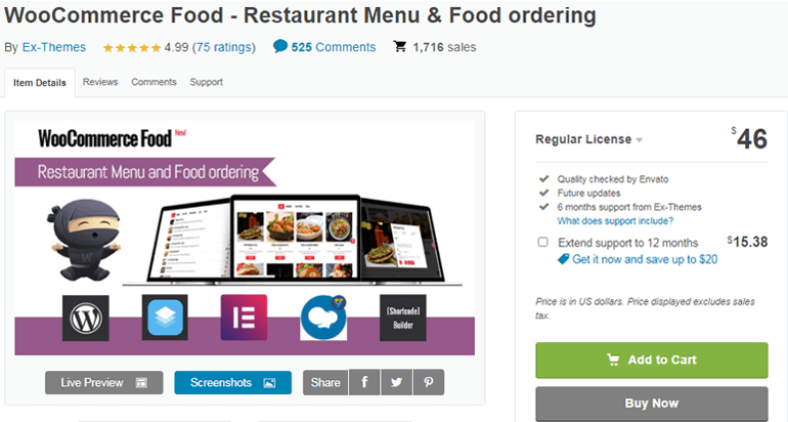 WooCommerce Food is a robust restaurant menu plugin for both small and large restaurant websites. This plugin integrates with WooCommerce, allowing you to quickly create stunning menu item pages and handle online orders.
Food menu designs come in a variety of forms, including tile, grid, and list designs. You can also develop numerous menu item versions and use WooCommerce to provide a smooth checkout option.
Simple menu items can be added, or you can incorporate customization choices that function with lists or checkboxes. The plugin also adds a cart button to the right side of the screen, which customers can use.
It will cost you $46 for the premium version.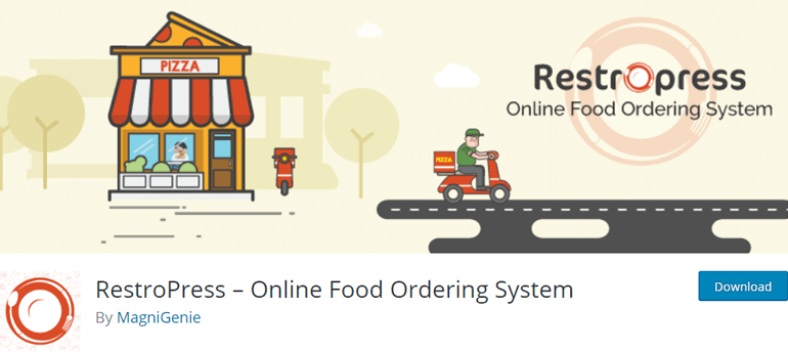 It is a free WordPress restaurant menu plugin.
All of the functionality in the base plugin is available for free. It also has expensive add-ons for those who want more functionality.
You may develop a complete food menu as well as an online ordering system with RestroPress. You can also use a payment service to execute online orders and take care of deliveries.
The plugin is meant to make it simple to install a food ordering system on your WordPress site. It does, however, include a user-friendly admin interface for adding and managing the online menu.
In just a few clicks, you can alter prices for each menu item and even turn off the things you don't want to sell with RestroPress.
Related Blog Articles:
ManageWP | Veterinary | Adsanity | Advanced Ads | WP QUADS PRO | ReferralCandy | Gleam | JVZoo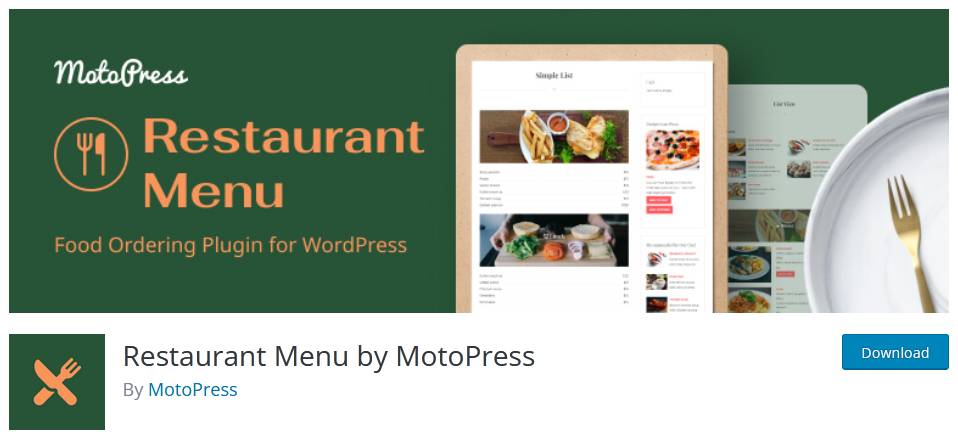 Another wonderful free plugin for creating a simple restaurant menu on your website is Restaurant Menu. This plugin has a user-friendly interface with drag-and-drop functionality and a variety of other handy features.
This plugin's Facebook integration is a unique feature. This enables you to link your Facebook business page to the plugin, allowing consumers to place orders directly from Facebook.
While the free version is great for accepting bookings, you'll need to upgrade to a premium plan if you want to accept credit card payments online.
Furthermore, the plugin allows you to add as many side items to your main menu as you wish. Moreover, your consumers can search for meals by category or name. You can also hide/show the categories based on your requirements.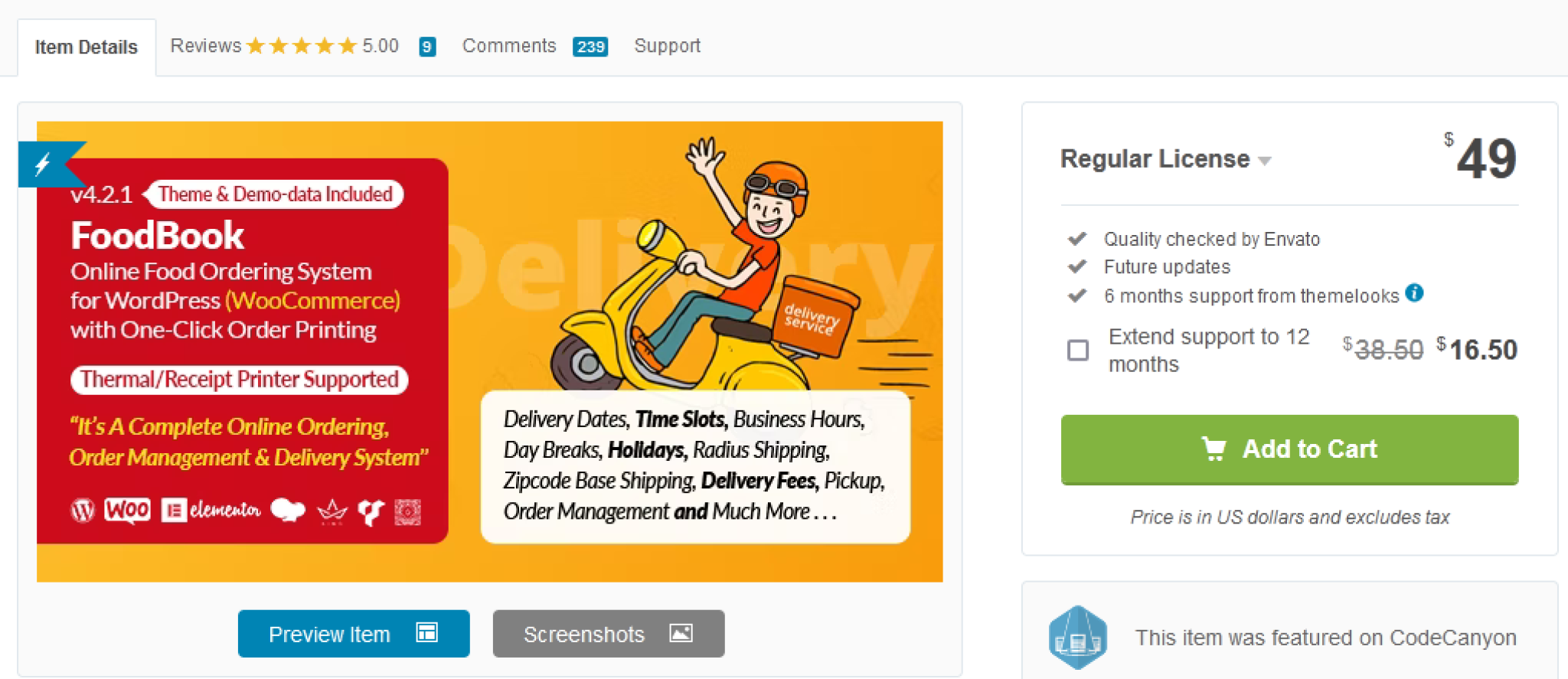 FoodBook is a WordPress plugin that turns your website into a complete online food ordering system. It also comes with a simple food menu design and WooCommerce integration.
This plugin allows you to add a smooth online ordering and delivery process to your website. There is a multi-branch add-on to offer more functionality if you have businesses in multiple locations.
You have to spend $49 on this amazing food restaurant menu.
The best features of Foodbook are mentioned below:-
Select from a variety of food menu design styles.
Allow guests to offer feedback on your menu items in the form of reviews and ratings.
One-click order printing is supported, as well as thermal and receipt printers.
Make roles for the Branch Manager, the Kitchen Manager, and the Delivery Person.
For anyone who owns a restaurant, café, or other types of food business, WP Food is the greatest WordPress restaurant menu and food ordering plugin. It's a simple restaurant plugin that allows you to display your menu and take or process orders with ease.
The plugin features a first-class design that will provide your consumers with a fantastic user experience. It also comes with a plethora of customization choices to match your company's branding. You can, for example, write custom cuisine descriptions and image galleries, as well as select from a variety of layout options.
The best features of WP food are mentioned below:-
In only a few clicks, you can easily create and customize new culinary products.
There are no limits to the colors and fonts you can choose.
Food menu creation based on location.
Food items can be displayed as a single item, all items, or by category.
You have to spend $29 on a Regular License.
Best Related Articles:
WPCafe is a WooCommerce plugin that includes a complete meal menu, pickup, delivery, and restaurant reservation system. Gutenberg blocks, shortcodes, and Elementor widgets are included.
As a result, you can effortlessly manage all of your café or restaurant's needs to establish a gorgeous restaurant website.
With this plugin, creating a modern and beautiful meal menu list is a breeze. Each item can also have categories, locations, and images added to it.
It also allows you to include a sticky mini cart so that customers can easily add food items to their cart and compute the total price of their transaction.
The plugin comes with a variety of menu designs that include tabs and sliders. If you have a restaurant chain with numerous locations, you can design a menu that allows consumers to select the location closest to them.
The best features of WPCafe are mentioned below:-
Create a contemporary menu with a simple reservation and ordering process.
There are over 26 distinct menu designs to choose from.
To provide sophisticated functionality, integrate with WooCommerce.
Elementor, WPBakery page builder, and Divi Builder are all compatible.
Ajax mini shopping cart, live search, and meal menu widget are included.
Other Useful Plugins:
Restaurant Menu Plugins: How to Make Them Engaging
Restaurant menus must be enjoyable and engaging. To accomplish this, your menu must appeal to the senses while also providing a wonderful user experience that encourages users to return.
Put yourself in the shoes of the customer
Always put yourself in the shoes of the customer when creating your menu. Consider it from the perspective of a customer and consider what they see. This will enable you to build a menu that is oriented to the needs of your customers.
Create a design that is optimized for mobile devices.
Because mobile devices will make up the majority of your orders, you'll want to make sure your menu is mobile-friendly.
Maintain an up-to-date menu
If the pricing change, make sure you adjust the menu to reflect any changes in the dishes you serve. It's irritating for a consumer to take the time to select anything from the menu just to discover that it's no longer available.
Don't skimp on great photography.
Food is both a sensory and a visual experience. We consume with our eyes first, and then with our mouths. More orders and return customers will result from carefully prepared, high-resolution, professional-quality images of your cuisine.
Provide detailed descriptions
Instead of specifying ingredients, describe the food using lovely descriptive phrases. Describe how they taste in a way that engages the senses and piques the customer's interest in obtaining and consuming the food.
Wrapping Up
Using these plugins, you can design appealing and delightful restaurant menus regardless of whatever WordPress restaurant themes you choose for your restaurant website.
You also don't need any technical expertise or coding abilities to use them.
RestroPress is a decent free plugin that you can use.
It provides all of the essential features for free, allowing you to showcase your food and put up a simple online ordering system on your website.
The article has come to a close. Hopefully, this guide has assisted you in selecting the finest WordPress restaurant menu plugin for your needs.