Building confidence in online businesses requires transparency. Especially in the case of eCommerce.
People are more inclined to make a purchase or hire you and your team if they know what the projected delivery time is, what the shipping conditions are, and what the current status of their order is.
That's why disclosing pricing information about your products and services is so important.
Your consumers may quickly and easily calculate price estimates for the products and services they're interested in using the correct cost calculator tool.
It's critical to know this information ahead of time if you want to convert website visitors into new clients.
So, if you want to deliver practical information to potential clients, all you have to do is create simple or sophisticated calculation forms.
Everyone's time will be saved, and the purchasing process will be quickened. In addition, your customer care team will receive fewer requests and questions about the pricing of various service packages/product types.
There are several WordPress cost calculator plugins on the market that you may use to improve the user-friendliness of your website.
Make sure your chosen plugin is responsive, has pre-built templates that can be readily modified, and is simple to use.
Remember, whether you run an eCommerce store, a real estate website, or any other type of online business, these plugins are essential. So, let's get this started.
Best Cost Calculator WordPress Plugins
The Cost Calculator Builder plugin is simple to use, powerful, and flexible, making it ideal for both WordPress beginners and experts.
This tool will allow you to smartly inform your clients about the costs of your services and products. To begin with, this plugin includes a fantastic drag-and-drop calculation form builder that allows you to make an endless number of calculation forms and place them wherever on your site.
You can utilize ten calculator items with the plugin (input box, quantity box, dropdown box, toggle and radio button, total and subtotal cost, and more).
It's a great alternative if you have a lot of different services or goods to offer and need to estimate costs.
Aside from these basic but significant features, there is also a PRO version.
Cost Calculator Builder PRO works with Woocommerce, Contact Form 7, Stripe & PayPal Send Form, reCAPTCHA, and a variety of other essential plugins, allowing you to handle every part of cost calculation.
Additionally, you can provide your calculating formula with the ability to add, subtract, multiply, and divide form elements. Plus, you can modify the colors, fonts, and background color of each element of your cost calculation forms.
Related Articles: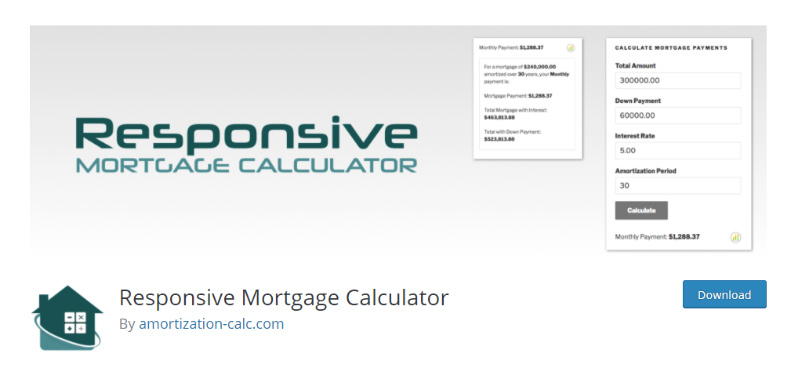 This plugin is just a jQuery widget and shortcode that can be simply incorporated into any theme, device, or size. Responsive Mortgage Calculator is one of the most simple options for real estate websites.
If you own a real estate agency, this plugin will help you grow your business. The Responsive Mortgage Calculator is compatible with any theme and allows your website visitors to estimate their mortgage payments before buying a new home, condo, or other property.
Your prospective customers will be able to calculate their mortgage payments depending on a variety of factors.
For example, customers can use your cost calculator to receive accurate information by entering the overall cost of the home, an interest rate, or the amortization time.
They can also calculate prices based on a payment schedule, such as monthly, biweekly, or weekly.
Typically, it's a sidebar widget that may be accessed by a shortcode. The shortcode within can be used anywhere on your WordPress-powered website.
Here are some of the plugin's primary features:
Set a default interest rate
Versatile input labels
Different currencies
Flexibility and easy customization
You can figure out how much the house will cost in total.
Calculating the total amount of the down payment.
A nice popup-summery with a chart and a term of amortization.
You can choose between monthly, weekly, or bi-weekly payments.
You'll appreciate this plugin if you manage a real estate website. The WP Amortization Calculator plugin is a great addition to any website.
To show the form anywhere on your site, use the provided shortcode and widget. The calculator has a very professional design that adapts to all screen sizes, so even visitors on mobile devices can use it.
The calculator is useful as a financial tool, but it's also useful for generating leads. Visitors can opt-in to receive the report by entering their email address, after which you can contact them to progress them through your sales funnel.
Related Plugins:
The Calculated Fields Form plugin can benefit you no matter what business segment you're in. You may use this useful tool to develop cost calculators that support a variety of search criteria.
You can add/edit multiple field categories where clients can enter essential data because this plugin provides a simple form builder.
The calculation will be carried out automatically, and the final result will be available in a matter of seconds. This plugin can handle simple or sophisticated calculations such as ideal weight calculations, finance calculations, or real estate calculations.
This plugin also allows complex ternary operations and math functions, which is fantastic. Aside from that, you can select from a variety of field types such as drop-down, checkboxes, radio buttons, and so on.
To speed up the form-building process, you can clone a specific form or choose from one of the provided templates.
The plugin connects with the most popular page builders on the market, including Elementor, Gutenberg, and WPBakery Page Builder (among others), making it simple to use.
Related Articles: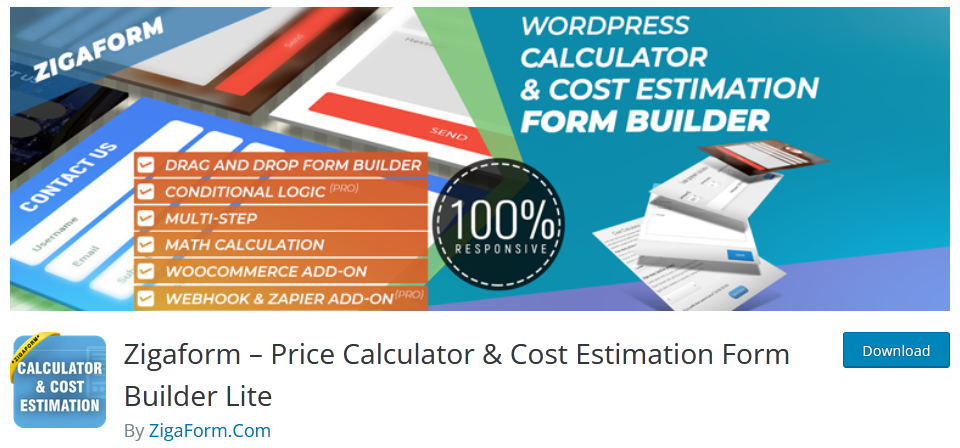 WordPress Cost Estimation & Calculator by Zigaform Form Builder is a versatile plugin that allows you to create estimation forms in a few simple clicks using a drag-and-drop form designer.
The Zigaform plugin is capable of performing both simple and sophisticated calculations. A value can be set to each form section that will be calculated automatically.
Forms can then be easily submitted to admin staff and customers via the website.
The following are the features of the free version:
Form development made simple with a real-time drag-and-drop builder.
Cost Estimation and calculation.
There are more than 42 pre-designed form elements that are ready to use.
You can upgrade to the premium edition, which includes online payment with PayPal, an invoicing tool, a summary estimate box, and rapid checkout payment.
Overall, the plugin allows you to create professional-looking forms while also allowing you to handle the numerous form options and automating price computations.
Related Plugins:
ToolsonCloud | CSS Igniter | Mojo | Apollo 13 Theme | Themeum | Pretty Darn Cute Design | WPDeveloper
The powerful EZ Form Calculator allows you to quickly create form calculators, advanced cost estimators, and extended contact forms on your website for a hassle-free approach to managing your business's finances.
You can easily add form elements like checkboxes, drop-down menus, and radio buttons with just a few clicks. The plugin allows you to provide a value to each form element so that computations can be performed automatically on the form.
It also lets you compose response emails and PDF files that can be attached to emails and delivered instantly, saving you time and effort. The plugin is also available for translation, so you may reach out to clients all around the world.
Furthermore, the premium features include, among other things, infinite forms on a single site, over 30 distinct types of elements, unlimited elements per form, and 18 predefined layouts.
Overall, EZ Form Calculator is a highly flexible application that allows for both easy and complex calculations, with eye-catching graphics and reliable admin support in the background.
Related Plugins:

Credit Calculators is more than just a calculator; it's a complete package. It has 14 distinct sorts of calculators, including credit balance, credit comparison, credit payments, and loan refinancing forms.
This plugin is really easy to use. While it lacks some of the customization possibilities included in some of the other plugins in this collection, you'll appreciate how simple it is to use.
Simply choose the calculator you'd like to use and include it in any post or page.
Knowing the shipping costs ahead of time is a major bonus. It's especially crucial when purchasing items with varying dimensions, weights, or material types.
Table Rate Shipping for WooCommerce is for online stores that want to provide advanced shipping options.
This tool allows you to select a range of variables so that the buyer can calculate shipping costs based on the criteria you specify.
Anything can be used as a condition in your shipping cost calculation tables, including shipment destination, cart subtotal, item shipping class, price, and weight.
This plugin also includes a drag-and-drop row builder, which allows you to simply add/remove any field.
Affiliate Royale | WPForms | Kali Forms | Gravity Forms | Olark | Tidio | Pure Chat | Formilla | LiveChat
Bottom Line
Choosing the appropriate calculator plugin might help you solve a lot of problems. It's self-evident to utilize a high-quality plugin for a purpose like a mortgage.
The plugins listed above are the most popular 2022 WordPress calculator plugins available for your website.
They are WordPress calculator plugins with a lot of features that you can use to enhance the user experience. Some are brand new but useful, and others were released a little earlier.
All of these plugins work well and will suit your needs to the best of their abilities.