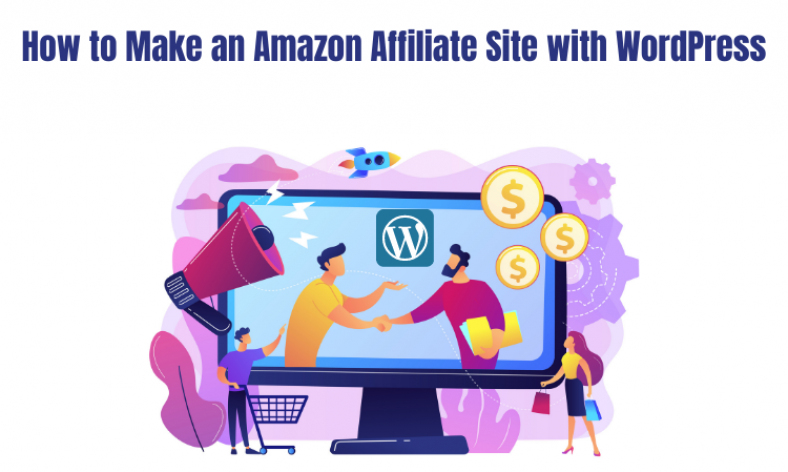 Affiliate marketing is a popular way of making money online, and for thousands of marketers, it's their primary source of income.
Becoming a successful affiliate marketer takes more than just owning a website and a handful of affiliate programs – it requires constant monitoring and optimum use of technology.
Amazon has a fantastic affiliate program that integrates affiliate marketing in your WordPress blog or website seamlessly.
This affiliate program is particularly suitable for beginners looking to create a steady online income stream.
To help you make the most of your Amazon affiliate program, we'll reveal the secrets of creating a fantastic Amazon affiliate site with WordPress and also check out the latest plugins.
Amazon Affiliate Marketing Program
It's an immensely popular referral program based on commission wherein you will be partnering with Amazon and earn a percentage for each of the sales made by referring your visitors to Amazon products or services.
Beginners find the Amazon affiliate program reliable and convenient as it offers multiple benefits.
If you're a beginner and want to become an Amazon affiliate, then you must learn that it's free and also has more than a million products to choose from.
Yes, you can feature countless products on your website and create a niche matching your interest. Some of the benefits of becoming an Amazon Affiliate include the following:
You can easily integrate the program with your WordPress website, and you can include the affiliate links within the page content.
It has multiple tools that can be used to integrate links. You also have access to images, links, banners, and buttons for maximizing your marketing efforts.
You're able to track the earnings whenever you want while getting more in-depth insights on trends, referrals, and orders to check your profits through regular online reports.
Amazon affiliate program is an appropriate platform to get started with, especially if you have a WordPress blog or website.
WordPress is an immensely popular blogging engine, and it offers a host of SEO features, which makes it the perfect platform for creating an affiliate website.
With a WordPress website, you can hit the ground running while maximizing your marketing efforts by using plugins for integrating affiliate links.
Related Articles:
Signing up for Amazon Affiliate Program
You'll have to create an Amazon account to sign up for the Amazon affiliate program. Next, you'll need to choose the items or products you want to feature on the website.
Each product will have a unique link that contains the affiliate ID. You'll need to add the links on your site by embedding them within the site's content.
As mentioned earlier, WordPress is super-flexible, courtesy of its plugins. Before building an Amazon affiliate program, it's imperative to research the appropriate plugins to integrate a WordPress site with the Amazon affiliate account.
Here's a list of some of the most popular WordPress plugins for making your life easier as an affiliate:

WPManageNinja developed the AzonPress plugin so that you can set up an affiliate website with just a few clicks and start promoting Amazon products within a couple of minutes.
As soon as the installation is complete, you can start adding products with just a few clicks and create the product grids or tables, list of bestsellers, and comparison tables to let your customers decide quickly.
The drag and drop table builder makes the entire process a cakewalk. You can even create a customized widget for featured products and exercise complete control over styling libraries, table style, and color skins.
Once you've completed all composing all, copy and paste the shortcode into a preferred WordPress page or post.
Related Plugins:
Adsanity | Advanced Ads | WP QUADS PRO | ReferralCandy | Gleam | AdContent Pro | JVZoo
AzonPress offers incredibly powerful features like geo-targeting, which helps website owners redirect visitors from particular countries to relevant subdomains or landing pages.
You can also benefit from the affiliate management system of AzonPress that helps you manage referrals, affiliate links, and earnings.
You can opt for any of the three licenses; however, if you're to make the most of this plugin, then opt for the unlimited license.
Key Features:
User-friendly and offers quick ways of integrating Amazon Affiliates with WordPress
You don't need e-commerce add-ons
A wide range of styling options
Flexible licensing option

It's a viral plugin that transforms a regular WordPress website into a full-fledged e-commerce store.
This plugin is super-flexible, especially with various extensions available that facilitate the listing of Amazon affiliate products.
Extensions like WP-Lister Lite for Amazon help you create the perfect affiliate site needed to succeed with Amazon. Integrating WooCommerce with your preferred Amazon inventory is more comfortable with the extension.
However, WooCommerce is not recommended for beginners as it can burn your investment quickly before you start making money as an affiliate.
Related Plugins:
Affiliate Royale | Pretty Links | ThirstyAffiliates | Post Affiliate Pro | IntellyWP | Wishpond
Key Features:
Comes loaded with premium extensions and advanced features for store customization
Works seamlessly with all the products from all Amazon categories
Generous support from a vast community of developers and users
You can check out various other plugins like the WooZone, EasyAzon, Amazon eStore Affiliates, Amazon Link Engine, Ad Inserter, AAPro, Amazon Auto Links, and Azonberg, which are equally effective and efficient.
In this blog post, we have discussed WooCommerce and AzonPress because these are trustworthy and affordable.
Each of the above plugins offers unique advantages that you can use to maximize your referrals and commission. However, it's always essential to research and choose the one that suits your unique affiliate marketing needs.
Conclusion
Patience is a much-needed virtue for succeeding as an affiliate marketer, and researching for in-demand products will result in better commissions.
You're up against thousands of affiliates, and to carve a niche for yourself, you've to show ingenuity and acquire the latest skills to reach a broader audience.