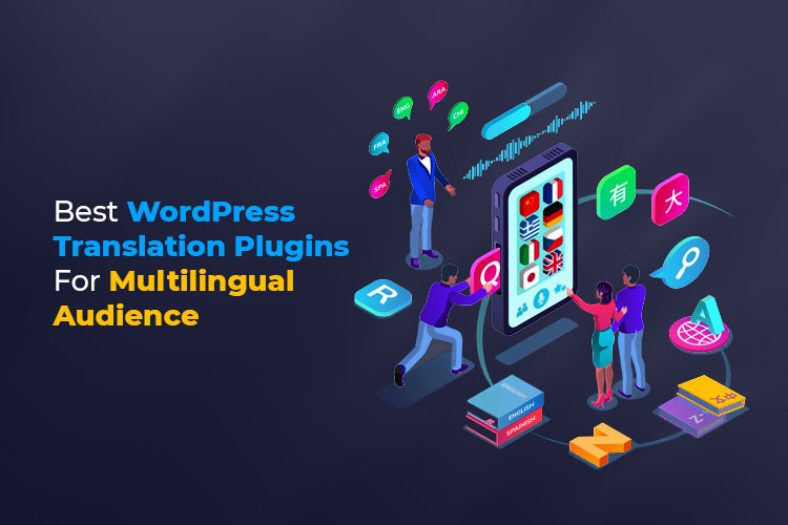 Are you looking for a WordPress translation plugin?
Choosing the correct translation plugin for your needs can be difficult with so many options accessible in the WordPress plugin repository.
We'll compare the finest WordPress translation plugins in this article so you can figure out which one is ideal for your needs.
Choosing a WordPress Translation Plugin
WordPress makes creating a multilingual website and even translating the WordPress admin area a breeze. There are a few points to take in mind while selecting a WordPress translation plugin:
The process:
One of the most crucial things to check before installing a plugin on your website is that you understand the translation process.
To get started, ask yourself these questions:
Does it require you to download a language pack?
Is it possible to use a third-party web program such as Google Translate?
Is this plugin capable of manual or automatic translation?
SEO:
You can reach a larger audience with a multilingual website. Your marketing efforts will backfire if your translation plugin isn't optimized for search engines. You must ensure that your translation plugin is search engine friendly. The best SEO tool will help you increase your website traffic.
Best Plugins:
ThemeForest | TeslaThemes | TemplateMonster | StudioPress | Restored 316 | PremiumCoding | Udemy
Automated vs. Human Translation:
If you want to construct a localized website, hiring a human translator rather than employing an automated translation provider is the best option.
If you want to give consumers the choice of selecting a language, an automated translation can be the best alternative.

If there is one truly convenient way to translate your website, it must be through ConveyThis!
It is the most translated language plugin in the WordPress directory (over 38 language contributions) and is growing fast. ConveyThis makes it very simple to integrate into the WP website and activate as many as 100+ languages.
ConveyThis uses automatic machine translation to translate your entire site and adds a language switcher button. So within the first couple of minutes, you'll already have a working, SEO-friendly multilingual site.
It comes with both free and paid plans. Free plan that lets you translate up to 2,500 words into one language, the paid plans use SaaS-style billing, which means you'll need to continue to pay for as long as you want to use the service.
Key Features of ConveyThis
Translate to 100+ languages
Fast and accurate automatic machine translation
Translate attributes, alt text, meta-text, and page URLs
100% compatibility with all themes and plugins (including WooCommerce)
SEO-optimized (all translated pages will be indexed by Google, Bing, Yahoo, etc.)
Active Installations: 2000+
Ratings: 4.6/5
Pricing Plans: Paid plans start at $5 a month for one language and up to 10,000 words.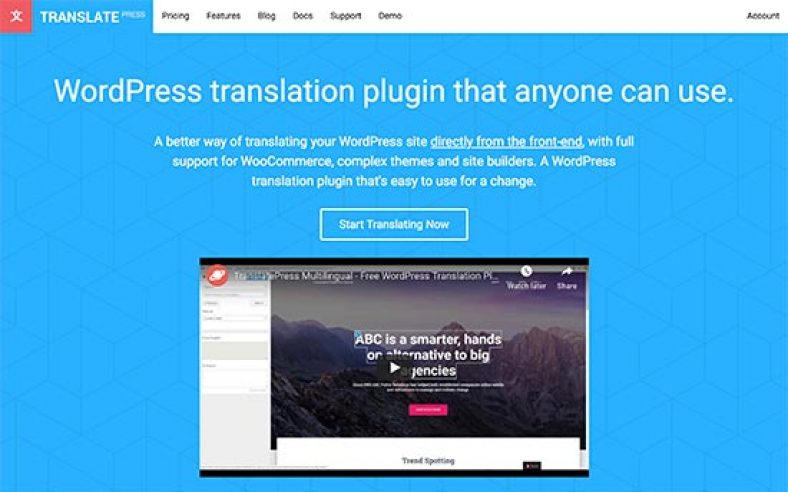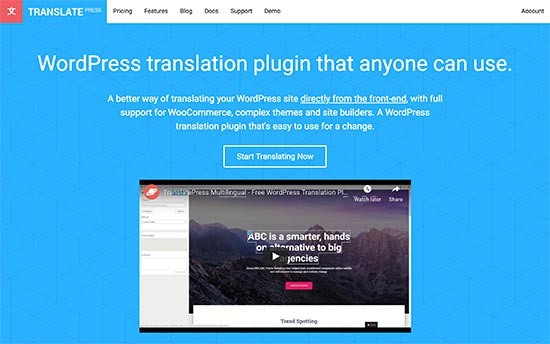 You can easily handle every aspect of your site's translation using TranslatePress. The TranslatePress plugin stands out from the pack since it allows you to translate articles and pages from the frontend of your website, with a live preview of what you've translated.
Any of your written material, including posts, pages, metadata, plugins, and even your theme, may be translated fast and easily. There's no need to change the interface as it all works seamlessly.
TranslatePress will become your new favorite plugin if you're a perfectionist who prefers manual translations.
You can either translate your text yourself or give any user on your site the Translator user role.  These translator users can translate your content without needing full access to your admin area, keeping your site secure.
Related Articles: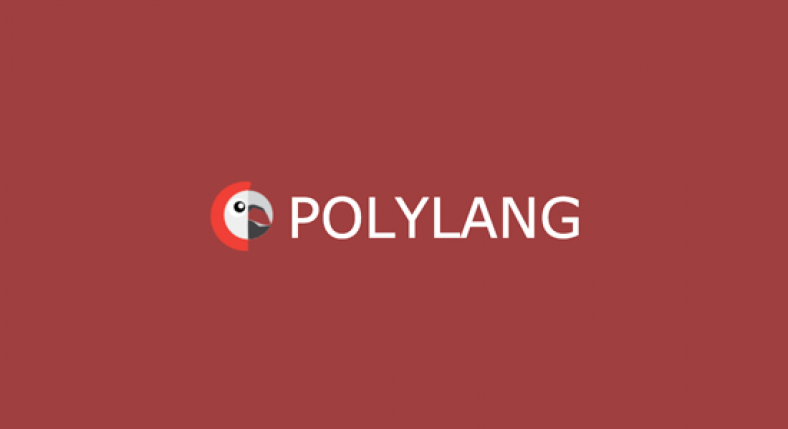 Polylang is a free WordPress self-translation language plugin that allows you to select your favorite option from your profile and have the language pack downloaded automatically.
It offers the ability to divide versions of your site onto subdomains for each language and includes a widget in the nav menu for switching between languages.
Custom taxonomies, sticky posts, and RSS feeds are all supported by this open-source plugin, which supports as many languages as your site needs.
It can also be used in combination with Lingotek Translation, the next plugin on our list, to provide automatic language translation.
Pricing:- It is free of cost.
Popular Plugins:
Thrive Themes | Hero Themes | WPBrigade | ThimPress | WP Portfolio | Themify | ThemeIsle | Wishpond
Affiliate Royale | WPForms | Kali Forms | Gravity Forms | Olark | Tidio | Pure Chat | Formilla | LiveChat
While not an official Google plugin, Google Language Translator allows you to embed Google Translate translations right into your website.
You may use Google Translate to translate into more than 80 languages, and the plugin allows visitors to switch between languages.
According to the plugin's WordPress download page, it now powers over 500,000 multilingual sites worldwide and includes automatic Google analytics integration, the option to hide Google top frames, and the "suggest better translation" pop-up, as well as multilingual SEO support to help improve your site's global rankings.
While the free version of this plugin supports all languages and provides infinite machine translation, you'll need to upgrade to a subscription plan to get access to translation editing and multilingual SEO.
Price: Free, multiple tiered pricing plans starting at $7.99/month
Google Website Translator by Prisna is another multilingual solution that makes use of Google Translate. It may be used as a widget or a shortcode.
It's also a quick and light solution because it doesn't rely on external javascript and CSS like other translation plugins.
This plugin allows you to translate your website into over 100 languages and has a simple setup process to get you up and running quickly.
Google Website Translator has virtually little impact on page loads because all settings are stored in a single database record, making it an excellent fit for complicated or content-heavy sites.
The plugin does not have a free version, however a $50 one-time payment grants permanent access to all functions.
Price: $50 one-time fee
Related Articles:
All you have to do with Babble is download a new language pack, install Babble, enable your new language, and start translating.
When it's finished, it notifies your translators that it's ready for them to start. Babble then shows two versions of the WordPress visual editor: one with the original content and the other with everything a translator needs to go live.
Babble is built to work with all core WordPress functionalities, allows you to operate your website in any language you desire, and has a vibrant open source community to help it grow.
Babble's official site highlights its performance, noting that it's capable of generating pages up to 20% faster than leading premium plugins.
Price: Free
Important Plugin:
Aweber | CodeCanyon | YITH WooCommerce | Brainstorm Force | Team Treehouse | Brizy | UpdraftPlus | Soliloquy
The plugin can handle multilingual management as well as the translation process. WPML allows you to have translations on the same domain, a subdomain, or a completely new domain.
Multilingual e-commerce functionality, translation widgets, and synchronization with ICanLocalize and cloud services for auto-translations are just a few of the plugin's capabilities.
It transmits the text to your selected translation tool fast and efficiently, providing you with high-quality translated materials.
WPML was created to be powerful enough for large corporate sites while still being simple enough for small business blogs.
This plugin, which is described as "comprehensive, compatible, and dependable," allows you to translate any aspect of your site, from pages to posts to menus and taxonomy, and is compatible with any plugin that uses the WordPress API, as well as providing full user support.
Price: Tiered pricing plans starting at $29 per year