Looking for an excellent Survey plugins that makes running a survey on your WordPress site a breeze?
Running surveys on your website is a great approach to learn more about how your consumers are feeling so you can enhance your business.
We've compiled a list of the top WordPress Survey plugins available, along with everything you need to know about them, in this article.
Why Use a WordPress Survey Plugins?
If you're wondering why you'd want to use a plugin to conduct surveys on your website, there are plenty of solid reasons.
Most significantly, listening to your audience is critical for business growth. If you simply inquire, you could be surprised at how much useful knowledge they have to provide.
You may, for example, conduct an NPS survey after a customer care interaction to keep track of how well your customer service team is addressing requests.
In another case, you can find that there are some stumbling blocks during the purchasing process.
Once you've discovered this, it'll be simple to figure out where you should concentrate your efforts when it comes to building your online business.
Furthermore, survey plugins provide a slew of other advantages, including:
Related Articles:
CRM Compatibility
Engagement
Data Visualization
Easy to Use
Exportable
Let's take a closer look at the top WordPress survey plugins now that you have a better understanding of why you might want to use one.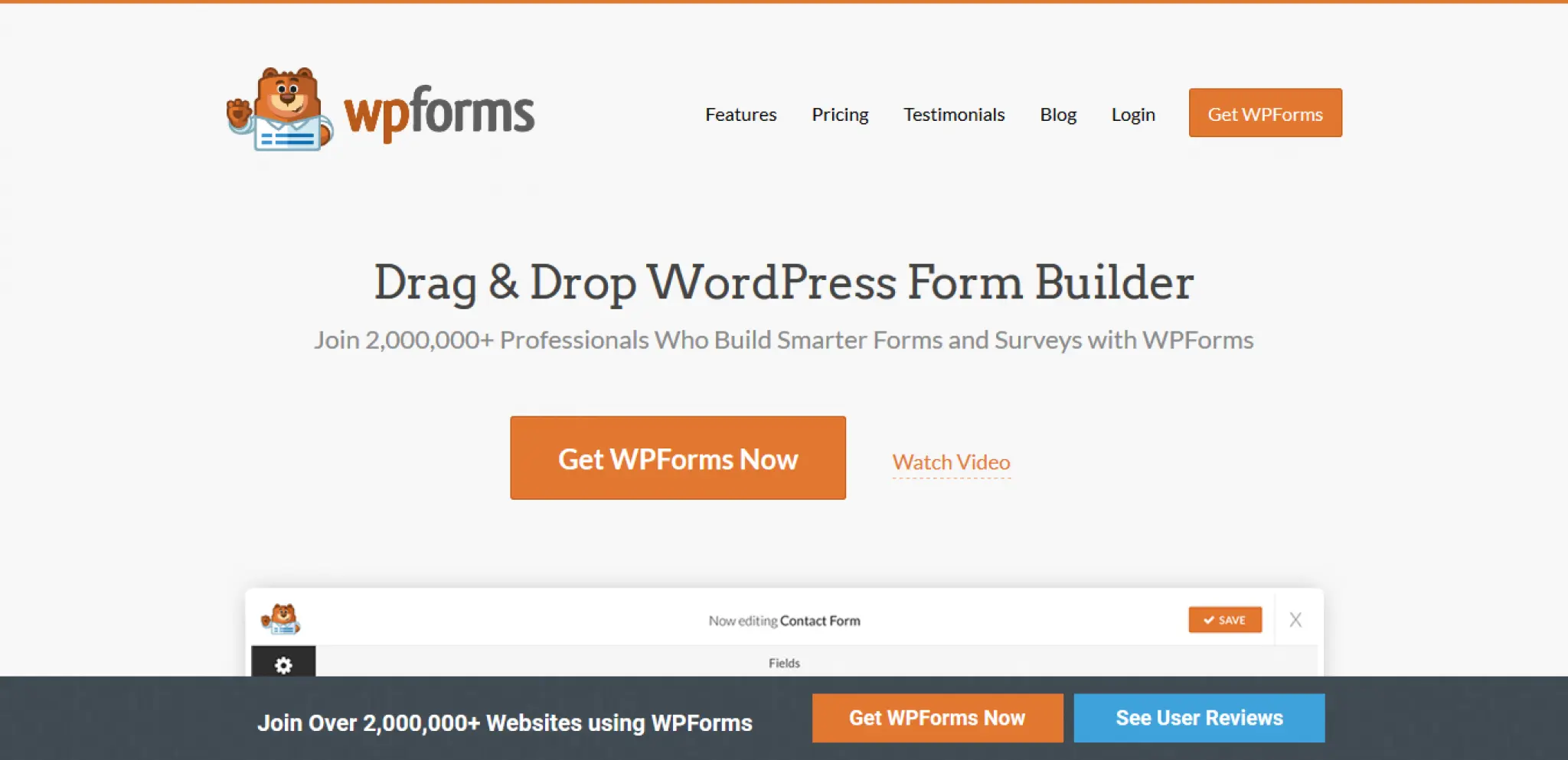 WPForms is not just the best WordPress form plugin in the world, but it's also the best survey plugin.
It has a Survey and Polls plugin that you can enable to build engaging surveys for your website visitors and customers to complete. The survey reporting tool is excellent, and viewing your data on an easy-to-use reporting dashboard is a treat.
When it comes to fields in wpforms, you get all of the important ones, such as radio buttons, file uploads, and multi-page forms.
Furthermore, you may quickly combine your forms with an email marketing solution. Payment systems such as PayPal and Stripe can also be used to accept payments.
Cost: WPForms Pro starts at $199.50/year.
Popular Plugins:
Veterinary Management Software | Awesome Support | Tribulant | Copysmith | CaseFox | IntellyWP | MailChimp
ToolsonCloud | CSS Igniter | Mojo | Apollo 13 Theme | Themeum | Pretty Darn Cute Design | WPDeveloper
RafflePress is a simple yet efficient approach to conduct surveys and enhance your online growth while conducting a raffle on your WordPress site.
You may utilize the Polls and Surveys function to ask people who enter your contests to complete our surveys, providing you fast insight into whatever you need.
RafflePress is simple to use, even for non-technical individuals, for both the giveaway functionality and the Surveys and Polls function.
Its features:-
Engagement Increaser– When you combine the giveaway system with the polls, you may boost your site's engagement by offering visitors more entries when they complete your survey or poll.
Data Visualization – The reporting interface presents the results clearly and simply that is simple to grasp and read.
Email Marketing Integration – Integrates with a variety of email marketing platforms to help you expand your email list and gain more poll subscribers.
Cost: RafflePress starts at $39.95/year.
Related Articles:

Formidable Forms is the industry's most powerful WordPress form builder plugin. It includes a simple but powerful drag-and-drop form builder that allows you to develop forms that are more than just contact forms.
It comes with several useful form templates, or you can start from scratch with a blank form.
You can either construct your grading scale or create quizzes that are automatically assessed. When a user completes a quiz, they may choose to email their score or have it shown in a success message.
Furthermore, Formidable Form has built-in capabilities that allow you to swiftly develop sophisticated surveys. Additionally, you get access to the report.
Survey data is simple to examine using Formidable. You may also undertake data analysis with the reports and graphs functionalities. You'll be able to see your data in real-time, and you'll be able to make reports with it.
Price: $99.38/yr.
Best Popular Plugins:
StackPath | Copysmith | Long Tail Pro | Barn2 Media | PayPro Global | Freelancer | Envira Gallery | Time Doctor
Thrive Themes | Hero Themes | WPBrigade | ThimPress | WP Portfolio | Themify | ThemeIsle | Wishpond
Gravity Forms is the most straightforward and dependable solution for building sophisticated forms on a WordPress site. Gravity Forms is largely regarded as one of the best survey plugins available.
In just a few minutes, you can develop and publish your forms with Gravity Form. It comes with a slew of survey-form-creation add-ons.
Adding the survey field to forms and customizing the field of your choice is all it takes to get the survey running on your WordPress website.
Gravity Form, on the other hand, allows you to see the outcomes of submission form entries in the WordPress admin areas. There is no graph or chart with the survey results; instead, the survey results can only be exported as a CSV file.
The Gravity Form Elite license includes the Survey Registration Add-On. Check out the Elite licensing plan page to make a purchase or learn more about this plan to help you determine whether you need to upgrade.
Price: For the greatest survey experience, upgrade to the pro plan. The cheapest package with survey features is $259 per year.
Best Articles:
WP Poll is a WordPress poll plugin that also includes a quiz. It enables you to create robust survey forms in a variety of formats.
WP Poll allows you to integrate different Add-Ons and personalize the survey form on your WordPress website/blog using a variety of choices. Furthermore, soliciting feedback from users or visitors about style/themes is a fantastic idea.
To make the survey form more appealing, choose one of the five unique timer styles or adjust the animation for multiple selections. You can also design a poll with a button feature, such as content social sharing, to allow users to respond.
Before the user votes, the result will always be displayed. You must, however, enable the option to do so. You can also set it up to prevent several results from showing up on the same page.
Price:- WP Poll is a freemium plugin. Although, the cost of the Pro plan is $29 per month.
Plugin to Use:
ThemeForest | TeslaThemes | TemplateMonster | StudioPress | Restored 316 | PremiumCoding | Udemy
ManageWP | Veterinary | Adsanity | Advanced Ads | WP QUADS PRO | ReferralCandy | Gleam | JVZoo
In Conclusion
Hopefully, this article has assisted you in finding the greatest WordPress survey plugin for your website, allowing you to succeed in building your business online.