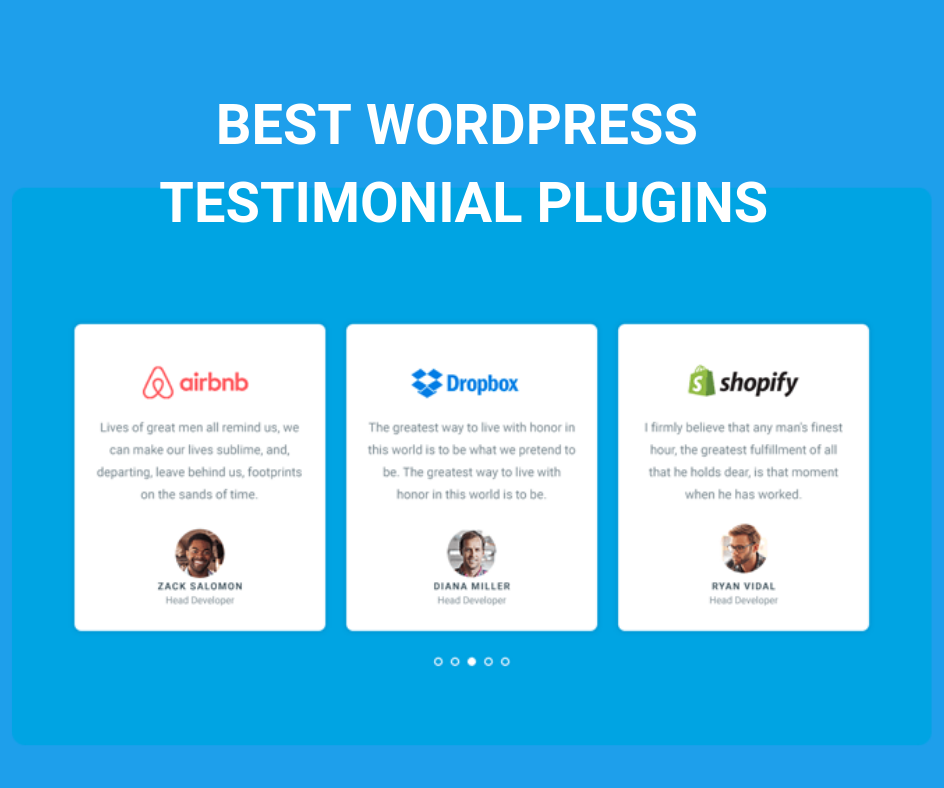 Every business website should have testimonials. It's what allows you to establish authority and build trust. This article is for you if your website still lacks a testimonial or reviews area.
We reviewed the characteristics of some of the best WordPress testimonial plugins in this article to help you select the best testimonial plugin for your website. You can quickly create an interactive and elegant customer feedback section for your website using these plugins without having to write any code.
Best Testimonial Plugins for WordPress
Thrive Ovation, like the many other fantastic ThriveThemes plugins, is another helpful and high-quality plugin from the same team that brought you Thrive Leads and Thrive Architect.
Thrive Ovation is a WordPress plugin that allows you to add testimonial sections to your site. This plugin is intended for both novice and expert web developers.
The plugin includes several handy features, including the ability to collect testimonials from social media sites and even the ability to collect testimonials using built-in forms.
Features:-
With a user-friendly interface, you can easily create and manage testimonials.
You can change the colors and appearance of the testimonials to your liking.
To establish social proof, import comments from Facebook and Twitter.
Convert comments on your blog and website into testimonials.
To collect testimonials, create landing pages with forms.
Shortcodes can be used to embed testimonials anywhere.
Thrive Ovation's ability to turn WordPress comments into gorgeous testimonials with just one click is one of its best features. Its front-end interface may also be used to collect consumer feedback, which is useful for business websites and marketplaces.
Price:- You can purchase this powerful plugin for just $39.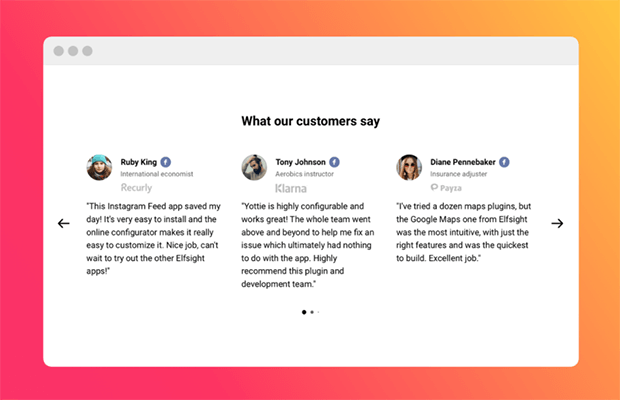 Another beginner-friendly plugin is Testimonials Slider, which allows you to build testimonial and customer narrative sections in the form of sliders.
Simply said, this plugin allows you to make better use of the space on your website by incorporating testimonials into a slider design. Customers can easily peruse the testimonials and it takes up less space on your website.
You'll also be able to create testimonial sections with grid, slider, cards, carousel, and other themes from a variety of layouts.
Features:-
Create different testimonial sections using one of six layouts.
Include images of customers, a company logo, and a link to your Facebook page.
Use shortcodes to embed as a widget or anyplace else.
WPBakery page builder is fully compatible.
Aside from its inexpensive pricing, which includes lifetime free updates for a one-time fee, one of the nicest features that distinguish the Testimonials Slider plugin is its 6 beautiful themes, which make it simple to create specific testimonial sections and pages.
Price:-This tool is available for just $22.
Excited Testimonial is a sophisticated plugin with numerous useful features that are best suited for site designers and developers.
This plugin allows you to customize and build unique testimonial layouts, as well as a built-in submission form for collecting testimonials directly from people on your website.
Excited Testimonials plugin's biggest and most appealing feature is its testimonial builder, which allows you to rearrange the elements to create unique testimonial sections with over 100 possible combinations. Because of this feature, the plugin is an excellent solution for web designers.
Features:-
Make your testimonial layouts by customizing and creating them.
Drag and drop builder for beginners.
To collect user feedback, use the front-end submission form.
To expand your email list, integrate with MailChimp.
Shortcodes can be used to embed content anywhere.
Price:- The price starts at $22.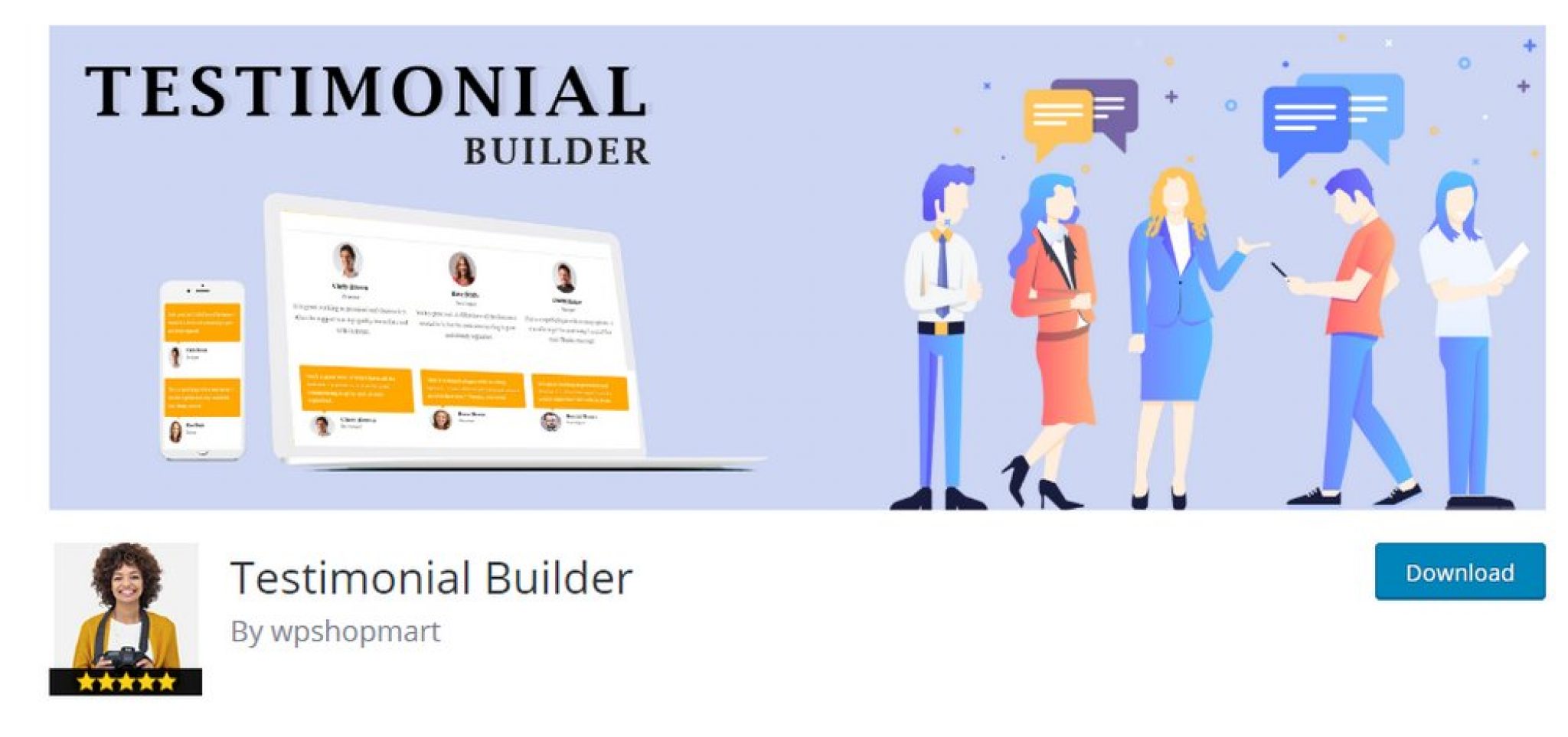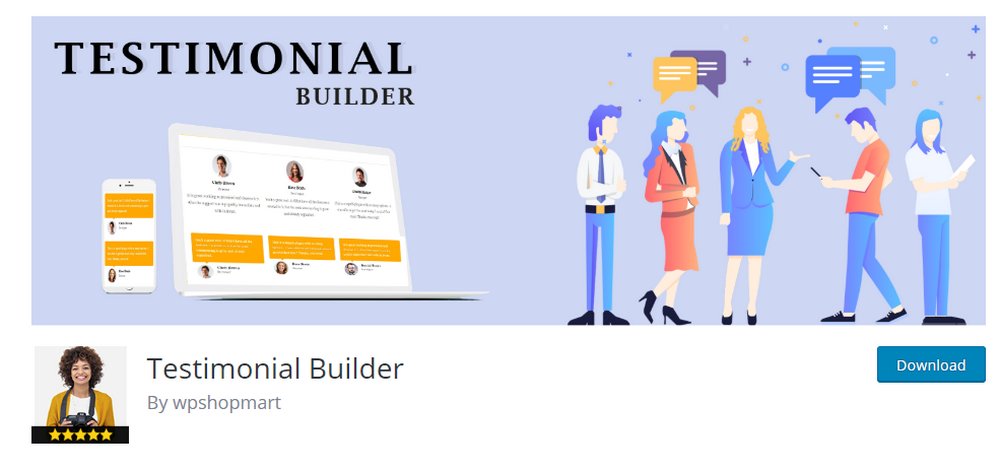 Testimonial Builder has a significantly more simple procedure than the other similar plugins we've encountered. The plugin's main selling point is its templates, which help you get started designing testimonials. It comes with two free alternatives out of the box, and every element can be customized.
You can create numerous testimonials as part of a single element and then publish them all at once using the shortcode generated by the plugin. In addition, the plugin allows each testimonial to have its CSS code.
Features:-
Create testimonials with the help of pre-built templates.
Individual or group testimonials can be published.
Create a unique CSS style sheet for each testimonial.
Shortcodes can be used to insert testimonials into your content.
Price:- Testimonial Builder's free edition only comes with two templates. A pro license, on the other hand, costs $14 for six months and gives you access to 150 templates, which is a significant boost.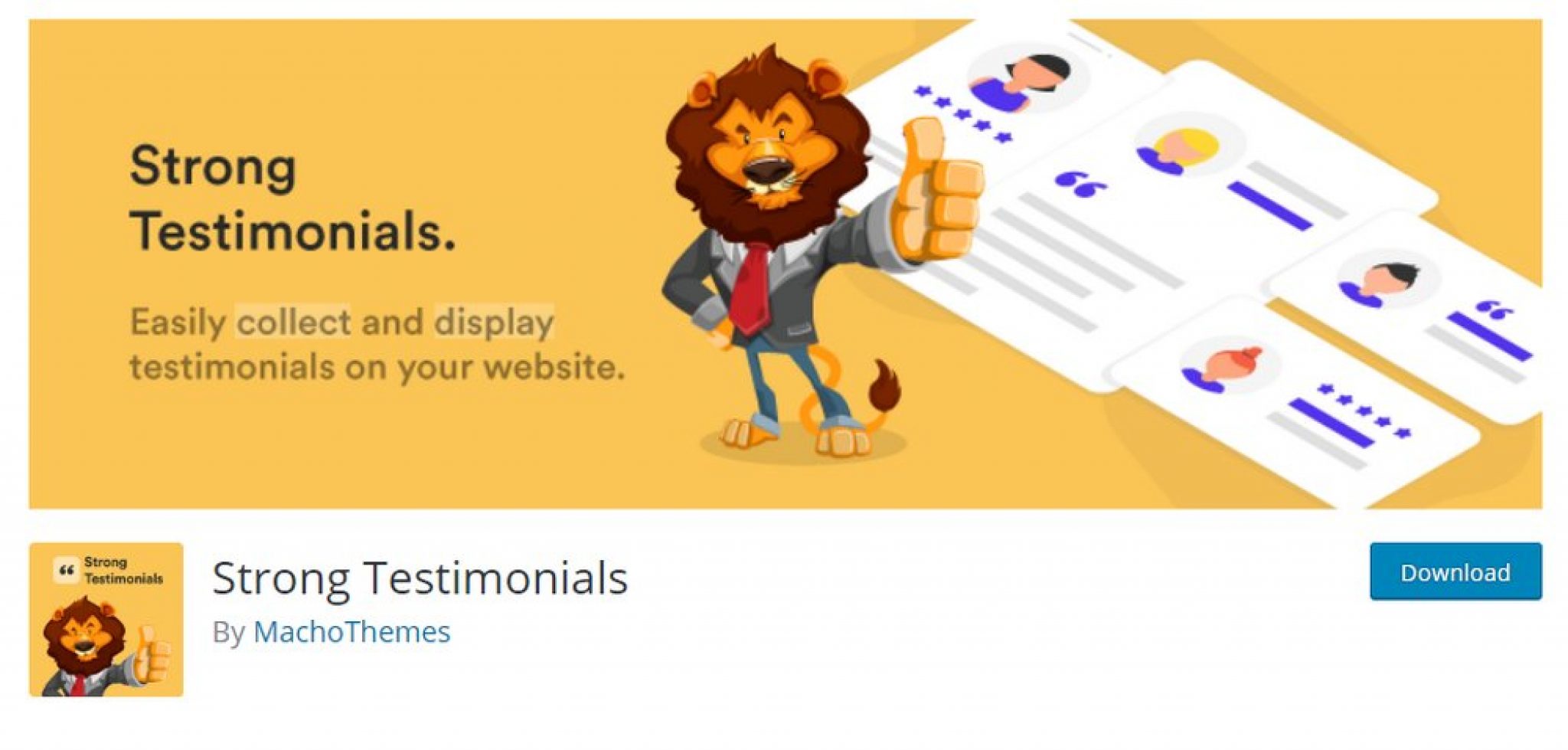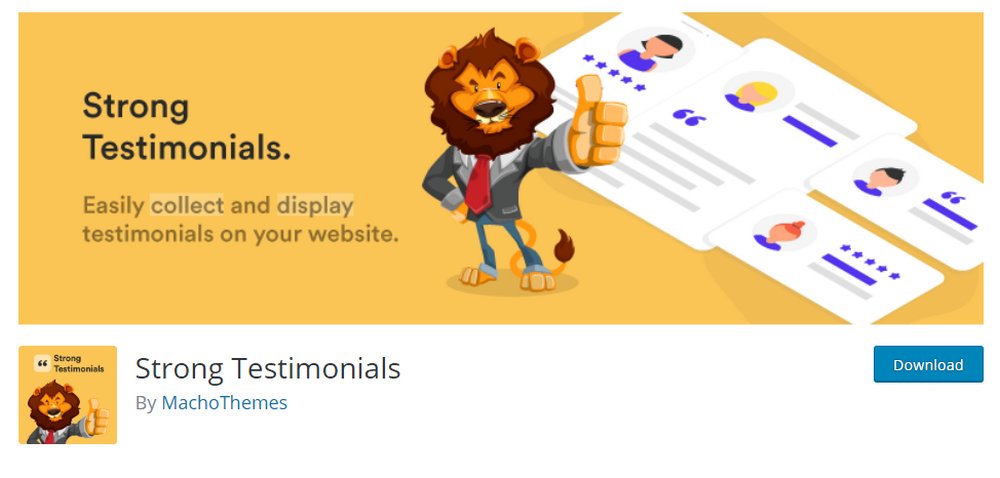 To begin, Strong Testimonials allows you to develop custom testimonial submission forms that you can embed on your website. You can preview user testimonials and pick which ones to publish once they've been submitted.
You can share individual reviews or create testimonial sliders with several options using Strong Testimonials. Furthermore, the plugin allows you to create numerous custom 'views' or styles, allowing you to use various types of testimonials across your website.
Features:-
Make your testimonial submission forms and publish them online.
Individual testimonials or sliders can be published.
Make your testimonies stand out with unique styles.
Shortcodes or widgets can be used to add testimonials.
The price:-The free edition of Strong Testimonials includes all of the features we've discussed thus far. Premium memberships, which start at $29 per year, are also available. Support for numerous websites, complex templates, custom form fields, and other features are included in premium plans.


You can manually add testimonials to your website using Testimonial Rotator. Those testimonials can contain a variety of custom fields as well as star ratings. The plugin's true strength, however, is in creating testimonial sliders that can contain any reviews you get.
The disadvantage of utilizing this plugin is that user submissions aren't handled very gently. Furthermore, your styling options leave a lot to be desired. The admin interface allows you to enable adding fresh testimonials for specified user groups, which isn't optimal in our opinion.
The plugin interfaces with Gravity Forms to build up appropriate form submissions. However, Gravity Forms is only available in a paid edition, so if you want to use the integration, you'll have to spend little cash.
Features:-
Create testimonials with the use of custom fields and star ratings.
Compile testimonials into rotators.
To allow users to submit testimonials, integrate the Gravity Forms plugin into your workflow.
Price:-Testimonial Rotator is a free plugin.