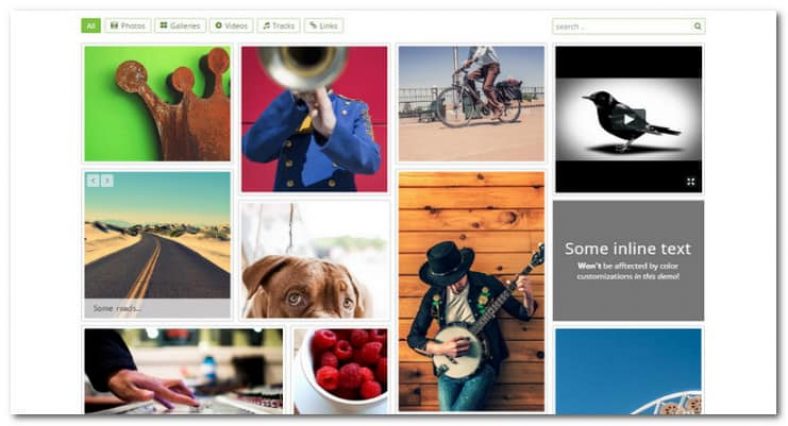 Are you searching for the best WordPress gallery plugins to use on your website to build a photo gallery?
You may use advanced customization to take your online design to the next level by using a WordPress photo gallery plugin. A gallery plugin will not only allow you to present pictures pleasingly but will also ensure that all of your images are properly optimized.
We'll compare the finest WordPress gallery plugins on the market in this article. But first, let's have a look at how you should go about choosing a gallery plugin in the first place.
Best Photo Gallery Plugins for WordPress
Modula is a prominent freemium WordPress photo gallery plugin that produces stunning results right out of the box. One of Modula's strengths is making it simple to quickly construct a gallery that looks great.
It also offers an amazing custom grid builder that enables you to design the ideal layout for your gallery using a visual, drag-and-drop builder whereas the default template will automatically generate the grid for you.
You'll also receive more advanced features like video support, password protection, deep linking, Ajax filters, and a tonne of interesting visual effects if you upgrade to the premium version.
Key Features
Grid galleries and columns are among the gallery types available.
You have the option of using a custom grid builder, which allows you complete control over your gallery.
Lightbox feature powered by Fancybox, including image deep linking.
Watermarks and password protection.
Image optimization and CDN are both automated.
Price:
WordPress.org offers the core Modula plugin for free. With just the free version, you can already create some pretty great-looking plugins.

Upgrade to the Pro edition for access to a variety of premium add-ons if you desire more sophisticated capabilities. Plans start at $18 for a single site, but to obtain access to all of the add-ons, you'll need at least a $78 Business license.
Another popular freemium photo gallery plugin on WordPress.org is Envira Gallery. It's geared toward photographers and power users, but it's also user-friendly enough for casual users, making it a multipurpose gallery plugin.
Professional developers and photographers will benefit from features such as a WooCommerce integration (to sell images), client proofing, and an Adobe Lightroom integration, while casual users can profit from a straightforward setup procedure and several pre-built galleries layouts.
Key Features
There are several gallery themes to choose from.
Support for lightboxes, including deep linking.
Use a block or a shortcode to create galleries.
Multiple galleries can be organized into albums using album support.
Slideshows can be created from galleries.
Watermarking and password protection.
Price:-
WordPress.org offers the core Envira Gallery plugin for free. Although the free version is adequate for casual usage, photographers and other power users will benefit from the premium edition, which includes advanced capabilities such as image proofing, eCommerce, Lightroom integration, albums, and more.
The basic premium features are available for $19, but you'll need the $89 Pro subscription to access all of the advanced capabilities.

NextGEN Gallery is a powerful gallery plugin designed for photographers and those who want image management in addition to their galleries.
If you're a casual user trying to add some nice-looking galleries to your articles, we think this one is a little excessive because creating a gallery isn't as straightforward as "upload pictures to Media Library- Insert great-looking gallery" (which is basically how something like Modula works).
However, if you require additional functionality in addition to your attractive galleries, this is an excellent choice.
NextGEN Gallery, for example, has its image management solution in the backend that is separate from the WordPress Media Library, though you can import images from it. You can also utilize FTP to upload files, which is helpful if you have a lot of them.
You may also use the built-in eCommerce capabilities to sell your pictures. NextGEN Gallery provides one of the most unusual features on our list: automatic print delivery. Yes, you can allow visitors (in the United States and Canada) to order prints of your photos and have them shipped automatically.
Key Features
With the premium version, you may choose from a variety of gallery layouts (the free layouts are pretty basic).
Image management software that provides the ability to upload directly to your server via FTP.
Watermarking and image protection
For digital or physical things, there's an eCommerce function built-in.
To sell actual prints, you can use the automatic print fulfillment feature (super unique).
Adobe Lightroom allows you to publish and manage galleries.
Price:-
There is a free version of NextGEN Gallery available on WordPress.org. There are three options available. Paid subscriptions start at $99 per month and include most of the visuals. You'll need the $139 Pro version to get access to eCommerce, shipping, proof, and other "backend" functions.

FooGallery is another freemium alternative that allows you to rapidly create a professional-looking gallery while still providing additional features if you need them. In the free edition, you may rapidly create a new gallery with six distinct layouts.
Key Features
Six gallery themes are included in the free version, with three more available in the pro version.
galleries with lightboxes (with a separate free companion plugin or more features with Pro).
For picture management, use the WordPress Media Library.
Support for the album.
Use blocks or shortcodes to create galleries.
Price:-
FooGallery is a free version on WordPress.org that is quite capable of producing basic, attractive galleries. You'll need to upgrade to Pro if you want more advanced features like filters, dynamic galleries, advanced lightbox, endless scroll, and more.
All premium features are included in all pro plans. They start at $59 for one year of maintenance and updates, as well as use on a single site. There are even more expensive lifetime plans available, as well as monthly payment options.