Are you looking for the best WordPress ad management plugins and tools?
Many WordPress site owners monetize their sites with adverts. We'll go over the finest ad management plugins and solutions for WordPress in this article so you can optimize your ad earnings.
Why Use an Ad Management Plugin in WordPress?
To promote their content, many websites and blogs rely significantly on adverts. WordPress does not come with an easy way to manage your ads by default.
The majority of WordPress themes don't even have dedicated ad spaces. This implies that inserting ad code into your website frequently necessitates editing theme files.
You may effortlessly post adverts anywhere on your website with the help of a WordPress ad management plugin. This helps you optimize ad placement and make the most out of your advertising real estate.
Let's take a look at some of the best ad management WordPress plugins and how they can help you increase your revenue.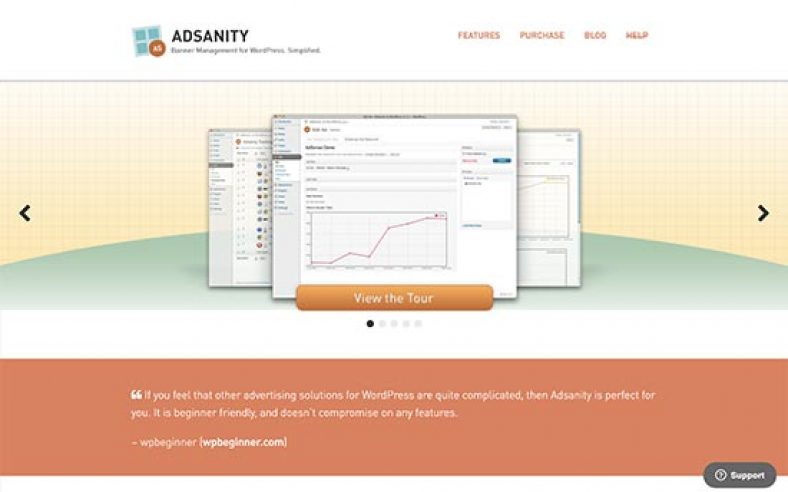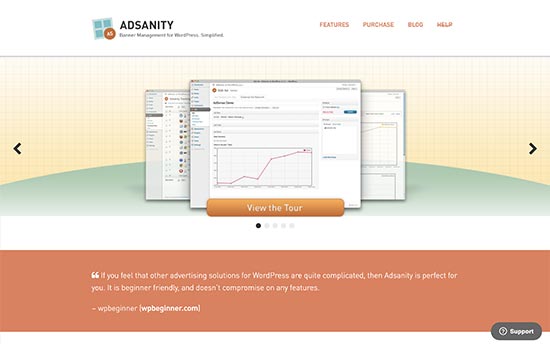 AdSanity is a WordPress ad management plugin for beginners. Using widgets and the ad inserter button in the visual editor, you can quickly place adverts anywhere on your website.
It works with both hosted ads (banner ads that you manage and sell yourself) and external ad networks like Google Adsense.
It also has advanced capabilities such as ad scheduling, ad groups, inserting a single ad or ad group, tracking views and statistics, and more.
You can add as many adverts as you like using custom widgets, shortcodes, or the button in the post editor. In WordPress, you can also add ad blocks to individual posts.
This allows you to improve the performance of your ads without having to change the files in your WordPress theme.
Related Articles:
AdRotate is a powerful WordPress ad management plugin that can be used by both beginners and advanced users. It accepts both hosted and network ads, with rotating banner adverts.
It allows you to effortlessly create ads and ad groups and use shortcodes to integrate them into your WordPress posts.
Custom widgets can also be used to place adverts in sidebars. It provides basic statistics for tracking ad impressions, which is very useful if you sell ads directly on your website.
It is available as a free plugin, which works fine for most small blogs and websites. If you want to use sophisticated features like scheduling, geo-targeting, Adblock disguise, mobile ads, media/asset management, and more, you'll need their pro version.
Popular Plugins:
Affiliate Royale | WPForms | Kali Forms | Gravity Forms | Olark | Tidio | Pure Chat | Formilla | LiveChat
Schema Pro | RafflePress | OptinMonster | All in One SEO Pro | SEOPressor | SEMrush | Convert Pro | WP Rocket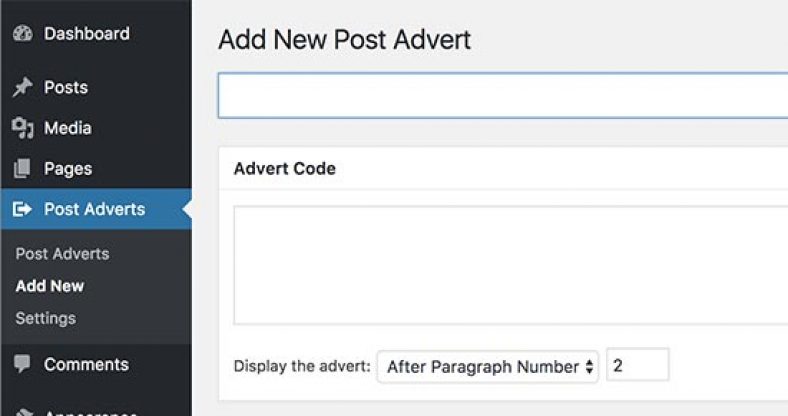 Do you require a plugin to assist you in automatically inserting advertisements into your posts? Insert Post Ads is a great place to start. It allows you to display advertising in your post content automatically.
You can make multiple-sized adverts and then choose which paragraph you want the ad to appear after. You can also show several ads after a varied number of paragraphs in the same article.
It is quite easy to use. Simply use the ad code to create an ad and then add the paragraph number. For your own hosted advertisements, you can use third-party ad code as well as custom HTML.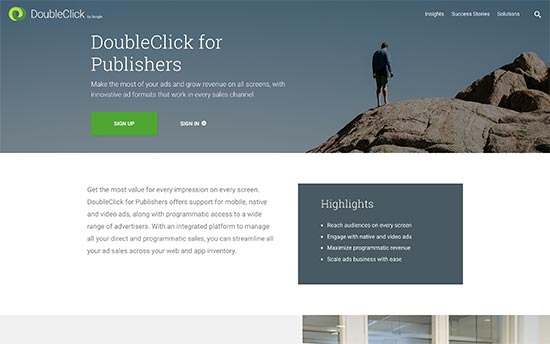 For publishers, DoubleClick by Google is a web-based ad selling and serving platform. DoubleClick, which is powered by Google, has an advantage over other platforms in terms of reliability and cost-effectiveness.
It also allows you to sell your adverts on Adsense or other third-party ad networks, as well as compete for the same ad slots. DoubleClick will identify and serve the best-paying ad for the spot automatically.
DoubleClick also comes with excellent reporting capabilities that allow you to track ad performance more precisely than other platforms. It's a little difficult to get started with, despite its usefulness.
Read More: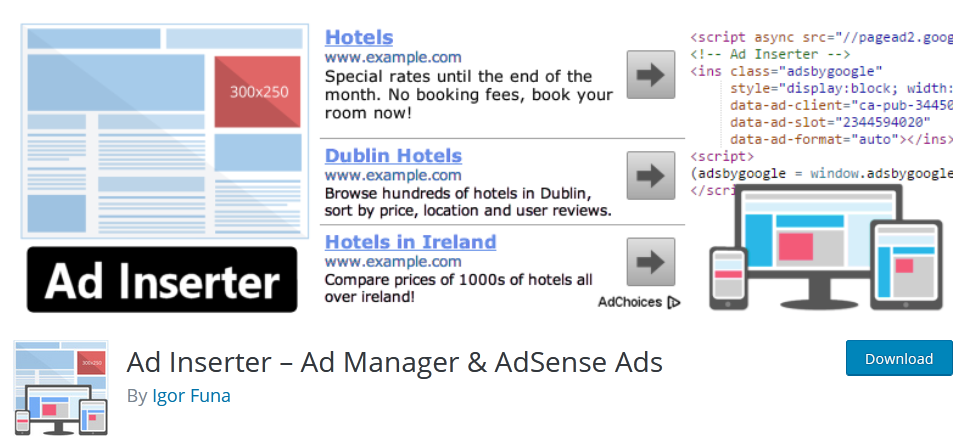 Ad Inserter is a WordPress ad management plugin that comes in two versions: free and premium.
The free edition is adequate for use as your primary ad management tool, but you will need to subscribe to their commercial version for advanced features.
It allows you to create several ad blocks and choose how each block should be auto-inserted. Your ad can be placed in a variety of ways.
It can be placed within the body of a post, before and after the content of a post, between posts, before or after a post excerpt, and more.
You can also deactivate automatic ad insertion in individual posts and pages, as well as the home, categories, and archive pages. It's simple to set up and can function with both hosted and third-party ad networks.
Best Plugins:
Pretty Links | Blubrry PowerPress | Tidio | MonsterInsights | SuperbThemes | WP Review Pro | CSS Igniter
ThemeForest | TeslaThemes | TemplateMonster | StudioPress | Restored 316 | PremiumCoding | Udemy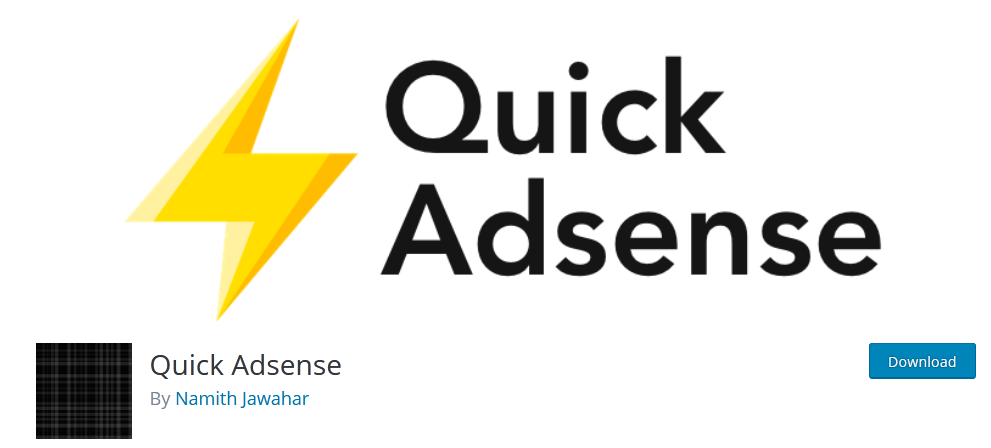 Quick Adsense is a popular free ad management plugin for WordPress. Despite its name, the plugin can display any type of ad, including hosted ads and ads from third-party ad networks such as Google Adsense.
It includes an easy-to-use settings page where you can manage your ad codes and choose how and where they should appear. Advertisements can be displayed automatically before or after articles, within post content, after the excerpt, and more.
Some More Articles:
It comes with custom ad widgets for displaying advertisements in sidebars and other widget-ready locations.
It lacks many of the advanced capabilities seen in some of the other plugins on this list. Another restriction is that you may only save ten ad codes at once.
We hope this article helped find the top WordPress ad management plugins and solutions. You may also want to see our list of the best affiliate marketing tools and plugins for WordPress.