If you've been considering starting your eCommerce store, chances are you've already done some research into the tools that can assist you.
Ecommerce is becoming one of the most natural business options for today's entrepreneurs as the world embraces the benefits and convenience of online shopping. After all, there's no need for expensive real estate when you offer your things online.
If you've already looked at these tools, you may be asking why we'd want to compare them. After all, Shopify is an eCommerce platform, whereas WordPress is a website builder that allows businesses to create nearly any type of website, from blogs to publications.
We're comparing Shopify vs WordPress today since both have emerged as viable options for business owners looking to build sales-friendly websites.
Let's take a closer look at both of the possibilities.
Related Articles:
Shopify vs WordPress: An Overview
Before we get into the details of comparing Shopify vs WordPress, it's crucial to note that they're two very distinct platforms.
Shopify is a popular web program that was created to assist merchants in designing and launching dependable online stores. Shopify is the eCommerce platform for you if you want a domain name, PayPal access, your eCommerce plugin, a shopping cart, and other important features.
The name gives it away: it's all about assisting customers with their shopping. Shopify has a variety of templates to pick from, which you can adapt to meet your specific demands and branding requirements. Furthermore, there is a different Shopify plan to meet everyone's needs.
The goal behind Shopify is that you should be able to construct a website where you can sell things even if you don't have any design or technical skills. Shopify, on the other hand, allows you to alter things like CSS and HTML if you want to, so coding skills can come in handy if you have them.
Related Plugins:
Mojo | aThemes Sydney | PayPro Global | Jackmail | Pabbly | WP Fix It | WPBuffs | GoWP | StatusCake | WP Curve
Taking Shopify payments is easy, and you can have your own Shopify store up and running in no time with a low learning curve. In no time, you'll be guiding your consumers through the checkout process.
It's also worth noting that Shopify is a hosted solution. This implies that Shopify's servers provide you with all of your features. You won't have to worry about purchasing a web hosting or installing software.
The concept is that you get everything you need to start building your store right out of the box. Shopify is a software-as-a-service (SaaS) solution, which means you don't own the software but can pay a monthly charge to use it.
So, what about WordPress?
The first thing you should know about WordPress is that it comes in two versions. WordPress.com and WordPress.org are two different websites. The .com version of the application is hosted by a third-party company, whereas the the.org version is hosted by you.
The hosted WordPress.com, like Shopify, is a SaaS tool that you pay for every month. This is more of an all-in-one solution that can be used to create and maintain a variety of websites.
WordPress.org, on the other hand, is eCommerce or website-building software that you install on your web server. You can personalize this open-source solution as much as you want.
WordPress.org is a powerful platform that's simple to set up and modify — especially if you have a coding background.
You can install the WordPress.org solution on your server for free, but there are charges associated with hosting it, so it's not completely free. WordPress hosting, on the other hand, is fairly easy to come by. Furthermore, your WordPress website comes with a slew of useful features.
WordPress includes the WooCommerce eCommerce plugin, as well as all of the tools you'll need to create your storefront and checkout. Plugins make it simple to access all of the eCommerce features you require.
Furthermore, WordPress is quite extensible. There's a WordPress plugin for almost anything, in addition to free themes and add-ons. The web hosting service can be used for a variety of purposes, including product reviews, inventory management, and more.
For this Shopify versus WordPress comparison, we'll focus on the self-hosted version of Shopify.
Best WordPress Plugins:
Schema Pro | RafflePress | OptinMonster | All in One SEO Pro | SEOPressor | SEMrush | Convert Pro | WP Rocket
More about Shopify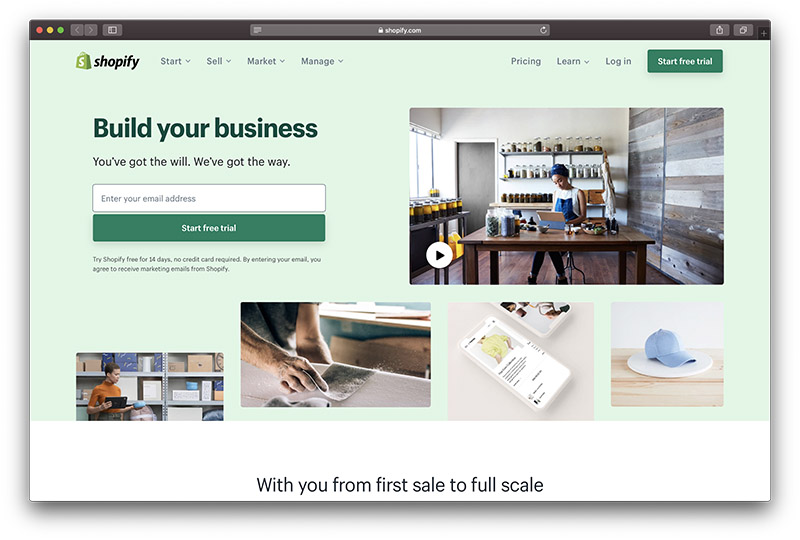 Here are the current realities:
A web-based business arrangement/device that works across the board. It enables you to create a functional online business store without any prior planning or support from a designer or fashion designer.
Shopify does not require any coding knowledge.
It's a paid instrument, with monthly subscriptions ranging from $29 to $299.
It allows you to sell anything you want (merchandise, administrations, items, both advanced and physical, just as outsource).
Use it both offline and online (you can utilize it as your online store, yet also use something many refer to as Point of Sale with Shopify, which is their framework for retail locations that permits you to coordinate your on-the-spot store with your arrangement in Shopify).
There are more than 100 online store plans to consider (some of them paid).
Each new site is given a free personalized subdomain, such as YOURSTORE.shopify.com.
There is assistance available 24 hours a day, seven days a week.
Popular Articles:
More about WordPress
To begin with, WordPress offers a lot of features and capacities, but for this article, we're concentrating solely on the online business side of the spectrum and ignoring the majority of WordPress' features and capacities.
Site programming that is consistent across the board. It allows you to create any type of website as long as you can handle the relatively specialized setup – such as presenting the product, modules, a theme, and then an internet business module to handle the store activities.
Some ability to construct websites is essential. Depending on the customizations you need to make, you may additionally need coding or planning skills.
WordPress programming is available for free. To use it, you'll need to choose a web server and buy a domain name. When everything is put together, you can start using WordPress for around $5 per month.
The board has a lot of great content.
There are a lot of free and premium subjects/plans to look through.
Modules provide excellent expansion opportunities.
There is no instant assistance, but there is a helpful network.
MonsterInsights | CSS Igniter | Pretty Links | Tidio | Apollo 13 Theme | Themeum | Pretty Darn Cute Design
Shopify and WordPress: Find when to use both of these platforms?
Shopify distinguishes out as a one-of-a-kind online business solution for everyone. Everyone, by the way, refers to those who are unlikely to have any site-building or coding skills but want to be able to create a fantastic online business without the help of others.
The main benefit of working with Shopify is that you can get started in minutes and start serving your first customers right away.
In any case, aside from coding and site-building abilities, which you don't need, you also don't need to be familiar with other real-world aspects of the internet business. Shopify encourages you to customize items like stock, pricing, and delivery options. As a result, it handles every single tiresome aspect of the industry.
In addition, Shopify is a very cost-effective option. You only need $9 per month to get started. You get access to a large number of site plans and customization options for that price.
"When to utilize Shopify?" Find the answer to your question below.
Option a): Use it if you don't have a website and need to get a high-quality web-based business store up and running quickly.
Alternative b): Use it if you don't have any design, coding, or website-building skills and don't want to hire someone to put up your online business store for you.
Alternative c): Use it if you require a fantastic online business platform with access to customer service and security.
It also doesn't matter whether you need to offer physical goods, digital downloads, benefits, or even outsource. Shopify is capable of dealing with any situation.
Popular Related Articles:
Find When to Use WordPress Over Shopify?
WordPress is a formidable opponent. It's almost the optimum site stage, suitable for a variety of settings. There is, however, a catch. Alternatively, two or three get the job done.
WordPress is a piece of programming: you can get it for free, but you must then install it, configure it, and finally launch a website with it. WordPress mostly writes for a blog stage outside of the container.
By any stretch of the imagination, it does not contain any internet business. Those you can get using modules. For example, mainstream WooCommerce.
Aside from the web-based business module, you'll need a slew of other modules to handle things like SEO and social media. To make your online company store look intriguing and unique, you'll also need a beautiful and brandable theme.
All of this suggests that WordPress could be a viable solution for a more sophisticated client. You have to feel good altering PHP records by hand, associating with your worker through FTP, and going through the evening in certain settings boards.
The solution to "When to utilize WordPress for web-based business?"
Alternative a): Use it if you already have a WordPress site and are familiar with the interface. WooCommerce, for example, uses the same administrator board association for your items and requests, so there's no need to learn anything new.
Option b): Use it if you already have a WordPress site and want to save money by not investing in another online business platform.
Option c): Use it if you're willing to experiment with source code regularly.
Option d): Use it on the off chance that you can adapt with no quick responding client service.
Concerning the last point: You might be under the illusion that client service isn't a big problem right now. However, keep in mind that we're talking about your organization.
For example, if something causes your website to go down, not having it available for the full day can and will result in a significant loss of revenue. Similarly, while we're busy, there's a lot of strain.
It is at these times that we will appreciate client help that is available 24 hours a day, seven days a week!
WordPress or Shopify: Find which one is a better choice?
There are a variety of eCommerce systems available today, each with its basic plan. Whether you're using Wix and Bigcommerce or WordPress and Shopify, it's critical to think about your requirements thoroughly. Both WordPress and Shopify, for example, offer a free SSL certificate and a variety of great add-ons to pick from.
While Shopify has a lot of code possibilities, Shopify payments, and an eCommerce focus, WordPress is primarily about creating versatile sites.
Both WordPress and Shopify have a lot to offer business owners who wish to start and run their eCommerce stores.
Both tools have advantages and disadvantages, and there is no one-size-fits-all option for achieving the ideal eCommerce experience.
Our experiences with Shopify and WordPress, on the other hand, have given us an insider's perspective on who is most suited to each platform. Finally, if you need a blog or a startup website with eCommerce capabilities, WordPress will provide you with the dynamic flexibility you require.
Shopify, on the other hand, is the option for you if you're looking for something that's expressly created to give eCommerce functionality and you want ongoing support.
The good news is that both tools include a deep set of functionality, a large number of templates, and a slew of other useful features.
Furthermore, Shopify offers a free trial to get you started, but WordPress is completely free to use — all you have to pay for is hosting and plugins when you're ready to launch.